Aiura (main)
(720p – 20MB)
Aiura (main)
The story centers around http://anidb.net/ch52682 [Amaya], http://anidb.net/ch52683 [Iwasawa], and http://anidb.net/ch52684 [Uehara] — three "annoying, spirited high school girls with zero motivation" — and their classmates. Their daily life is "what happens when there is nothing happening."
Source: ANN
Anime Type – TV Series
Total Episodes – 12
Rating – 4.63
Start Date – 2013-04-10
End Date – 2013-06-26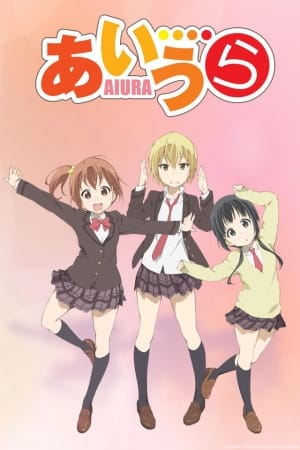 Ep Num#
Date
Title
1
2013-04-10
The Day Before
Zenjitsu
2
2013-04-17
First Day of School
Hatsu Toukou
3
2013-04-24
Homeroom
Homeroom
4
2013-05-01
Sensei
Sensei
5
2013-05-08
Incident
Jiken
6
2013-05-15
Younger Brother
Otouto
7
2013-05-22
The Amaya Household
Amaya-ke
8
2013-05-29
Club Activities
Bukatsu
9
2013-06-05
Dreams
Yume
10
2013-06-12
Problem
Mondai
11
2013-06-19
Rain
Ame
12
2013-06-26
See You Tomorrow
Mata Ashita
Direct-Download Links for Aiura (main) 720p 20MB miniMKV Encodes
Episode 1: Direct Download: [AnimeOut] Aiura – 01 [720p][Commie][AKS].mkv
Episode 2: Direct Download: [AnimeOut] Aiura – 02 [720p][Commie][AKS].mkv
Episode 3: Direct Download: [AnimeOut] Aiura – 03 [720p][Commie][AKS].mkv
Episode 4: Direct Download: [AnimeOut] Aiura – 04 [720p][Commie][AKS].mkv
Episode 5: Direct Download: [AnimeOut] Aiura – 05 [720p][Commie][AKS].mkv
Episode 6: Direct Download: [AnimeOut] Aiura – 06 [720p][Commie][AKS].mkv
Episode 7: Direct Download: [AnimeOut] Aiura – 07 [720p][Commie][AKS].mkv
Episode 8: Direct Download: [AnimeOut] Aiura – 08 [720p][Commie][AKS].mkv
Episode 9: Direct Download: [AnimeOut] Aiura – 09 [720p][Commie][AKS].mkv
Episode 10: Direct Download: [AnimeOut] Aiura – 10 [720p][Commie][Daylighter].mkv
Episode 11: Direct Download: [AnimeOut] Aiura – 11 [720p][Commie][Daylighter].mkv
Episode 12: Direct Download: [AnimeOut] Aiura – 12 [720p][Commie][Daylighter].mkv
Aiura was an enjoyable and easy watch, a worthy short feel-good anime. Good production values for a 4-minute show.
Also: Positively strange/random opening video, great song.
The best 5-minute anime to watch if you`re a fan of slow paced comedy. Very relaxing and it might be able to make you chuckle a few times.
While, admitedly, there is not alot of crab in this show, the lure is ever so evident. Of all short-ep shows out there, Aiura packs the strongest punch in both animation and character design. Moe fans should be, as I was, delighted to add this little thing to their collection.
A very enjoyable show. The dialogue is funny and delivered with great comedic timing. The backgrounds and color palette add to the cheery and lighthearted nature of the series. A must see for fans of slice-of-life comedy. If you fit that description, you have absolutely no reason not to watch "Aiura".