Amanchu!
(100 MB – 720p)
Amanchu! – あまんちゅ!
Genres:
Comedy, School, Shounen,Slice of Life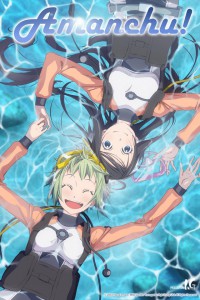 Hikari Kohinata is a cheerful 15-year-old girl who lives near the ocean and she spends much of her time diving as a result. On her first day of high school, she meets a teacher who also likes scuba diving. There's also a 16-year-old classmate, Futaba, who gets dragged along in Hikari's maelstrom as soon as they meet at school. Most of the manga so far details the relationship between the two girls, which quickly seems to move into romantic two girl friendship-territory.
cc0dykid's Note: Lovely art, unique style. This Anime feels as refreshing as cold water in the summer heat. And I'm melting. ( ̄ー ̄;
Direct Download Links for Amanchu!
Episode 01
Episode 02
Episode 03
Episode 04
Episode 05
Episode 06
Episode 07
Episode 08
Episode 09
Episode 10
Episode 11
Episode 12
MEGA Filehost Download Links for Amanchu!