Ao Haru Ride
(720p – 100MB)
Ao Haru Ride
Youth Ride (synonym)
Aoharaido (synonym)
aoha (short)
Blue Spring Ride (official)
Blue Spring Ride (official)
* Bases on a shoujo manga series written and illustrated by http://anidb.net/cr37501 [Sakisaka Io], serialised Bessatsu Margaret.
http://anidb.net/ch62862 [Yoshioka Futaba] used to be in love with a boy named Tanaka Kou in middle school. However, after a misunderstanding, their relationship as friends ends when he transfers schools over summer vacation. In high school, her world is turned around once more when she meets Kou again, this time under the name of http://anidb.net/ch62863 [Mabuchi Kou].
Source: ANN
Anime Type – TV Series
Total Episodes – 12
Rating – 8.95
Start Date – 2014-07-08
End Date –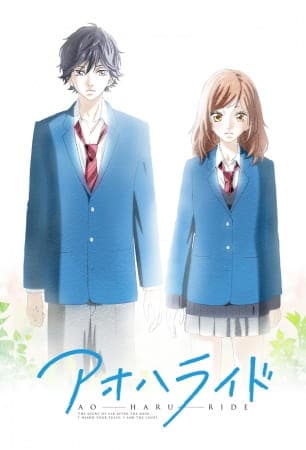 Direct-Download Links | Torrent Links for Ao Haru Ride 720p 100MB miniMKV Encodes
Episode 1 : Direct Download |
Episode 2 : Direct Download |
Episode 3 : Direct Download |
Episode 4 : Direct Download |
Episode 5 : Direct Download |
Episode 6 : Direct Download |
Episode 7 : Direct Download |
Episode 8 : Direct Download |
Episode 9 : Direct Download |
Episode 10 : Direct Download |
Episode 11 : Direct Download |
Episode 12 : Direct Download |
Blue Spring Ride – like a breath of fresh air.From just the first few episodes, Ao Haru Ride is captivating. Whilst generic and otherwise underwhelming in its overused school life, shoujo dramaromance anime premises, Ao Haru Ride exceeds expectations. Although only four episodes have been aired at the time of writing, these first few episodes construct a strong plot with promising future and secure high ratings.The shoujo genre is often predominantly concerned with universal themes such as'love, friendship, personal identity and change – and Ao Haru Ride is no exception. What sets apart this anime from others, however, is not subversion from the usual, but rather the manner in which the many varied filmic and plot elements combine to form a cohesive, enjoyable whole.Admittedly, the plot of Ao Haru Ride is not unique – there is no magical academy, no unusually beautiful or prodigal character, or outstandingly hot blooded romance. However, it is in this normality, displayed in the standard 'Slice of Life' genre, that we may begin to see the first sparks of attraction. The plot combines a possibly everyday school-life romance with true-to-life characters to connect with viewers' hearts and minds through real human relationships. The story itself proceeds at an enjoyable moderate pace, and the flashbacks do not detract from the overall flow. In combination, they provide both greater understanding of the storyline and highlight the differences and similarities between characters, their actions and interactions with each other. Although the story utilises abandoned romance, personal desire to change, and ongoing self-reflection cliches, Ao Haru Ride successfully sidesteps the usual plot-hole fails remarkably in its execution.In fact, the anime continually develops the idea about how a person has no meaning to their life if they are unable to treasure their relationships with others. From there, the characters grow ,develop and eventually display clear promise of strong future character development. The characters are well formed in that they are truly believable, as if they could just step out of the anime and be real-life people. For example, the characters' challenges faced internally (with desire to change), and externally (in their relationships with others), are challenges we face as we meander our way through life, and our own moments of introspection.
Ao Haru Ride anime ties the typical artwork style of the shoujo genre, with big eyes and distinctive features with a commendable soundtrack. The art, colours and animation are strong and clearly defined to classic precision. OST wise, the OP and ED are gorgeous in simplicity and consistency with adherence to the strongly established genres and themes. Notably, the insert song tugs at the heartstrings to enhance scenes to powerful effect. In fact, the music of Ao Haru Ride may be considered one of its greatest qualities, effortlessly building atmosphere almost unnoticeably yet undeniably poignantly.
Overall, I think this anime is enjoyable to watch. It ties all the elements of story, characterisation, sound and art to produce a refreshing production that even those who do not usually enjoy shoujo school-life romance anime will enjoy. To conclude with, however, I would like to leave you all with a question from the anime itself – what does the phrase "All you're doing is playing at friendship" mean to you?
Ao Haru Ride OAD (Other)