Aria the Animation
(480p | 50MB)
Japanese: アリア The Animation
Anime Type : TV Series
Total Episodes : 13
Rating : 7.85
Aired : Oct 6, 2005 to Dec 29, 2005
Producer : Hal Film Maker, Right Stuf
Genres : Fantasy, Sci-Fi, Slice of Life
Duration : 25 min. per episode
Drift peacefully into Neo Venezia, a city on the planet Aqua (formerly known as Mars). By the 24th century, humans have found a way to colonize the previously uninhabitable planet. As futuristic as that sounds, Neo Venezia is still teeming with rustic beauty; gondolas on wide canals and waterways are the main mode of transportation. The city itself is a faithful replication of Manhome's (the planet formerly known as Earth) Venice.
To make sure that residents and tourists alike get the most from Neo Venezia's many wonders, companies offering guided tours via gondola were formed, one of which is named Aria Company.
This is the workplace of Akari Mizunashi, a free spirited teenager from Manhome who is now a novice Undine (the title given to tour guides). Join Akari as she becomes intimately acquainted with other Undine, tourists, Neo Venezia's residents, and even the city itself, learning many valuable life lessons along the way, such as the wonderful truth that there are such things as manmade miracles.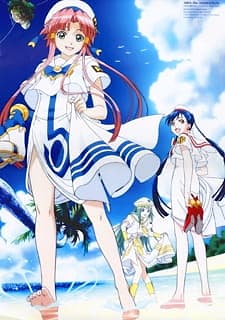 File Hosts | Direct-Download Links for Aria the Animation 480p|50MB miniMKV Encodes
Mega Batch
Episode 1 : Direct Download | Torrent
Episode 2 : Direct Download | Torrent
Episode 3 : Direct Download | Torrent
Episode 4 : Direct Download | Torrent
Episode 5 : Direct Download | Torrent
Episode 6 : Direct Download | Torrent
Episode 7 : Direct Download | Torrent
Episode 8 : Direct Download | Torrent
Episode 9 : Direct Download | Torrent
Episode 10 : Direct Download | Torrent
Episode 11 : Direct Download | Torrent
Episode 12 : Direct Download | Torrent
Episode 13 : Direct Download | Torrent
I have to admit that I wasn't sure what to expect from this show. The synopsis didn't really give any clues as to what I should expect, and that is probably the best thing about it – it isn't quite what you expect.
The story takes place on what used to be Mars (the first thing I didn't expect), in a place called Neo-Venzia (New Venice), and is about a girl training to be an Undine (the story uses the term to refer to a female gondolier rather than a water spirit). The story itself isn't linear in any way, as each episode is a story in it's own right. Normally this is a recipe for disaster in the anime world, but it works in this show – I'll explain why in a bit.
The art and animation are of a very high standard, and the city and it's surroundings are beautifully rendered – and you will see a lot of the city in this show. The characters are very well depicted, even when they show their chibi side, and the best bit is there's not a panty shot in sight – hooray!
The sound is one area where this show excels. Everything is there if you listen, from the sound of the waves to the hubbub of of a crowd. The music is ideally suited to the show and, unlike many anime, actually heightens the viewing experience.
The characters are extremely well realised. I can't think of one character I actually disliked in the entire show. One of the things I liked about the show was how each character actually fits into the story, and the world in which they exist – even the cats have a purpose. One of the other things I liked was the use of fairytale and mythological creatures in the show. The females gondoliers are referred to as Undines, with the top three being called the Great Fairies. The weather is controlled by salamanders, the gravity is controlled by gnomes, etc. One thing that puzzled me was why the female characters names begin with A (except Grandma, however her real name is Akino), but that's by-the-by.
So the important question is: Will you enjoy the show?
If you're an action junkie, or into horror or angst, then this is not the show for you (although it never hurts to give it a try). This show is funny and quirky in many ways, without going over the top, but the one word I would use to describe the show is RELAX. It took me two weeks to finish this show and it's sequel (which is a long time for me by the way), and this is because this show is so relaxing that I was falling asleep whilst watching it. Normally it takes a lot for me to fall asleep, and even boredom doesn't work, but somehow this show just relaxes you to the point where you just drift off to dreamland without a second thought, and never once was I bored with this show.
Overall this is a show that deserves to be watched, as it has a unique appeal that the like's of Sketchbook ~full colour'S~ and Kokoro Toshokan just can't quite match up to. The reason why the non-linear story works well in this show is because it's so relaxing that you honestly just don't care about the fact there's no real plot – which is a rather refreshing perspective to have.
The best way to watch the show? Have a shower, have a good meal, get comfortable, and relax…
Aria the Natural
Haibane Renmei