Bakemono no Ko
(720p BD – 550MB)
The Boy and the Beast
The Boy and the Beast Movie (synonym)
Bakemono no Ko is the tale of a boy and a beast: both lonely, both stubborn, and both strong. For nine-year-old Ren, things could hardly be worse. His mother has passed away in a traffic accident, his father is nowhere to be found, and his extended family is cold and distant. Desperate, Ren runs away to the mean streets of Shibuya to try and survive on his own.
In the beast realm of Shibuten, the fierce warrior Kumatetsu is certainly feared, but not especially liked or respected. When the Lord decides to retire and become a God, Kumatetsu would be a natural candidate to replace him; he and the noble Lord Iouzan are the two strongest in the land. But Kumatetsu is so anti-social he's never even managed to hold on to a disciple. And until he proves he can, he'll never be a serious contender.
When Ren gets lost in a maze of alleyways and finds himself in the strange land of Shibuten, fate brings these two stubborn and fierce-willed souls together, and Kumatestu re-names the boy "Kyuuta". Each of them has much they can teach the other, but where these two are concerned, nothing is going to be easy. As Kyuuta adjusts to his new home he finds himself torn between two worlds – two worlds that are far less separate than either the Boy or the Beast realizes.
Anime Type – Movie
Total Episodes – 1
Rating – 8.89
Start Date – 2015-04-26
End Date – 2015-04-26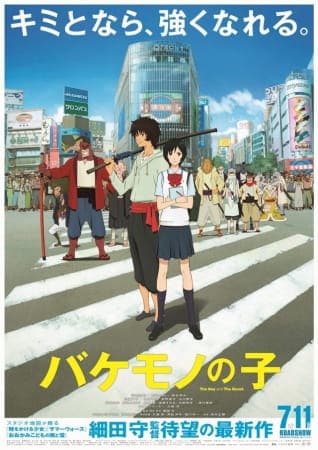 Direct-Download Links | Torrent Links for Bakemono no Ko 720p BD 250MB miniMKV Encodes
Episode 1 : Direct Download | Torrent
So, I have never cried from anime or any movie. I did however, cry when watching Bakemono no Ko (about 4 times).
Story: 8
I really didn't think the story was all too fantastic, but it was good enough to be a successful movie. The growth within the characters was probably the best I have seen in an animated movie and you feel happy when the characters are happy. What I didn't like however was the fact that when Kyuuta goes to the human realm, the bakemono realm is totally neglected. Also the final conflict was really predictable, something I don't like. I really was touched by the actions of the characters in the end though. Overall, it wasn't an outstanding story but definitely a good one.
Art: 9
Besides the people, the background art was really realistic like it was in Wolf Children. The people looked fine, but I think they didn't have much detail so you could praise how well the background art is.
Sound: 10
I have never really found an anime with "bad sound" so I always give a 10 in this section. If anyone knows one please tell me what makes it bad. When I was in the theatre, the explosions and stuff were really loud, but that just made it intense.
Character: 10
Jesus christ, I have never ever cried from a character's actions. But even when Kyuuta cheers for Kumatetsu in the beginning I teared up. The student teacher relationship between Kyuuta and Kumatetsu (always arguing) seems very stereotypical, but somehow it was unique as they were able to complete each other's halves to benefit from each other. Both Kyuuta and Kumatetsu gave up their lonely lives to accommodate each other.
Enjoyment: 9
If you liked wolf children, you will probably like this as well. Since it was directed by the same person and the stories are completely different, but have similar feelings to them. I don't know, I feel really excited after watching it and it was probably my favorite anime movie. Maybe it is just because I haven't seen any good anime movies since I was like 10, but this movie is really going to stay with me.
Overall: 9
Go watch this movie, I watched it the 4th day it came out and I don't regret it. If an english dub comes out I really suggest watching the Japanese version because I can tell that the english version will not be as good show less