Bakuon!!
(720p – 120MB)
Moe-cycle, ばくおん!! (japanese)
Anime Type : TV Series
Total Episodes : 12
Aired : Apr 5, 2016 to ?
Producer : TMS Entertainment, Sentai Filmworks
Genres : Seinen, Slice of Life
Duration : 23 min. per episode
Rating : PG-13 – Teens 13 or older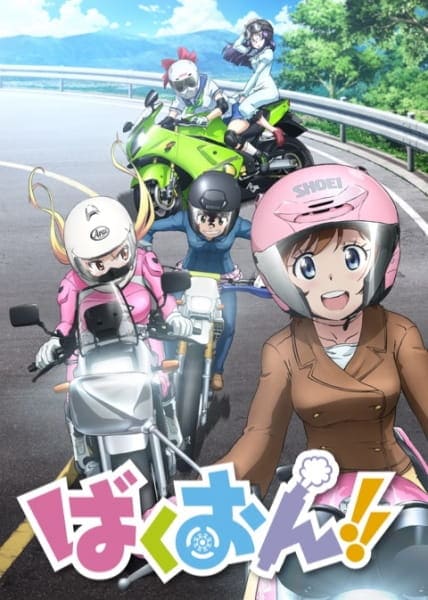 The story revolves around high school girls who discover the appeal of motorcycles. Sakura Hane is a high school student who looks a little bit like an airhead. On the way to her all-female high school one day, she is worn-out climbing a hilly road with a bicycle, but she sees a girl named Onsa Amano who is riding a motorcycle. Sakura immediately becomes interested in motorcycles, and she and Onsa join the motorcycle club at the school. Then, Sakura sets out to get her license.
Direct-Download | File Host Links for Bakuon!! 720p 120MB miniMKV Encodes
Direct-Download Links
Episode 01 : Direct Download
Episode 02 : Direct Download
Episode 03 : Direct Download
Episode 04 : Direct Download
Episode 05 : Direct Download
Episode 06 : Direct Download
Episode 07 : Direct Download
Episode 08 : Direct Download
Episode 09 : Direct Download
Episode 10 : Direct Download
Episode 11 : Direct Download
Episode 12 : Direct Download
MEGA Links Links for Bakuon!! 720p 120MB miniMKV Encodes
Episode 01 : MEGA
Episode 02 : MEGA
Episode 03 : MEGA
Episode 04 : MEGA
Episode 05 : MEGA
Episode 06 : MEGA
Episode 07 : MEGA
Episode 08 : MEGA
Episode 09 : MEGA
Episode 10 : MEGA
Episode 11 : MEGA
Episode 12 : MEGA