Berserk – Golden Age Chapter II – The Capture of Doldrey (Movie) BD 720p
Berserk – Golden Age Chapter II – The Capture of Doldrey (Movie) BD miniHD – 500MB Movie
Direct Download and Torrent Download – Berserk – Golden Age Chapter II – The Capture of Doldrey (Movie) BD 720p Movie in 800MB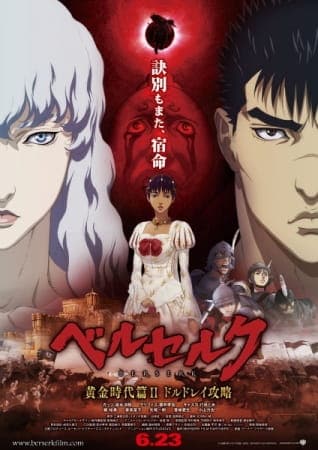 This second Berserk film will cover the part of the series dealing with the taking of the important Band of the Hawk stronghold.
Alternative Titles
Synonym: Berserk Movie, Berserk Saga, Berserk Golden Age Arc II: The Capture of Doldrey, Berserk Ougon Jidaihen II: Doldrey Kouryaku
Japanese: ベルセルク 黄金時代篇Ⅱ ドルドレイ攻略
Information
Type: Movie
Episodes: 1
Status: Finished Airing
Aired: Jun 23, 2012
Producers: Studio 4°C, Viz MediaL, Yahoo! Japan
Genres: Action, Adventure, Demons, Fantasy, Supernatural, Seinen
Duration: 1 hr. 32 min.
Rating: R+ – Mild Nudity
Direct-Download Links for Berserk – Golden Age Chapter II – The Capture of Doldrey (Movie) BD 1080p miniHD 1GB Encoded Movie

Movie 2: Direct Download: [AnimeOut] Berserk Golden Age Arc II – The Battle for Doldrey 2012 1080pp Blu-ray x265 Dual Audio

Direct-Download Links for Berserk – Golden Age Chapter II – The Capture of Doldrey (Movie) BD 720p miniHD 500MB Encoded Movie

[AnimeOut] Berserk Golden Age Arc II – The Battle for Doldrey 2012 720p Blu-ray x265 Dual Audio[0A7F96BB][NoobSubs][RapidBot].mkv: Direct Download

---
Berserk – Golden Age Chapter II – The Capture of Doldrey (Movie) is an aired movie and it received quite a rating as well…