(720p – 500MB)
Tokyo, Winter.
Despite the use of the Youth Ordinance Bill to enforce curfews for minors and regulate the use of the Internet, young people continue to fight for their own freedom through underground methods. One such group calls themselves Surat. They have decided to take on http://anidb.net/ch40722 , a man who has great influence in the political world, and basically controls Tokyo with an iron fist. While using the Internet as a weapon to discover more information about Fumito, they learn about Tower, the secret organization behind Fumito which engages in human experimentation.
When members of Surat attempt to set up an ambush in the subway to expose the truth behind Tower, mysterious creatures suddenly appear and attack the passengers. During this crisis, http://anidb.net/ch42230 appears — a young girl who uses a Japanese blade to slay the Old Ones. The same Saya who lost everything dear to her in that horrifying incident in the Ukishima Province.
What sort of experiment is Fumito and Tower trying to conduct using the Old Ones? And can Saya finally deliver vengeance to Fumito? Now, the final battle begins…
Anime Type – Movie
Total Episodes – 1
Rating – 4.15
Start Date – 2012-06-02
End Date – 2012-06-02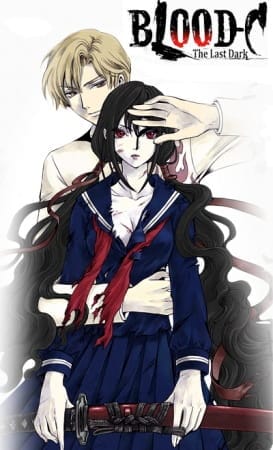 | Ep Num# | Date | Title |
| --- | --- | --- |
| 1 | 2012-06-02 | Complete Movie |
Direct-Download Links | Torrent Links for 720p 500MB miniMKV Encodes

Movie : Direct Download | Torrent

Film following directly up – more or less, there is some time discontinuity – the series (of the same name), which was a huge disappointment for me by the way. This film slightly improves the whole "Blood-C project" in my eyes, though. Nice visuals, good (better) pacing and reasonable portion of swift action (although you might have a feeling the action is foisted to the frame). But the rest is the same as it was in the series – strong female lead(s), touching moments looking to pathetic etc. The main thing is that it brings conclusion – in some sense, or it`s only my wish – to the whole project, so it`s worth your time if you want to see it through (or if you`re a fan of this).
All the same, if you haven`t seen anything concerning Blood-C, you might consider to avoid it (all of it) because this project does not stand to Blood+ even as a bad substitution.
Good animation work, but story wise this might be more interesting for XXXHolic \Clamp fans, than for fans of Blood.
AWESOME animation, video game style graphic fight scenes, nana mizuki, serious plot, topless bath scene and clamp+prod ig …. entertaining 1hr 42mins….
Blood-C (Prequel)
xxxHOLiC Rou (Same Setting)
Blood: The Last Vampire (Alternative Setting)
| ID | Name | Pic | Desc |
| --- | --- | --- | --- |
| 860 | Watanuki Kimihiro | | An orphaned boy cursed with the ability to see spi…. |
| 7021 | Soel | | …. |
| 31965 | Tokizane Shin`ichirou | | …. |
| 31966 | Kisaragi Tadayoshi | | …. |
| 31967 | Motoe Nono | | …. |
| 31968 | Motoe Nene | | …. |
| 31970 | Tomofusa Itsuki | | …. |
| 32899 | Tsutsutori Kanako | | …. |
| 35791 | Inu | | …. |
| 40722 | Nanahara Fumito | | …. |
| 42197 | Kutou | | …. |
| 42198 | Tsukiyama Hiro | | …. |
| 42199 | Matsuo Iori | | …. |
| 42200 | Hiiragi Mana | | …. |
| 42201 | Mogari Kuroto | | …. |
| 42202 | Yanagi Haruno | | …. |
| 42203 | Fujimura Shun | | …. |
| 42230 | Saya | | …. |
| 42231 | Amino Yuuka | | …. |