D-Frag!
(720p – 100MB)
ディーふらぐ! (japanese)
Anime Type : TV Series
Total Episodes : 12
Rating : 7.80
Aired : Jan 7, 2014 to Mar 25, 2014
Producer : Media Factory, Kadokawa Shoten
Genres : Comedy, Game, School, Seinen
Duration : 24 min. per episode
Kazama Kenji likes to believe he is something of a delinquent. Moreover, others seem to like to agree that he is. Of course, Kenji's gang finds their way to a group of four not-so-normal girls—Chitose, Sakura, Minami and Roka—and all at once, whatever reputation he may have is nothing compared to the outrageous behavior of the girls. Shanghaied into joining their club, what will happen to his everyday life from that point on?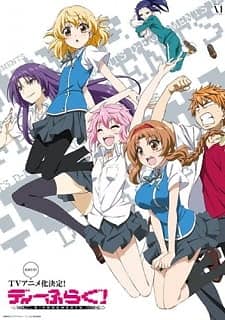 1080p Bluray Encodes
Episode 1 : Direct Download: [AnimeOut] D-Frag – 01 [BD 1080pp Hi10p Dual Audio FLAC][1b6ebcb2][1080pp][deanzel][RapidBot].mkv
Episode 2 : Direct Download: [AnimeOut] D-Frag – 02 [BD 1080pp Hi10p Dual Audio FLAC][a193a635][1080pp][deanzel][RapidBot].mkv
Episode 3 : Direct Download: [AnimeOut] D-Frag – 03 [BD 1080pp Hi10p Dual Audio FLAC][28400239][1080pp][deanzel][RapidBot].mkv
Episode 4 : Direct Download: [AnimeOut] D-Frag – 04 [BD 1080pp Hi10p Dual Audio FLAC][43ddc8ec][1080pp][deanzel][RapidBot].mkv
Episode 5 : Direct Download: [AnimeOut] D-Frag – 05 [BD 1080pp Hi10p Dual Audio FLAC][5e93b247][1080pp][deanzel][RapidBot].mkv
Episode 6 : Direct Download: [AnimeOut] D-Frag – 06 [BD 1080pp Hi10p Dual Audio FLAC][607499ad][1080pp][deanzel][RapidBot].mkv
Episode 7 : Direct Download: [AnimeOut] D-Frag – 07 [BD 1080pp Hi10p Dual Audio FLAC][0c3728bc][1080pp][deanzel][RapidBot].mkv
Episode 8 : Direct Download: [AnimeOut] D-Frag – 08 [BD 1080pp Hi10p Dual Audio FLAC][bf6a8efa][1080pp][deanzel][RapidBot].mkv
Episode 9 : Direct Download: [AnimeOut] D-Frag – 09 [BD 1080pp Hi10p Dual Audio FLAC][840f8d1d][1080pp][deanzel][RapidBot].mkv
Episode 10 : Direct Download: [AnimeOut] D-Frag – 10 [BD 1080pp Hi10p Dual Audio FLAC][71ac9213][1080pp][deanzel][RapidBot].mkv
Episode 11 : Direct Download: [AnimeOut] D-Frag – 11 [BD 1080pp Hi10p Dual Audio FLAC][9748c05e][1080pp][deanzel][RapidBot].mkv
Episode 12 : Direct Download: [AnimeOut] D-Frag – 12 [BD 1080pp Hi10p Dual Audio FLAC][152eafa8][1080pp][deanzel][RapidBot].mkv
720p Bluray Encodes
Episode 1 : Direct Download: [AnimeOut] D-Frag – 01 [BD 720pp Hi10p Dual Audio FLAC][1b6ebcb2][deanzel][RapidBot].mkv
Episode 2 : Direct Download: [AnimeOut] D-Frag – 02 [BD 720pp Hi10p Dual Audio FLAC][a193a635][deanzel][RapidBot].mkv
Episode 3 : Direct Download: [AnimeOut] D-Frag – 03 [BD 720pp Hi10p Dual Audio FLAC][28400239][deanzel][RapidBot].mkv
Episode 4 : Direct Download: [AnimeOut] D-Frag – 04 [BD 720pp Hi10p Dual Audio FLAC][43ddc8ec][deanzel][RapidBot].mkv
Episode 5 : Direct Download: [AnimeOut] D-Frag – 05 [BD 720pp Hi10p Dual Audio FLAC][5e93b247][deanzel][RapidBot].mkv
Episode 6 : Direct Download: [AnimeOut] D-Frag – 06 [BD 720pp Hi10p Dual Audio FLAC][607499ad][deanzel][RapidBot].mkv
Episode 7 : Direct Download: [AnimeOut] D-Frag – 07 [BD 720pp Hi10p Dual Audio FLAC][0c3728bc][deanzel][RapidBot].mkv
Episode 8 : Direct Download: [AnimeOut] D-Frag – 08 [BD 720pp Hi10p Dual Audio FLAC][bf6a8efa][deanzel][RapidBot].mkv
Episode 9 : Direct Download: [AnimeOut] D-Frag – 09 [BD 720pp Hi10p Dual Audio FLAC][840f8d1d][deanzel][RapidBot].mkv
Episode 10 : Direct Download: [AnimeOut] D-Frag – 10 [BD 720pp Hi10p Dual Audio FLAC][71ac9213][deanzel][RapidBot].mkv
Episode 11 : Direct Download: [AnimeOut] D-Frag – 11 [BD 720pp Hi10p Dual Audio FLAC][9748c05e][deanzel][RapidBot].mkv
Episode 12 : Direct Download: [AnimeOut] D-Frag – 12 [BD 720pp Hi10p Dual Audio FLAC][152eafa8][deanzel][RapidBot].mkv
576p OVA
OVA : Direct Download: [AnimeOut] D-Frag – OVA [DVD][576p][AAC][DeadFish][RapidBot].mkv
Mega Batch (NOT Dual Audio)