Darker than Black: Kuro no Keiyakusha Gaiden 
(720p BD – 100MB)
Darker Than Black: Ryuusei no Gemini Specials
Darker than Black OVA
Tells the story of what happened to Yin and Hei between the first and second series.
Anime Type – OVA
Total Episodes – 4
Rating – 8.45
Start Date – 2009-10-09
End Date – 2009-12-25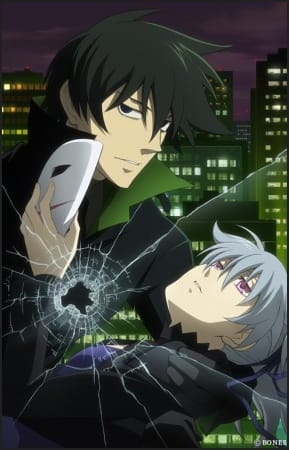 Direct-Download Links | Torrent Links for Darker than Black: Kuro no Keiyakusha Gaiden 720p BD 100MB miniMKV Encodes
Episode 1 : Direct Download
Episode 2 : Direct Download
Episode 3 : Direct Download
Episode 4 : Direct Download
Mega Batch Download
This is the bridge between Kuro no Keiyakusha (Season 1) and Ryuusei no Gemini (Season 2). For those who watched both seasons THIS IS A MUST! In these 4 episodes they will explain the holes in Ryuusei no Gemini.
(Will update as season ends)
Story: 9/10
These 4 episodes explains about the gap in the 2 years between season 1 and season 2. Like before of DtB, the story is well executed and polished. It is based on the character development between Hei and Yin. Also answers many of the questions that were brought in season 2.
Art: 9/10
Amazing, I would say it is better than both seasons. As this is the 3rd season of DtB, all I seen is improvements in art.
Sound: 8/10
They bring back some of the old and created some of the new. It is crisp, fresh, and rewarding. You are going to enjoy the new sounds and music as well as some of the old.
Character: 9/10
Even though these 4 episodes revolve around 2 people, they developed Hei and Yin even FURTHER. Many development is explained that where questioned in season 2 like " What happened between Hei and Yin".
IT ALL ANWSERED HERE!
The characters are vibrant and round, We understand them and feel their pain and emotions clearly. Like the other 2 seasons, it does not fail to convey their emotions clearly.
Enjoyment: 10/10
There has never been a dull moment in these 4 episodes. Every episode we would stand, worry, and maybe even cry. We never stopped watching and always wondering what will happen further. Surprises always move the plot and the typical story has been rewritten.
Overall: 9/10
If you watched Kuro no Keiyakusha (Season 1) and Ryuusei no Gemini (Season 2), THIS IS A MUST! It will explain the holes and fulfill the answers that are desired. You will cry, you will laugh, and you will shout. This is what true emotions conveyed in Anime is about!
Darker Than Black: Kuro no Keiyakusha (Prequel)
Darker Than Black: Ryuusei no Gemini (Sequel)
Phantom: Requiem for the Phantom
King of Thorn