D.Gray-man Hallow
(720p – 150MB)
D.Gray-man Hallow , ディー・グレイマン ハロー (Japanese)
Type: TV Series
Episodes: 12
Status: Currently Airing
Aired: Jul 11, 2016 to Sep 26, 2016
Genres: Action, Demons, Shounen, Super Power
Duration: 24 min. per ep.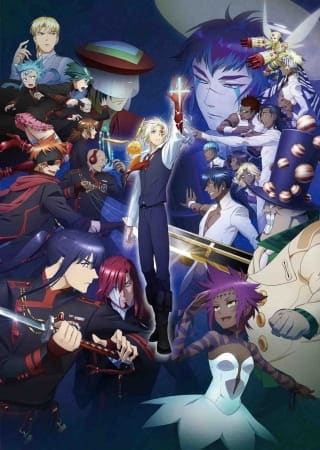 Toward the end of the 19th century, Allen Walker officially joins the organization of Exorcists that destroy the beings known as Akuma; mechanic weapons made by the Millennium Earl with the suffering souls of the dead. Allen has both a cursed eye and an anti-Akuma weapon as an arm, bearing the power of "Innocence," a gift given to him as an apostle of God. Allen, along with his fellow Exorcists must put a stop to the Millennium Earl's ultimate plot that could lead to the destruction of the world and all who live on it.
Direct-Download | File Host Links for D.Gray-man Hallow 720p 150MB miniMKV Encodes
Direct-Download Links
Episode 01 – Direct Download
Episode 02 – Direct Download
Episode 03 – Direct Download
Episode 04 – Direct Download
[AnimeOut] D.Gray-man Hallow – 01 [720p][HorribleSubs][RapidBot].mkv: Direct Download | Openload.co
[AnimeOut] D.Gray-man Hallow – 02 [720p][HorribleSubs][RapidBot].mkv: Direct Download | Openload.co
[AnimeOut] D.Gray-man Hallow – 03 [720p][HorribleSubs][RapidBot].mkv: Direct Download | Openload.co
[AnimeOut] D.Gray-man Hallow – 04 [720p][HorribleSubs][RapidBot].mkv: Direct Download | Openload.co
[AnimeOut] D.Gray-man Hallow – 05 [720p][HorribleSubs][RapidBot].mkv: Direct Download | Openload.co
[AnimeOut] D.Gray-man Hallow – 06 [720p][HorribleSubs][RapidBot].mkv: Direct Download | Openload.co
[AnimeOut] D.Gray-man Hallow – 07 [720p][HorribleSubs][RapidBot].mkv: Direct Download | Openload.co
[AnimeOut] D.Gray-man Hallow – 08 [720p][HorribleSubs][RapidBot].mkv: Direct Download | Openload.co
[AnimeOut] D.Gray-man Hallow – 09 [720p][HorribleSubs][RapidBot].mkv: Direct Download | Openload.co
[AnimeOut] D.Gray-man Hallow – 10 [720p][HorribleSubs][RapidBot].mkv: Direct Download | Openload.co
[AnimeOut] D.Gray-man Hallow – 11 [720p]AnimeOut[AnimeOut[AnimeOut[[HorribleSubs][RapidBot]][RapidBot]][RapidBot]][RapidBot].mkv: Direct Download | Openload.co
[AnimeOut] D.Gray-man Hallow – 12 [720p][HorribleSubs][RapidBot].mkv: Direct Download | Openload.co
[AnimeOut] D.Gray-man Hallow – 13 [720p][HorribleSubs][RapidBot].mkv: Direct Download | Openload.co