Masamune-kun no Revenge 政宗くんのリベンジ (720p – 120MB)
Producers:
Sotsu, Lantis, AT-X,KlockWorx, BS Fuji, Tokyo MX,Crunchyroll, Ichijinsha, Furyu
Licencors: 

FUNimation Entertainment
Genres:
Harem, Comedy, Romance, School, Shounen
Duration:
23 min. per ep.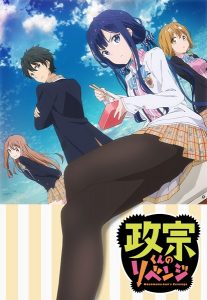 As a child, Masamune Makabe once suffered greatly at the hands of a wealthy and beautiful girl named Aki Adagaki, who nicknamed him "Piggy" due to his chubby appearance. Seeking revenge against his tormentor, Masamune works hard to improve himself and returns as an incredibly handsome, albeit narcissistic, high school student. When he encounters Aki once again, he is prepared to exact vengeance.
With the aid of the rich girl's maid, Yoshino Koiwai, Masamune slowly begins to build his relationship with Aki, intending to break her heart when the time is right. However, as his friendship with Aki begins to grow, Masamune starts to question the objectives of his devious plans, and if bringing them to fruition is what his heart truly desires.
cc0dykid's Note: This gonna be funny!
Direct Download Links – Masamune-kun no Revenge BD 1080p
Episode 1: Direct Download: [AnimeOut] Masamune-kun no Revenge – S01E01 BD 1080pp HEVC Opus [Dual Audio] [68A574F6][1080pp][smol][RapidBot].mkv
Episode 2: Direct Download: [AnimeOut] Masamune-kun no Revenge – S01E02 BD 1080pp HEVC Opus [Dual Audio] [94900721][1080pp][smol][RapidBot].mkv
Episode 3: Direct Download: [AnimeOut] Masamune-kun no Revenge – S01E03 BD 1080pp HEVC Opus [Dual Audio] [935260CB][1080pp][smol][RapidBot].mkv
Episode 4: Direct Download: [AnimeOut] Masamune-kun no Revenge – S01E04 BD 1080pp HEVC Opus [Dual Audio] [5C2F1D1F][1080pp][smol][RapidBot].mkv
Episode 5: Direct Download: [AnimeOut] Masamune-kun no Revenge – S01E05 BD 1080pp HEVC Opus [Dual Audio] [38A16C44][1080pp][smol][RapidBot].mkv
Episode 6: Direct Download: [AnimeOut] Masamune-kun no Revenge – S01E06 BD 1080pp HEVC Opus [Dual Audio] [3013A4AD][1080pp][smol][RapidBot].mkv
Episode 7: Direct Download: [AnimeOut] Masamune-kun no Revenge – S01E07 BD 1080pp HEVC Opus [Dual Audio] [13112E78][1080pp][smol][RapidBot].mkv
Episode 8: Direct Download: [AnimeOut] Masamune-kun no Revenge – S01E08 BD 1080pp HEVC Opus [Dual Audio] [BE69AE05][1080pp][smol][RapidBot].mkv
Episode 9: Direct Download: [AnimeOut] Masamune-kun no Revenge – S01E09 BD 1080pp HEVC Opus [Dual Audio] [7F47ADE0][1080pp][smol][RapidBot].mkv
Episode 10: Direct Download: [AnimeOut] Masamune-kun no Revenge – S01E10 BD 1080pp HEVC Opus [Dual Audio] [E6E35C50][1080pp][smol][RapidBot].mkv
Episode 11: Direct Download: [AnimeOut] Masamune-kun no Revenge – S01E11 BD 1080pp HEVC Opus [Dual Audio] [260C1E0B][1080pp][smol][RapidBot].mkv
Episode 12: Direct Download: [AnimeOut] Masamune-kun no Revenge – S01E12 BD 1080pp HEVC Opus [Dual Audio] [32BC1A9E][1080pp][smol][RapidBot].mkv
OVA: Direct Download: [AnimeOut] Masamune-kun no Revenge – S00E01 – 13 OVA BD 1080pp HEVC Opus [DF02B841][1080pp][smol][RapidBot].mkv
NCOP: Direct Download: [AnimeOut] Masamune-kun no Revenge – NCOP – Wagamama MIRROR HEART BD 1080pp HEVC Opus [B77B4D3B][1080pp][smol][RapidBot].mkv
NCED 1: Direct Download: [AnimeOut] Masamune-kun no Revenge – NCED 1 – Elemental World BD 1080pp HEVC Opus [6465F2D7][1080pp][smol][RapidBot].mkv
NCED 2: Direct Download: [smol] Masamune-kun no Revenge – NCED 2 – Manazashi Silent BD AnimeOut 1920×816 HEVC Opus [48C75AEC][1080p][RapidBot].mkv
Direct Download Links – Masamune-kun no Revenge BD 720p
Episode 1: Direct Download: [AnimeOut] Masamune-kun no Revenge – S01E01 BD 720p HEVC Opus [Dual Audio] [68A574F6][smol][RapidBot].mkv
Episode 2: Direct Download: [AnimeOut] Masamune-kun no Revenge – S01E02 BD 720p HEVC Opus [Dual Audio] [94900721][smol][RapidBot].mkv
Episode 3: Direct Download: [AnimeOut] Masamune-kun no Revenge – S01E03 BD 720p HEVC Opus [Dual Audio] [935260CB][smol][RapidBot].mkv
Episode 4: Direct Download: [AnimeOut] Masamune-kun no Revenge – S01E04 BD 720p HEVC Opus [Dual Audio] [5C2F1D1F][smol][RapidBot].mkv
Episode 5: Direct Download: [AnimeOut] Masamune-kun no Revenge – S01E05 BD 720p HEVC Opus [Dual Audio] [38A16C44][smol][RapidBot].mkv
Episode 6: Direct Download: [AnimeOut] Masamune-kun no Revenge – S01E06 BD 720p HEVC Opus [Dual Audio] [3013A4AD][smol][RapidBot].mkv
Episode 7: Direct Download: [AnimeOut] Masamune-kun no Revenge – S01E07 BD 720p HEVC Opus [Dual Audio] [13112E78][smol][RapidBot].mkv
Episode 8: Direct Download: [AnimeOut] Masamune-kun no Revenge – S01E08 BD 720p HEVC Opus [Dual Audio] [BE69AE05][smol][RapidBot].mkv
Episode 9: Direct Download: [AnimeOut] Masamune-kun no Revenge – S01E09 BD 720p HEVC Opus [Dual Audio] [7F47ADE0][smol][RapidBot].mkv
Episode 10: Direct Download: [AnimeOut] Masamune-kun no Revenge – S01E10 BD 720p HEVC Opus [Dual Audio] [E6E35C50][smol][RapidBot].mkv
Episode 11: Direct Download: [AnimeOut] Masamune-kun no Revenge – S01E11 BD 720p HEVC Opus [Dual Audio] [260C1E0B][smol][RapidBot].mkv
Episode 12: Direct Download: [AnimeOut] Masamune-kun no Revenge – S01E12 BD 720p HEVC Opus [Dual Audio] [32BC1A9E][smol][RapidBot].mkv
OVA: Direct Download: [AnimeOut] Masamune-kun no Revenge – S00E01 – 13 OVA BD 720p HEVC Opus [DF02B841][smol][RapidBot].mkv
NCOP: Direct Download: [AnimeOut] Masamune-kun no Revenge – NCOP – Wagamama MIRROR HEART BD 720p HEVC Opus [B77B4D3B][smol][RapidBot].mkv
NCED 1: Direct Download: [AnimeOut] Masamune-kun no Revenge – NCED 1 – Elemental World BD 720p HEVC Opus [6465F2D7][smol][RapidBot].mkv
NCED 2: Direct Download: [smol] Masamune-kun no Revenge – NCED 2 – Manazashi Silent BD AnimeOut 1920×816 HEVC Opus [48C75AEC][720p][RapidBot].mkv
MEGA Batch