New Prince of Tennis (2012 Anime)
(100MB – 720p)
Synonyms: PoT 2 (short),The Prince of Tennis II (official), Prince of Tennis 2
Type: TV Series
Episodes: 13
Aired: 2012-01-05
Ended: 2012-03-29
Rating: 5.03
* Based on a manga by [Konomi Takeshi], serialised in Jump Square.
It takes a lot to reach the top when it comes to tennis. No one knows that better than Ryouma Echizen, a young prodigy tennis player, and his teammates at the Seishun Academy. It was only because they pushed themselves to the limit, spending countless hours preparing for every pulse-pounding match, that they managed to claim victory in the All-Japan National Tournament.
Middle school students fought fiercely against one another in a national tournament. Now, 50 chosen representatives return to fight against high schoolers! The stage is the U-17 (Under Seventeen) Japanese Representative Training Camp. Middle school students have been invited for the first time to a camp known to produce the best Japanese tennis players.
National champions from Seigaku, Hyotei, Rikkai, all the rivals from the national tournament attending, everyone eagerly awaits their reunion. At first, the middle schoolers do not expect much from their high school opponents. However, the training camp is not so easy!
Athletes with skills incomparable to those they previously faced and their mysterious coach appear before them. Faced with numerous demanding challenges, can the middle schoolers survive in this meritocratic training camp? The new chapter of Prince of Tennis begins here! The curtain rises on a new stage.
New Prince of Tennis begins with Ryouma and his teammates heading to the U-17 Selection training camp, after receiving a special invitation due to their victory in the Nationals. The training camp is renowned for producing strong tennis players, so the boys of Seishun Academy can't wait to take their game to the next level. However, not everyone is happy to have them among their ranks, and they'll have to weather the intense training to prove they belong among the best of the up-and-coming players of their generation.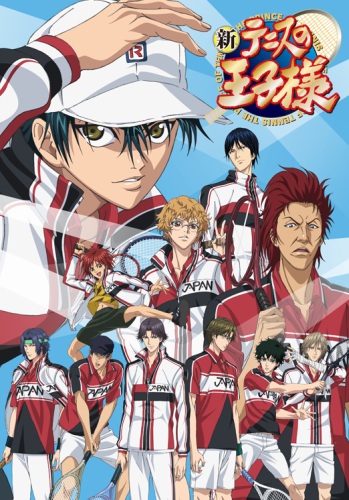 Prince of Tennis 2 (2012) Direct Download Links (100MB – 720p)(Encoded)

Episode 1 : Direct Download
Episode 2 : Direct Download
Episode 3 : Direct Download
Episode 4 : Direct Download
Episode 5 : Direct Download
Episode 6 : Direct Download
Episode 7 : Direct Download
Episode 8 : Direct Download
Episode 9 : Direct Download
Episode 10 : Direct Download
Episode 11 : Direct Download
Episode 12 : Direct Download
Episode 13 : Direct Download

Specials
Episode 1 : Direct Download: [AnimeOut] The New Prince of Tennis Specials – 01 [720p][HorribleSubs][RapidBot].mkv
Episode 2 : Direct Download: [AnimeOut] The New Prince of Tennis Specials – 02 [720p][HorribleSubs][RapidBot].mkv
Episode 3 : Direct Download: [AnimeOut] The New Prince of Tennis Specials – 03 [720p][HorribleSubs][RapidBot].mkv
Episode 4 : Direct Download: [AnimeOut] The New Prince of Tennis Specials – 04 [720p][HorribleSubs][RapidBot].mkv
Episode 5 : Direct Download: [AnimeOut] The New Prince of Tennis Specials – 05 [720p][HorribleSubs][RapidBot].mkv
Episode 6 : Direct Download: [AnimeOut] The New Prince of Tennis Specials – 06 [720p][HorribleSubs][RapidBot].mkv
Episode 7 : Direct Download: [AnimeOut] The New Prince of Tennis Specials – 07 [720p][HorribleSubs][RapidBot].mkv
OVA
Episode 1 : Direct Download: [HorribleSubs] The New Prince of Tennis OVA AnimeOut – 01 [720p][vs Genius10][RapidBot].mkv
Episode 2 : Direct Download: [HorribleSubs] The New Prince of Tennis OVA AnimeOut – 02 [720p][vs Genius10][RapidBot].mkv
Episode 3 : Direct Download: [HorribleSubs] The New Prince of Tennis OVA AnimeOut – 03 [720p][vs Genius10][RapidBot].mkv
Episode 4 : Direct Download: [HorribleSubs] The New Prince of Tennis OVA AnimeOut – 04 [720p][vs Genius10][RapidBot].mkv
Episode 5 : Direct Download: [HorribleSubs] The New Prince of Tennis OVA AnimeOut – 05 [720p][vs Genius10][RapidBot].mkv
Episode 6 : Direct Download: [HorribleSubs] The New Prince of Tennis OVA AnimeOut – 06 [720p][vs Genius10][RapidBot].mkv
Episode 7 : Direct Download: [HorribleSubs] The New Prince of Tennis OVA AnimeOut – 07 [720p][vs Genius10][RapidBot].mkv
Episode 8 : Direct Download: [HorribleSubs] The New Prince of Tennis OVA AnimeOut – 08 [720p][vs Genius10][RapidBot].mkv
Episode 9 : Direct Download: [HorribleSubs] The New Prince of Tennis OVA AnimeOut – 09 [720p][vs Genius10][RapidBot].mkv
Episode 10 : Direct Download: [HorribleSubs] The New Prince of Tennis OVA AnimeOut – 10 [720p][vs Genius10][RapidBot].mkv
——————————————————————–
Did you also check out this Anime ? Prince of Tennis (2001)