Dragon Ball Z – Kami to Kami
(720p – 700MB)
Dragon Ball Z – Kami to Kami
Dragon Ball Z: God vs. God (synonym)
DBZ Movie 14 (short)
Dragon Ball Z: Battle of Gods (official)
Dragon Ball Z: A Batalha dos Deuses (official)
Dragon Ball Z: La Batalla de los Dioses (official)
* Based on a manga by Toriyama Akira, serialised in Weekly Shounen Jump.
Shortly after the defeat of Majin Buu, Beerus, the God of Destruction, awakens after a long slumber. After hearing rumors of a Saiyajin warrior who defeated Freeza, he tracks down that warrior, Son Goku. Excited at the prospect of a new challenge, Goku faces him in battle, only to be quickly overwhelmed by his power and defeated shortly thereafter. Realizing the threat Beerus poses to the entire universe, Goku and his friends must find a way to stop him before it`s too late.
Source: ANN
Note: This film is set between the 517th and 518th chapters of the original manga, specifically during the lost decade of story time after the end of the battle with Majin Buu.
Anime Type – Movie
Total Episodes – 1
Rating – 4.68
Start Date – 2013-03-30
End Date – 2013-03-30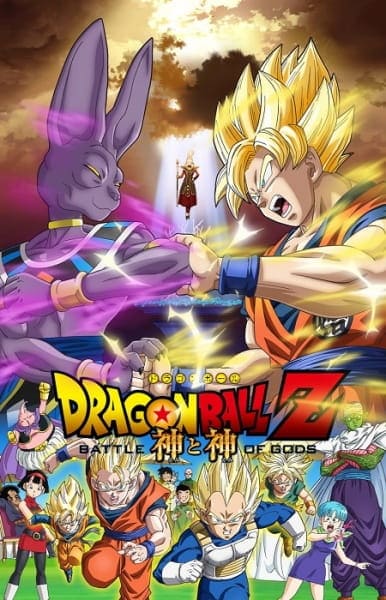 Direct-Download Links | Torrent Links for Dragon Ball Z: Kami to Kami BD 1080p 1GB miniMKV Encodes
Movie : Direct Download: Dragon Ball Z – Movie 14b – Battle of Gods UNCut 2013 BluRay – 1080pp DUAL AUDIO[1080pp][][RapidBot].mkv
Direct-Download Links | Torrent Links for Dragon Ball Z: Kami to Kami 720p 700MB miniMKV Encodes
Battle of Gods Movie
Special 1 – Battle of Voice Actors
Special 1 – The voices of DBZ Unveiled
It`s, for sure, made for fans of DBZ which I`m one – Guilty! But even who isn`t on that wagon, I must admit, it`s a fresh approach/continuation to the DBZ Universe if you enjoyed the manga/anime and don`t care about GT because it wasn`t made by Akira.
One thing is sure – it will keep most of the people interested enough to watch it until the end.
The movie is kinda like a game in some parts, be warned, with so much CGI being used [some were a bit too much, I admit but others were genius] but that`s make you feel like you`re inside it as if you were playing a DBZ game and you had control Son Goku.
CGI made it less Dragon Ball Z like, not the best of movies, a bit dissapointing , still a dragon ball z movie is a dragon ball z movie. Fans would enjoy nevertheless.
I went into watching this with high hopes…but by the end I was left somewhat wanting. Suffice to say I certainly enjoyed other previous DBZ movies to this one, so it ain`t the worst apple in the bunch. Dragon Ball Z: Kami to Kami/Battle of Gods serves more as a large ensemble of many DB and DBZ characters (excluding filler chars) past and present, hearkening back to its roots in manga rather than anything else, which is something I really liked, especially the exchanges between DB chars and DBZ newcommers. In other respects, it ticks all the boxes of a DBZ instalment; high octane fighting, during the rare chance it actually comes up (lotsa dialogue), humour, bravery, emotion, etc etc. I wasn`t impressed with the heavy use of 3D CGI during certain scenes, however, as I missed the classic DBZ movies and the way the backgrounds were illustrated and static, and less false looking. In conclusion, I would say that this movie is purely for the fans.
Great show i gotta say. The plot should be taken with a grain of salt. What i liked most is that we had some cute little additions that pointed to the roots, the original dragon ball, with goku as a child. Pilaf and his crew ofc is a prime example and chibi Mei + trunks was just so cute xD. Also the dinosaur that appeared for a split second. It all connected well to other important things like Videl`s pregnancy or Vegeta`s brother and father. All in all a great watch that should not be taken too srsly which might just bring a small tear of nostalgy into your eye.
Dragon Ball Z (Parent Story)