Gekijouban Fairy Tail: Houou no Miko
(720p – 700MB)
Gekijouban Fairy Tail: Houou no Miko
Fairy Tail Movie 1: Priestess of the Phoenix (synonym)
Fairy Tail the Movie: Phoenix Priestess (official)
The film revolves around a mysterious girl named Eclair who appears before Fairy Tail, the world`s most notorious wizard`s guild. She lost all of her memories, except for the imperative that she must deliver two Phoenix Stones somewhere. The stones may spell the collapse of the magical world, and Natsu, Lucy and the rest of the Fairy Tail guild are caught up in the intrigue.
Anime Type – Movie
Total Episodes – 1
Rating – 4.61
Start Date – 2012-08-18
End Date – 2012-08-18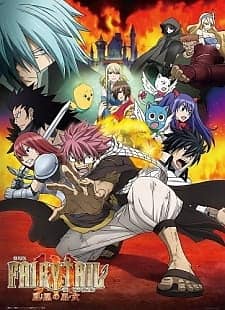 Direct-Download Links | Torrent Links for Fairy Tail – The Phoenix Priestess 720p 700MB miniMKV Encodes
The Phoenix (Special)
The Phoenix (Movie)
The unloved stepchild of a popular series. Awkward animation and a pretty unimaginative story. The movie is just for hardcore fans, who want to see everything there is.
Fairy Tail (Parent Story)