Fate Kaleid Liner Prisma Illya 3rei!!
(1080p – 300MB)
Fate/kaleid liner プリズマ☆イリヤ 3rei!!
Anime Type – TV Series
Total Episodes – 12
Aired: Jul 6, 2016 to Sep 21, 2016
Premiered: Summer 2016
Broadcast: Thursdays at 01:05 (JST)
Producers: Silver Link.
Genres: Action, Comedy, Fantasy, Magic, Slice of Life
Duration: 24 min.
Fourth season of the Fate/kaleid liner Prisma☆Illya series. Shirou OP.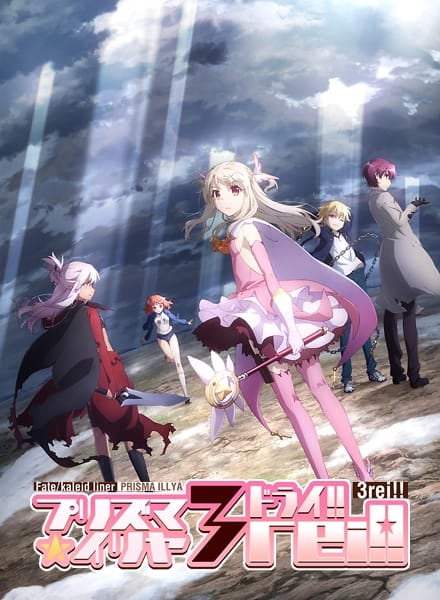 Direct-Download Links for Fate/kaleid liner Prisma☆Illya 3rei!! 1080p 300MB miniMKV Encodes
Episode 01: Direct Download: [AnimeOut] Fate kaleid liner PrismaIllya 3rei – 01 BD 1920x1080p h264 FLAC[1080pp][SNSbu][RapidBot].mkv
Episode 02: Direct Download: [AnimeOut] Fate kaleid liner PrismaIllya 3rei – 02 BD 1920x1080p h264 FLAC[1080pp][SNSbu][RapidBot].mkv
Episode 03: Direct Download: [AnimeOut] Fate kaleid liner PrismaIllya 3rei – 03 BD 1920x1080p h264 FLAC[1080pp][SNSbu][RapidBot].mkv
Episode 04: Direct Download: [AnimeOut] Fate kaleid liner PrismaIllya 3rei – 04 BD 1920x1080p h264 FLAC[1080pp][SNSbu][RapidBot].mkv
Episode 05: Direct Download: [AnimeOut] Fate kaleid liner PrismaIllya 3rei – 05 BD 1920x1080p h264 FLAC[1080pp][SNSbu][RapidBot].mkv
Episode 06: Direct Download: [AnimeOut] Fate kaleid liner PrismaIllya 3rei – 06 BD 1920x1080p h264 FLAC[1080pp][SNSbu][RapidBot].mkv
Episode 07: Direct Download: [AnimeOut] Fate kaleid liner PrismaIllya 3rei – 07 BD 1920x1080p h264 FLAC[1080pp][SNSbu][RapidBot].mkv
Episode 08: Direct Download: [AnimeOut] Fate kaleid liner PrismaIllya 3rei – 08 BD 1920x1080p h264 FLAC[1080pp][SNSbu][RapidBot].mkv
Episode 09: Direct Download: [AnimeOut] Fate kaleid liner PrismaIllya 3rei – 09 BD 1920x1080p h264 FLAC[1080pp][SNSbu][RapidBot].mkv
Episode 10: Direct Download: [AnimeOut] Fate kaleid liner PrismaIllya 3rei – 10 BD 1920x1080p h264 FLAC[1080pp][SNSbu][RapidBot].mkv
Episode 11: Direct Download: [AnimeOut] Fate kaleid liner PrismaIllya 3rei – 11 BD 1920x1080p h264 FLAC[1080pp][SNSbu][RapidBot].mkv
Episode 12: Direct Download: [AnimeOut] Fate kaleid liner PrismaIllya 3rei – 12 BD 1920x1080p h264 FLAC[1080pp][SNSbu][RapidBot].mkv
Specials
Episode 1: Direct Download: [AnimeOut] Fate kaleid liner PrismaIllya 3rei Specials – 1 BD 1920x1080p h264 FLAC[1080pp][SNSbu][RapidBot].mkv
Episode 2: Direct Download: [AnimeOut] Fate kaleid liner PrismaIllya 3rei Specials – 2 BD 1920x1080p h264 FLAC[1080pp][SNSbu][RapidBot].mkv
Episode 3: Direct Download: [AnimeOut] Fate kaleid liner PrismaIllya 3rei Specials – 3 BD 1920x1080p h264 FLAC[1080pp][SNSbu][RapidBot].mkv
Episode 4: Direct Download: [AnimeOut] Fate kaleid liner PrismaIllya 3rei Specials – 4 BD 1920x1080p h264 FLAC[1080pp][SNSbu][RapidBot].mkv
Episode 5: Direct Download: [AnimeOut] Fate kaleid liner PrismaIllya 3rei Specials – 5 BD 1920x1080p h264 FLAC[1080pp][SNSbu][RapidBot].mkv
Episode 6: Direct Download: [AnimeOut] Fate kaleid liner PrismaIllya 3rei Specials – 6 BD 1920x1080p h264 FLAC[1080pp][SNSbu][RapidBot].mkv
OPs/EDs
NCOP 1 : Direct Download: [AnimeOut] Fate kaleid liner Prisma_Illya 3rei – NCOP 1 BD 1920x1080p h264 FLAC[1080pp][SNSbu][RapidBot].mkv
NCOP 2 : Direct Download: [AnimeOut] Fate kaleid liner Prisma_Illya 3rei – NCOP 2 BD 1920x1080p h264 FLAC[1080pp][SNSbu][RapidBot].mkv
NCED 1 : Direct Download: [AnimeOut] Fate kaleid liner Prisma_Illya 3rei – NCED 1 BD 1920x1080p h264 FLAC[1080pp][SNSbu][RapidBot].mkv
NCED 2 : Direct Download: [AnimeOut] Fate kaleid liner Prisma_Illya 3rei – NCED 2 BD 1920x1080p h264 FLAC[1080pp][SNSbu][RapidBot].mkv
NCED 3 : Direct Download: [AnimeOut] Fate kaleid liner Prisma_Illya 3rei – NCED 3 BD 1920x1080p h264 FLAC[1080pp][SNSbu][RapidBot].mkv
Direct-Download Links for Fate/kaleid liner Prisma☆Illya 3rei!! 720p 150MB miniMKV Encodes
Episode 01: Direct Download: [AnimeOut] Fate kaleid liner PrismaIllya 3rei – 01 BD 1920x720p h264 FLAC[SNSbu][RapidBot].mkv
Episode 02: Direct Download: [AnimeOut] Fate kaleid liner PrismaIllya 3rei – 02 BD 1920x720p h264 FLAC[SNSbu][RapidBot].mkv
Episode 03: Direct Download: [AnimeOut] Fate kaleid liner PrismaIllya 3rei – 03 BD 1920x720p h264 FLAC[SNSbu][RapidBot].mkv
Episode 04: Direct Download: [AnimeOut] Fate kaleid liner PrismaIllya 3rei – 04 BD 1920x720p h264 FLAC[SNSbu][RapidBot].mkv
Episode 05: Direct Download: [AnimeOut] Fate kaleid liner PrismaIllya 3rei – 05 BD 1920x720p h264 FLAC[SNSbu][RapidBot].mkv
Episode 06: Direct Download: [AnimeOut] Fate kaleid liner PrismaIllya 3rei – 06 BD 1920x720p h264 FLAC[SNSbu][RapidBot].mkv
Episode 07: Direct Download: [AnimeOut] Fate kaleid liner PrismaIllya 3rei – 07 BD 1920x720p h264 FLAC[SNSbu][RapidBot].mkv
Episode 08: Direct Download: [AnimeOut] Fate kaleid liner PrismaIllya 3rei – 08 BD 1920x720p h264 FLAC[SNSbu][RapidBot].mkv
Episode 09: Direct Download: [AnimeOut] Fate kaleid liner PrismaIllya 3rei – 09 BD 1920x720p h264 FLAC[SNSbu][RapidBot].mkv
Episode 10: Direct Download: [AnimeOut] Fate kaleid liner PrismaIllya 3rei – 10 BD 1920x720p h264 FLAC[SNSbu][RapidBot].mkv
Episode 11: Direct Download: [AnimeOut] Fate kaleid liner PrismaIllya 3rei – 11 BD 1920x720p h264 FLAC[SNSbu][RapidBot].mkv
Episode 12: Direct Download: [AnimeOut] Fate kaleid liner PrismaIllya 3rei – 12 BD 1920x720p h264 FLAC[SNSbu][RapidBot].mkv
Specials
Episode 1: Direct Download: [AnimeOut] Fate kaleid liner PrismaIllya 3rei Specials – 1 BD 1920x720p h264 FLAC[SNSbu][RapidBot].mkv
Episode 2: Direct Download: [AnimeOut] Fate kaleid liner PrismaIllya 3rei Specials – 2 BD 1920x720p h264 FLAC[SNSbu][RapidBot].mkv
Episode 3: Direct Download: [AnimeOut] Fate kaleid liner PrismaIllya 3rei Specials – 3 BD 1920x720p h264 FLAC[SNSbu][RapidBot].mkv
Episode 4: Direct Download: [AnimeOut] Fate kaleid liner PrismaIllya 3rei Specials – 4 BD 1920x720p h264 FLAC[SNSbu][RapidBot].mkv
Episode 5: Direct Download: [AnimeOut] Fate kaleid liner PrismaIllya 3rei Specials – 5 BD 1920x720p h264 FLAC[SNSbu][RapidBot].mkv
Episode 6: Direct Download: [AnimeOut] Fate kaleid liner PrismaIllya 3rei Specials – 6 BD 1920x720p h264 FLAC[SNSbu][RapidBot].mkv
OPs/EDs
NCOP 1 : [AnimeOut] Fate kaleid liner Prisma Illya 3rei – NCOP 1 BD 1920x720p h264 FLAC[SNSbu][RapidBot].mkv: Direct Download
NCOP 2 : [AnimeOut] Fate kaleid liner Prisma Illya 3rei – NCOP 2 BD 1920x720p h264 FLAC[SNSbu][RapidBot].mkv: Direct Download
NCED 1 : [AnimeOut] Fate kaleid liner Prisma Illya 3rei – NCED 1 BD 1920x720p h264 FLAC[SNSbu][RapidBot].mkv: Direct Download
NCED 2 : [AnimeOut] Fate kaleid liner Prisma Illya 3rei – NCED 2 BD 1920x720p h264 FLAC[SNSbu][RapidBot].mkv: Direct Download
NCED 3 : [AnimeOut] Fate kaleid liner Prisma Illya 3rei – NCED 3 BD 1920x720p h264 FLAC[SNSbu][RapidBot].mkv: Direct Download