Gintama: Kanketsu-hen – Yorozuya yo Eien Nare
What would have happened if the Shiroyasha never existed?
Edo is thrown to chaos by a mysterious cause. Sakata Gintoki, now lives in a world where the future has changed, without him. What has happened to the Yorozuya?
Gintoki, who is now a ghost of the past, must once again carry the burden in order to save his friends. He must finish the biggest job ever, which may be the final job of Yorozuya.
Anime Type – Movies Total Episodes – 1 Rating – 9.31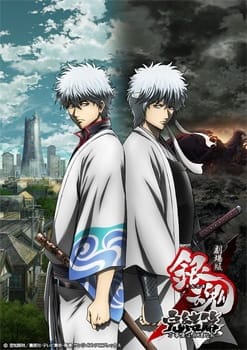 Direct-Download Links | Torrent Links for Gintama: Kanketsu-hen – Yorozuya yo Eien Nare 720p 650MB Encodes
Direct-Download Links
Mega
Filehosts
Reviews
Just gonna be honest and give this a 10/10!I haven't actually finished the series but I did get to see the movie in theaters. It was simply amazing! I won't give anything away but you get the typical Gintama goodness!
The story is pretty great. Gintama's jokes are amazing and the way the story was set up was pretty original! The beginning threw me off but, Gintama always does that, to be honest.
The characters were SIMPLY FANTASTIC! The facial expressions and reactions were awesome and I, along with the theater, were laughing to death because of it. Seriously, great design, expressions, outfits, etc.
The audio was GENIUS! Spyair was awesome as always and the music was incredible. Some familiar music was played and the movie's original and the battle, humor, etc sounds were great.
Enjoyment is 18798370984273984 out of 10. You can't beat this. I watched the One Piece and Dragon Ball Z movies and Gintama greatly kicked them in enjoyment. I haven't laughed so hard in forever.
Even if you haven't watched Gintama, watch the movie because then you'll REALLY wanna watch the anime. Got a few of my friends into Gintama now and they've never seen it before but changed their minds thanks to the movie.
Gintama` (2012) (Sequel) Gintama (Prequel)