Grisaia no Meikyuu
(720p – 90MB)
Synonyms: Le Labyrinthe de la Grisaia
Japanese: グリザイアの迷宮
Roughly a year after his arrival at Mihama, Yuuji makes the unexpected decision to pursue promotion within CIRS. The action resumes with Yuuji in a meeting with JB at "corporate HQ," discussing the documents he submitted for review as a part of the promotion process—said documents pertaining to none other than Yuuji's own past. Meanwhile, back at the dorm, the girls find themselves unwittingly following along after Sachi and Makina restore the shredded rough draft of said documents.
The irony, of course, being that prominent figures in Yuuji's past may just be continuing to exert their influence upon the present…
(Source: VNDB)
Anime Type – Special
Total Episodes – 1
Rating – Apr 13, 2015
Start Date – 8.04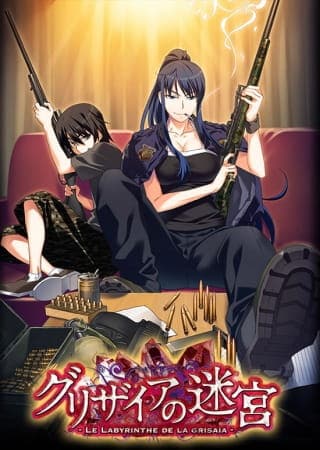 MEGA Links for Grisaia no Meikyuu 720p 90MB miniMKV Encodes
DDL Links for Grisaia no Meikyuu 720p 90MB miniMKV Encodes
Episode 1 : Direct Download
Reviews
Grisaia no Meikyuu is a complicated arc from the main story of the Visual novel/anime (Grisaia no Kajitsu) the story is told by the main protagonist himself Kazami, Yuuji. Wanting to pursue a promotion within the CIRS company Yuuji must submit documents as part of the promotion process explaining his own past.
The story telling of his childhood was so enticing, listening to him tell his story while watching the flashbacks and memories was perfect. Yuuji goes in depth on how difficult and traumatic his childhood was like. He explains his childhood thoroughly from an early elementary student to a young teen boy.
A main protagonist with a tragic background is nothing out of the ordinary its quite common and over used within the Harem genre. Some do it better than other, but I believe the producers of Grisaia did it the best, its not one of those simplistic revenge story were the main protagonists sets out for revenge over the lost of a loved one. In Grisaia they actually go in huge depth of his past adding traumatic, sad , horrific, and psychological all into one you have pretty much the worst case scenarios all packed into one – one hour episode (47.45 approx).
The art quality (expecting you've watched the prequel) is quite similar with the exception its a little more vivid and HD then previously. You have the strong vivid colors fitted with the smooth backgrounds giving a clear display of what you're watching. Very well drawn characters and fluent animation with how little action scenes there were they were pretty intense and the blood splats were amazing and detailed.
Sound quality was pretty standard nothing out of the ordinary. You have your same VA cast as from the prequel. There was not much background music since it was told in story telling POV, but the small sound effects put into for example flashing cameras, helicopter propellers, and punches were good. As for intro and outro as for where I watched it there was none they used up all the time.
Ah the characters, Im sure many people in the anime community can relate and all agree dense male characters can be the most annoying thing in the world. Luckily there are the few main protagonists out there who just keep me sane one of them is Kazami, Yuuji this isn't your average male harem lead he is a complete 180 to most of them he's competent, reliable, badass, handsome, and isn't as dense. His personality is pretty unique from my knowledge if he could relate to any character it would be Shiba, Tatsuya from Mahouka Koukou no Rettousei. As for all the other characters they all have around only five minutes of screen times, with the exception of Yuuji family.
Most Harem anime are usually just full of just comedy and romance which is exceptional, but this is why I really enjoy Grisaia no Kajitsu its has all your standard comedy and romance elements, but has a darker undertone mixed with a big psychological aspect it goes to great lengths explaining every characters background and how they came to be, instead of your average harem with random girls just popping in and out. If you want a drama, romance, psychological, and comedy undertone harem I would highly recommend watching the prequel to this special.
Story – 8
Art – 8
Sound – 7
Character – 8
enjoyment – 8
Overall – 8