Gugure! Kokkuri-san (720p-100MB)

Synonyms: Gugukoko, Gugure! Kokkurisan
Japanese: 繰繰れ!コックリさん
Anime Type : TV Series
Total Episodes : 12
Rating : 7.47*
Genres : Comedy, Romance, Shounen, Supernatural
Airing Dates : Oct 6, 2014 to Dec 22, 2014
~ MAL score
The story revolves around a little girl named Kohina. Kohina ends up summoning Kokkuri-san (a low-ranking ghost in Japanese folklore), who turns out to be a handsome, young, white-haired man. At first he merely intends to haunt her but soon becomes worried about her eating habits. Now he haunts her in order to protect her.
(Source: ANN, edited)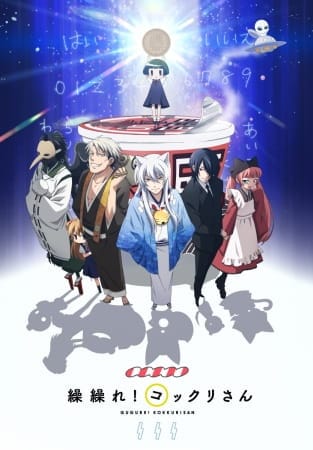 1080p Bluray Encodes
[AnimeOut] Gugure Kokkuri-san 01 BD 1080pp Hi10 x264 FLAC [7EA2CCE8][1080pp][CyC][RapidBot].mkv: Direct Download
[AnimeOut] Gugure Kokkuri-san 02 BD 1080pp Hi10 x264 FLAC [6AC14D02][1080pp][CyC][RapidBot].mkv: Direct Download | Openload.co
[AnimeOut] Gugure Kokkuri-san 03 BD 1080pp Hi10 x264 FLAC [6BD76725][1080pp][CyC][RapidBot].mkv: Direct Download | Openload.co
[AnimeOut] Gugure Kokkuri-san 04 BD 1080pp Hi10 x264 FLAC [AA794DA9][1080pp][CyC][RapidBot].mkv: Direct Download | Openload.co
[AnimeOut] Gugure Kokkuri-san 05 BD 1080pp Hi10 x264 FLAC [1C6ADE71][1080pp][CyC][RapidBot].mkv: Direct Download | Openload.co
[AnimeOut] Gugure Kokkuri-san 06 BD 1080pp Hi10 x264 FLAC [3717DCBE][1080pp][CyC][RapidBot].mkv: Direct Download | Openload.co
[AnimeOut] Gugure Kokkuri-san 07 BD 1080pp Hi10 x264 FLAC [85D8518A][1080pp][CyC][RapidBot].mkv: Direct Download | Openload.co
[AnimeOut] Gugure Kokkuri-san 08 BD 1080pp Hi10 x264 FLAC [C28F4D0A][1080pp][CyC][RapidBot].mkv: Direct Download | Openload.co
[AnimeOut] Gugure Kokkuri-san 09 BD 1080pp Hi10 x264 FLAC [0CB27C57][1080pp][CyC][RapidBot].mkv: Direct Download | Openload.co
[AnimeOut] Gugure Kokkuri-san 10 BD 1080pp Hi10 x264 FLAC [8AD7E84E][1080pp][CyC][RapidBot].mkv: Direct Download | Openload.co
[AnimeOut] Gugure Kokkuri-san 11 BD 1080pp Hi10 x264 FLAC [1109F7D1][1080pp][CyC][RapidBot].mkv: Direct Download | Openload.co
[AnimeOut] Gugure Kokkuri-san 12 BD 1080pp Hi10 x264 FLAC [0F5D4811][1080pp][CyC][RapidBot].mkv: Direct Download | Openload.co
Specials
Episode 1 : Direct Download: [AnimeOut] Gugure Kokkuri-san Special 01 BD 1080pp Hi10 x264 FLAC [5A4D207D][1080pp][CyC][RapidBot].mkv
Episode 2 : Direct Download: [AnimeOut] Gugure Kokkuri-san Special 02 BD 1080pp Hi10 x264 FLAC [1C0AFEC2][1080pp][CyC][RapidBot].mkv
Episode 3 : Direct Download: [AnimeOut] Gugure Kokkuri-san Special 03 BD 1080pp Hi10 x264 FLAC [999A1B98][1080pp][CyC][RapidBot].mkv
Episode 4 : Direct Download: [AnimeOut] Gugure Kokkuri-san Special 04 BD 1080pp Hi10 x264 FLAC [B7FBC35C][1080pp][CyC][RapidBot].mkv
Episode 5 : Direct Download: [AnimeOut] Gugure Kokkuri-san Special 05 BD 1080pp Hi10 x264 FLAC [9D008FDF][1080pp][CyC][RapidBot].mkv
Episode 6 : Direct Download: [AnimeOut] Gugure Kokkuri-san Special 06 BD 1080pp Hi10 x264 FLAC [EFBB9551][1080pp][CyC][RapidBot].mkv
Episode 7 : Direct Download: [AnimeOut] Gugure Kokkuri-san Special 07 BD 1080pp Hi10 x264 FLAC [0D43001A][1080pp][CyC][RapidBot].mkv
Episode 8 : Direct Download: [AnimeOut] Gugure Kokkuri-san Special 08 BD 1080pp Hi10 x264 FLAC [1221ACB9][1080pp][CyC][RapidBot].mkv
Episode 9 : Direct Download: [AnimeOut] Gugure Kokkuri-san Special 09 BD 1080pp Hi10 x264 FLAC [D4028BF5][1080pp][CyC][RapidBot].mkv
Episode 10 : Direct Download: [AnimeOut] Gugure Kokkuri-san Special 10 BD 1080pp Hi10 x264 FLAC [72F71264][1080pp][CyC][RapidBot].mkv
Episode 11 : Direct Download: [AnimeOut] Gugure Kokkuri-san Special 11 BD 1080pp Hi10 x264 FLAC [F5D02755][1080pp][CyC][RapidBot].mkv
Direct-Download | MEGA Links for Gugure! Kokkuri-san (720p-100MB) Encodes
MEGA Links
Mega links : Kokkuri-san!
Proper Release
Anime-koi is AFK sleeping, so HorribleSubs happens to be proper source. Once, BD version's out, it'll be re-uploaded.
Episode 01 : Direct Download |
Episode 02 : Direct Download |
Episode 03 : Direct Download |
Episode 04 : Direct Download |
Episode 05 : Direct Download |
Episode 06 : Direct Download |
Episode 07 : Direct Download |
Episode 08 : Direct Download |
Episode 09 : Direct Download |
Episode 10 : Direct Download |
Episode 11 : Direct Download |
Episode 12 : Direct Download |
Reviews
@@ Sound/art- My roommate walked in on me dancing to the opening and said "wtf are you doing bro." 10/10
The opening is cleverly done, full of personality, and of course catchy as hell. The ending is good as well, and the shows OST is funny sounding… in the best way possible. As for the art I'd say its completely average. I mean sure it has a certain style to it, but in comparison to many other shows released this year there really is nothing notable about it.
Story- Its serves its purpose as being the catalyst for numerous gags, jokes, and satirical content this show offers. 6/10
From the first 2 episodes you will know whether this show is for you or not. The series seems to enjoy taunting its viewers with scenarios that in many other shows would be clear indicators of: DRAMA INCOMING! only to slap you along with your expectations across the face. This happens a lot. But its FUNNY EVERY TIME. Although I'd be lying if I said I didn't want to see some drama play out. Either way the synopsis pretty much says it all, and the way the story presents itself is favorable.
Conclusion- If you want some laughs look no further! This is your show! If you want anything else… Its a questionable endeavor. I gave it a great 8 because not many shows can make me laugh as much as this one did.
Should Watch:
-If Satire/parody is your thing, because this show has every western/Japanese pop culture gag you can think of.
-Had a rough day? Just sit back and laugh it off!
-Fun Characters that will grow on you.
Should avoid:
-If you want some sort of meaningful romance/drama.
-Some gags get repetitive
@@I really enjoy to watch this anime. All the characters are uniquely juiced up and very likeable. I especially like Kohina the most, she is very cute and sometimes you feel you can relate to her (for the love of addicting cheap taste in unhealthy cup noodle? Yeah!).
The sound and the voice casts are amazing too! Both the OP and ED song are eargasming. Even my little sister (who wasn't into anime) loved this show and sing along when the OP song is played. We laughed and we cried together while watching and I could tell that was a good time we could have for both of us. Thanks for the amazing staffs, voice casts, and the mangaka who presenting this touching story to us.
Prequel/Sequel
—————None—————
Similar Anime | Recommendations
 Kamisama Hajimemashita
Barakamon
Cuticle Tantei Inaba