Haikyuu!!
(720p – 100MB)
High Kyuu!! (synonym)
Anime Type : TV Series
Total Episodes : 25
Rating : 8.50
Aired : Apr 6, 2014 to Sep 21, 2014
Producer : Production I.G, Mainichi Broadcasting, Sentai FilmworksL, TOHO animation
Genres : Comedy, Drama, School, Shounen, Sports
Duration : 24 min. per episode
A chance event triggered Shouyou Hinata's love for volleyball. His club had no members, but somehow persevered and finally made it into its very first and final regular match of middle school, where it was steamrolled by Tobio Kageyama, a superstar player known as "King of the Court." Vowing revenge, Hinata applied to the Karasuno High School volleyball club… only to come face-to-face with his hated rival, Kageyama!
A tale of hot-blooded youth and volleyball from the pen of Haruichi Furudate!!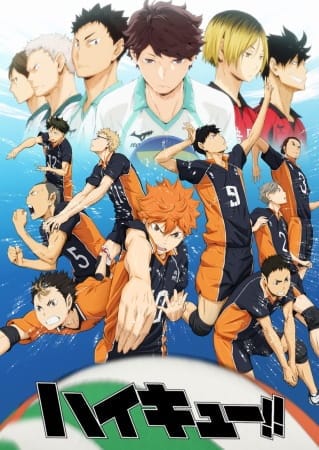 File Hosts | Direct-Download Links for Haikyuu!! 720p 100MB miniMKV Encodes
Direct Download
Episode 1 : Direct Download
Episode 2 : Direct Download
Episode 3 : Direct Download
Episode 4 : Direct Download
Episode 5 : Direct Download
Episode 6 : Direct Download
Episode 7 : Direct Download
Episode 8 : Direct Download
Episode 9 : Direct Download
Episode 10 : Direct Download
Episode 11 : Direct Download
Episode 12 : Direct Download
Episode 13 : Direct Download
Episode 14 : Direct Download
Episode 15 : Direct Download
Episode 16 : Direct Download
Episode 17 : Direct Download
Episode 18 : Direct Download
Episode 19 : Direct Download
Episode 20 : Direct Download
Episode 21 : Direct Download
Episode 22 : Direct Download
Episode 23 : Direct Download
Episode 24 : Direct Download
Episode 25 : Direct Download
Mega
This is my first review here and I'm doing it because I hope to get more people interested in this amazing anime! I am sure that even after 25 episodes my impression will be the same and I won't come back to edit the scores or my words.
Story
A lot of people compared Haikyuu to Koroko no Basket, I also think they're alike in many ways. We get to see two main characters forming a powerful duo and aiming for the top along with their team. Though in this story two boys are actually rivals and this adds more funny moments and interesting plot developement. I also need to point one thing that (in my opinion) KnB lacks but Haikyuu has: more school/after school life. Life is mixed with voleyball matches in such a perfect way, you never get tired of watching one or another. So the story runs really smoothly and gets you hooked up from the very first episode.
Art
I discussed it with my friends and we agreed that anime studio perfectly represented mangaka's unique drawing style and even made it look better. All the episodes by now (except for maybe one) are drawn amazingly and very detailed. Colors are bright, sceneries are realistic and I want to especially point out characters' expressions. We rarely get to see a character with the same face for a long time.
Sound
Opening and ending themes suit the story and main characters a lot. They have happy and excited feel and really upbeat. As for bgm, it is also chosen wisely. It blends with the action on the screen so well that you can't even split them. Overall, music helps to highlight important moments and gets you excited about watching.
Character
All the characters are amazing! They're really different and unique in their own way, so everyone can find a likeable one. Their developement during 9 episodes that I saw is also perfectly done. Also not every character is your typical shounen/sport story one. If we compare to KnB again, another thing that it lacks but Haikyuu has: more sempais and other supporting characters developement. They get not less attention than main duo and other first years and are really easy to fall for.
Enjoyment
I can't even explain just how much I enjoy this anime! Every time Sunday presses near I'm so excited about the new episode and on Sunday I refresh the web page countless times to finally see the subs and watch. I can rewatch the same episode a few times and still find the same enjoyment I had during the first time. I scream, laugh, almost cry and have a really good mood thanks to this anime. So yeah, I am a fan!
Overall 10/10
I can't give less than 10 to Haikyuu because it is interesting, fun and really enjoyable anime that makes me happy. I love the story, characters and everything else. Moreover, it got me interested in voleyball which I never liked and watched. I bought a voleyball and started to practice a little with my friends. And pro matches are actually really interesting to watch too.
So I will be really glad if someone who read my review will share my feelings after watching! Thank you for reading!