Haiyore! Nyaruko-san
(720pBD – 120MB)
Nyaruko: Crawling With Love!
Nyarko-san: Another Crawling Chaos, Haiyoru! Nyaruko-san (synonyms)
Anime Type : TV Series
Total Episodes : 12
Rating : 7.31
Aired : Apr 10, 2012 to Jun 26, 2012
Producers : TV Tokyo, Xebec, NIS America, Inc., The Klock Worx, Cospa, SoftBank Creative Corp., Studio Mausu
Genres : Comedy, Parody, Sci-Fi
Duration : 24 min. per episode
"I'm Nyarlathotep, the creeping chaos always smiling beside you." But you can call her Nyaruko for short. One by one, the Great Ones from the Cthulhu mythos are coming to earth to target Nyaruko and her human friend Mahiro. He's utterly clueless about the true nature of his cosmic conflict and just wants to live in peace.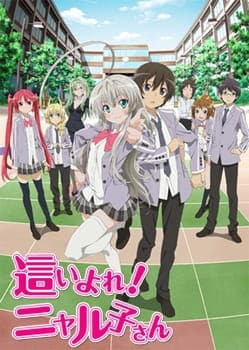 Direct-Download Links | Torrent Links for Haiyore! Nyaruko-san Complete Batch 720p BD 120MB miniMKV Encodes
Direct-Download Links
Episode 1 : Direct Download
Episode 2 : Direct Download
Episode 3 : Direct Download
Episode 4 : Direct Download
Episode 5 : Direct Download
Episode 6 : Direct Download
Episode 7 : Direct Download
Episode 8 : Direct Download
Episode 9 : Direct Download
Episode 10 : Direct Download
Episode 11 : Direct Download
Episode 12 : Direct Download
Mega Links