Higashi no Eden
(1080p – 300MB)
Higashi no Eden
Edenul din Est (synonym)
Eden (short)
Eden of the East (official)
Eden of the East (official)
Eden of the East (official)
On November 22, 2010 ten missiles strike Japan. However, this unprecedented terrorist act, later to be called "Careless Monday", does not result in any apparent victims, and is soon forgotten. Then, three months later… http://anidb.net/ch5628 [Morimi Saki], a young woman currently in the United States of America on her graduation trip, gets into trouble in front of the White House in Washington DC, and only the unexpected intervention of a fellow countryman saves her. However, this man, who introduces himself as http://anidb.net/ch5629 [Takizawa Akira], is a complete mystery. He appears to have lost his memory and he is stark naked, except for the gun he holds in one hand, and a mobile phone in the other. A phone that is charged with 8,200,000,000 yen in digital cash.
Source: http://www.productionig.com/contents/works_sp/68_/index.html
Anime Type – TV Series
Total Episodes – 11
Rating – 8.08
Start Date – 2009-04-10
End Date – 2009-06-19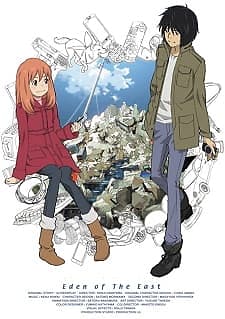 Ep Num#
Date
Title
1
2009-04-10
I Picked Up a Prince
Comment j`ai recueilli mon prince
Ouji-sama o Hirotta yo
2
2009-04-17
Melancholy Monday
Un lundi morose
Yuuutsu na Getsuyoubi
3
2009-04-24
On the Night of the Late Show
Late Show no Yoru ni
4
2009-05-01
Real Reality, Fabricated Reality
Real na Genjitsu Kyokou no Genjitsu
5
2009-05-08
Ima Sonna Koto Kangaeteru Baai Janai no ni
6
2009-05-15
Eden of the East
L`Eden de l`Est
Higashi no Eden
7
2009-05-22
Flight of the Black Swan
La danse du cygne noir
Black Swan Mau
8
2009-05-29
Searching for the Path Already Lost
Arakajime Ushinawareta Michinori o Sagashite
9
2009-06-05
A Man Too Ephemeral
Il ne sait plus mettre un pantalon
Hakanasugita Otoko
10
2009-06-11
Who Killed Akira Takizawa?
Dareka ga Takizawa Akira o Koroshita ka
11
2009-06-19
The East That Continues On
Sara ni Tsuzuku Higashi
1080p Bluray Encodes

Episode 1 : Direct Download: Eden.of.the.East.S01E01.v2.1080p-Hi10p.BluRay.FLAC5.1.x264-AnimeOut.[0426FF42][1080p][CTR][RapidBot].mkv
Episode 2 : Direct Download: Eden.of.the.East.S01E02.v2.1080p-Hi10p.BluRay.FLAC5.1.x264-AnimeOut.[0957A9D1][1080p][CTR][RapidBot].mkv
Episode 3 : Direct Download: Eden.of.the.East.S01E03.v2.1080p-Hi10p.BluRay.FLAC5.1.x264-AnimeOut.[D0EAE4FC][1080p][CTR][RapidBot].mkv
Episode 4 : Direct Download: Eden.of.the.East.S01E04.v2.1080p-Hi10p.BluRay.FLAC5.1.x264-AnimeOut.[7F3A66ED][1080p][CTR][RapidBot].mkv
Episode 5 : Direct Download: Eden.of.the.East.S01E05.v2.1080p-Hi10p.BluRay.FLAC5.1.x264-AnimeOut.[3C58A0D1][1080p][CTR][RapidBot].mkv
Episode 6 : Direct Download: Eden.of.the.East.S01E06.v2.1080p-Hi10p.BluRay.FLAC5.1.x264-AnimeOut.[E61EF702][1080p][CTR][RapidBot].mkv
Episode 7 : Direct Download: Eden.of.the.East.S01E07.v2.1080p-Hi10p.BluRay.FLAC5.1.x264-AnimeOut.[67850FF7][1080p][CTR][RapidBot].mkv
Episode 8 : Direct Download: Eden.of.the.East.S01E08.v2.1080p-Hi10p.BluRay.FLAC5.1.x264-AnimeOut.[057C8459][1080p][CTR][RapidBot].mkv
Episode 9 : Direct Download: Eden.of.the.East.S01E09.v2.1080p-Hi10p.BluRay.FLAC5.1.x264-AnimeOut.[5E3DEB94][1080p][CTR][RapidBot].mkv
Episode 10 : Direct Download: Eden.of.the.East.S01E10.v2.1080p-Hi10p.BluRay.FLAC5.1.x264-AnimeOut.[2D122E61][1080p][CTR][RapidBot].mkv
Episode 11 : Direct Download: Eden.of.the.East.S01E11.v2.1080p-Hi10p.BluRay.FLAC5.1.x264-AnimeOut.[2301A083][1080p][CTR][RapidBot].mkv

720p Bluray Encodes

Episode 01: Direct Download: Eden.of.the.East.S01E01.v2.720p-Hi10p.BluRay.FLAC5.1.x264-AnimeOut.[0426FF42][CTR][RapidBot].mkv
Episode 02: Direct Download: Eden.of.the.East.S01E02.v2.720p-Hi10p.BluRay.FLAC5.1.x264-AnimeOut.[0957A9D1][CTR][RapidBot].mkv
Episode 03: Direct Download: Eden.of.the.East.S01E03.v2.720p-Hi10p.BluRay.FLAC5.1.x264-AnimeOut.[D0EAE4FC][CTR][RapidBot].mkv
Episode 04: Direct Download: Eden.of.the.East.S01E04.v2.720p-Hi10p.BluRay.FLAC5.1.x264-AnimeOut.[7F3A66ED][CTR][RapidBot].mkv
Episode 05: Direct Download: Eden.of.the.East.S01E05.v2.720p-Hi10p.BluRay.FLAC5.1.x264-AnimeOut.[3C58A0D1][CTR][RapidBot].mkv
Episode 06: Direct Download: Eden.of.the.East.S01E06.v2.720p-Hi10p.BluRay.FLAC5.1.x264-AnimeOut.[E61EF702][CTR][RapidBot].mkv
Episode 07: Direct Download: Eden.of.the.East.S01E07.v2.720p-Hi10p.BluRay.FLAC5.1.x264-AnimeOut.[67850FF7][CTR][RapidBot].mkv
Episode 08: Direct Download: Eden.of.the.East.S01E08.v2.720p-Hi10p.BluRay.FLAC5.1.x264-AnimeOut.[057C8459][CTR][RapidBot].mkv
Episode 09: Direct Download: Eden.of.the.East.S01E09.v2.720p-Hi10p.BluRay.FLAC5.1.x264-AnimeOut.[5E3DEB94][CTR][RapidBot].mkv
Episode 10: Direct Download: Eden.of.the.East.S01E10.v2.720p-Hi10p.BluRay.FLAC5.1.x264-AnimeOut.[2D122E61][CTR][RapidBot].mkv
Episode 11: Direct Download: Eden.of.the.East.S01E11.v2.720p-Hi10p.BluRay.FLAC5.1.x264-AnimeOut.[2301A083][CTR][RapidBot].mkv
NCOP : Direct Download
NCED : Direct Download

Higashi no Eden (or Eden of the East however you want to call it) is a new anime series produced by Production I.G, and it was one of the most anticipated series of the Spring 2009 season. After quite an impressive trailer before the anime aired, I just knew I had to watch this show which looked like it had a lot of promise. Did it live up to my expectation? Read ahead to find out.
Story:
+ This anime definitely brings a very interesting plot.
+ The level of mystery and suspense will leave the viewer wanting more every episode.
+ Definitely one of the most refreshing stories in recent seasons.
– Its is only 11 episodes long, a very uncommon number for an anime.
– The ending leaves you with a cliffhanger that the movies are expected to resolve.
– Because of the # of episodes, plus the announcement of 2 movies. The anime ending does not feel like it brings any closure to the overall story.
Art:
+ Fantastic art in both characters and backgrounds throughout the anime.
+ Very artistic animations for both the Opening and Ending themes.
+ There is really nothing bad to say here, this anime brings some nice eye candy to the viewer.
Sound:
+ Very good OP and ED songs. They are really cool to listen to.
+ The soundtrack is also really good, complimenting some scenes really nicely.
+ The voice acting is solid through the series, specially for Akira.
Character:
+ Takizawa Akira is main driving force in terms of character in this anime. He is pretty much the only one who constantly shines.
+ Other Selecao members are all unique and different in personalities, and are also very interesting people and have some good development (as short as some may be).
+ Akira is as mysterious as a character as he is likeable, he doesn't take things TOO seriously and also provides some good comedy.
– Saki, despite being likeable, just doesn't seem to contribute much to the overall plot despite being a main character.
Enjoyment: This anime was highly entertaining, despite ending in a cliffhanger it left me wanting more every episode and it would never feel boring. With the movies set to bring a conclusion to the anime, I can't wait to see them.
Overall Higashi no Eden proves to be a very enjoyable and entertaining anime which brings some rather unique and interesting plot that will be able to keep your interest from its unique 11 episode run. However because the series itself is not complete without the movies, the ending might feel a little underwhelming to some. Regardless, this anime surpassed my expectations and its a fantastic show to those looking a solid plot, likeable characters, beautiful visuals, and enjoyable music. I highly recommend people try this anime out, I dont think you will be disappointed
Higashi no Eden: Gekijouban I – The King of Eden (Sequel)
Higashi no Eden: Air Communication (Summary)
C
Hachimitsu to Clover
Crossy Avant
Mirai Nikki (2011)