Hori-san to Miyamura-kun
(480p|20MB)
Synonyms: Horimiya Japanese: 堀さんと宮村くん
Anime Type : OVA Total Episodes : 3 Rating : 8.18 Aired : Sep 26, 2012 to Mar 25, 2015 Producer : Hoods Entertainment Genres : Comedy, Romance, Shoujo Duration : 25 min. per episode People say that the youthful days are always bittersweet, but maybe it's just bitter? Kyouko Hori is a flashy high school girl, who, despite her ostentatious appearance, excels in academics and has a family-loving character. Izumi Miyamura is a bland high school boy, who, despite not wanting to stand out in class, secretly wears piercings outside of school and has a large body tattoo. One day, Miyamura finds Hori's little brother injured and helps him back to Hori's house, where the relationship between Hori and Miyamura begins with Hori's discovery of Miyamura's secret.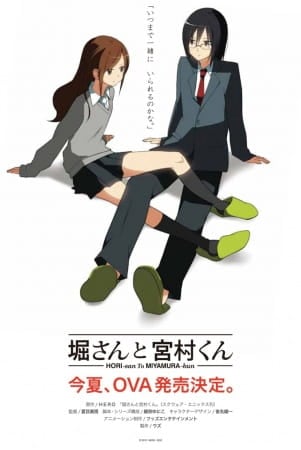 Direct-Download Links for Hori-san to Miyamura-kun (OVA) (480p|20MB) miniMKV Encodes
Episode 1 : Direct Download | Episode 2 : Direct Download | Episode 3 : Direct Download |
Reviews
Doesn't have fancy animation. Doesn't have filler scenes. Doesn't have a grand plot. Doesn't have epic music. Doesn't have anything interesting. It's just a story of a guy slowly gaining friends through one incident. Only the essential parts of the story were told through this anime. Even if it was short, I felt satisfied. Three episode and you're done. This is a slice-of-life anime that you should casually watch whenever you feel down. Or just watch it when you have time.