Hotarubi no Mori e
(1080p – 1GB)
Synonyms: Into the Forest of Fireflies' Light
Japanese: 蛍火の杜へ
The story of Hotarubi no Mori e centers around Hotaru, a little girl who gets lost in an enchanted forest where apparitions reside. A young boy, Gin, appears before Hotaru, but she cannot touch him for fear of making him disappear.
(Source: AniDB)
Anime Type – Movie
Total Episodes – 1
Rating – 8.44
Start Date – Sep 17, 2011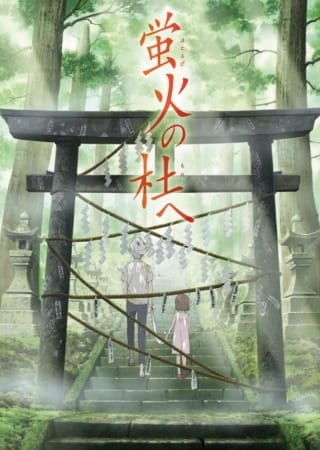 Direct-Download Links for Hotarubi no Mori e 1080p 1GB miniMKV Encodes
Hotarubi no Mori e [BDRip 1920x1080p x264 FLAC] AnimeOut [2790B807][1080pp][[Exp]][RapidBot].mkv: Direct Download
Direct-Download Links for Hotarubi no Mori e 720p 500MB miniMKV Encodes
Hotarubi no Mori e [BDRip 1920x720p x264 FLAC] AnimeOut [2790B807][[Exp]][RapidBot].mkv: Direct Download
Reviews
Six-year-old Hotaru, lost within an enchanted forest, is led to familiar roads once again by the mysterious forest dweller Gin; however, she is warned never to touch him, for his fragile existence would soon fade away.
Yet, while their hands are joined by little more than a fallen branch, their hearts are woven by a tender, almost melancholic fondness. From there our eyes are swept along with the tranquil breeze of the forest as we witness the flourishing bond of the charming Hotaru and the kind-hearted and playful Gin, summer after summer, year after year. And despite their lack of physical intimacy, I nevertheless found it difficult to doubt the intimacy shared by their hearts.
Hotarubi no Mori e (alternatively named Into the Forest of Fireflies' Light) soars in its simplicity. We are given only brief fragments of our protagonists' lives apart from and with one another; their dialogue is eloquent yet brief, and their relationship progresses in an almost shockingly linear manner. Even so, we are told just enough to love them all the same, despite the rather one-sided portraits painted by their light-hearted and often comical exchanges. Their journey radiates with ephemerality as we flutter between the years; like the fleeting seasons which drift seamlessly into the next, the story is told with an elegant flow while maintaining a genuine sense of change and progression as our protagonists' unlikely and delicate bond glows ever brighter with each short-lived encounter.
All the while, the film quietly embraced me with its serene and almost magical atmosphere, emitted by its simple yet potent visuals and music. Character and environment designs are clean yet beautiful, swathed with vibrant colours, and movements of all sorts are animated with impressive fluidity, from the gently flowing rivers to our protagonists' peaceful strolls through the forest pathways. Dazzling sunlight seeps through the leaves of the lofty trees, cast as softly glowing streaks across the forest's greenery and our characters' pleasant expressions. Specks of light dapple the screen as the fireflies dance with their delicate glow, and the luminous reflections of the waters sparkle and blink with every ripple. Furthermore, the singing birds and chirping crickets harmonize with the peaceful and mellifluous soundtrack to quite literally string our hearts along with every note.
Hotarubi no Mori e ends on a relatively abrupt note; yet it is a finale which was not at all unexpected, driven by the film's softly-spoken themes of fragility and change. With its simple yet meaningful plot, graceful storytelling, and spellbinding presentation, it is an experience which speaks quietly but echoes ever so powerfully. As the two paved their way through the forest year after year, their shoulders apart but their hearts embraced tighter than we can ever see, there lingered a seed which may now and then blossom and remind us of the capricious flow of life which we may drift upon yet nevertheless drown beneath. Even so, we can cherish these rare, short-lived moments, if only to appreciate the times when our aimlessly drifting hearts once again soared alongside our friends and lovers. And perhaps you may feel the same, as you are taken by Gin and Anna, side-by-side, into the forest of fireflies' light.