Interstella5555: The 5tory of The 5ecret 5tar 5ystem (miniMKV – HQ Audio* – 280MB) 528p – Completed Anime Movie
This music video is the visual realization of \"Discovery\", an album by Daft Punk. It tells the story of a band of four extraterrestrial musicians who are kidnapped and brought back to Earth by an evil manager. Their only hopes lie with a space pilot from their home planet who, after receiving a distress call broadcasted during the abduction, seeks out to rescue them.
Type: Music
Episodes: 1
Status: Finished Airing
Aired: Dec 1, 2003
Producers: Toei Animation, EMI
Genres: Adventure, Drama, Music, Sci-Fi
Duration: 1 hr. 7 min.
Rating: G – All Ages L represents licensing company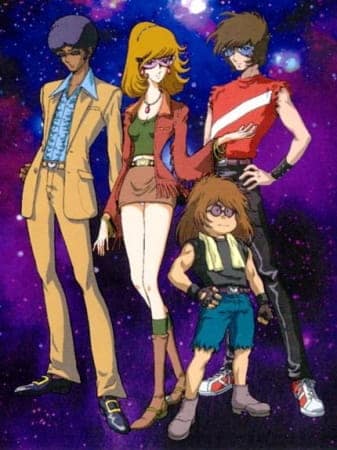 *with HQ audio i mean that the audio quality is in stereo with higher bitrate, thats why the size of this movie is quit bigger then normal 480p movies.
This music movie deserves good quality…
Daft Punk FTW!!!
Direct-Download Links | Torrent Links for Interstella5555: The 5tory of The 5ecret 5tar 5ystem (miniMKV – HQ Audio* – 280MB) 400p 280MB miniHD Encodes
Movie : Direct Download | Torrent

——————————————————————————————
Interstella5555: The 5tory of The 5ecret 5tar 5ystem (miniMKV – HQ Audio* – 280MB) is a released anime movie on AnimeOut.com