Inu x Boku Secret Service
(1080p BD – 300MB)
Inu x Boku Secret Service
Inu x Boku SS (synonym)
inuboku (short)
Inu x Boku Secret Service (official)
[Shirakiin Ririchiyo] is a daughter of a prestigious family who has grown up isolated and subject to bullying from the servants and jealous schoolmates. She reflexively hides behind a pretentious façade and a sharp tongue that she regrets. To keep from hurting others and give herself time to change, she has decided to live alone in the Maison de Ayakashi residential tower where each resident is offered the protection of a private SS (Secret Service) bodyguard.
However, neither the residents nor the SS agents are what they seem. Each, including Ririchiyo, is an Atavist, a descendant of both human and Youkai (Spiritually empowered beings native to Japan) who have inherited some of the Youkai`s abilities and even memories. The residence acts as a secure haven for Atavists from pure-blood Youkai and other Atavist families.
When Ririchiyo moves in, despite declining an SS agent, [Miketsukami Soushi] introduces himself to her as her assigned agent and a descendant of a nine-tailed fox. Even though she has never before met him, he seems to know everything about her, claims that she once saved his life, and declares that he will be her faithful dog from this day forward.
A note about the dual meaning of the title: In the context of the story, the Hiragana pronunciation 「いぬ×ぼく シークレットサービス」 or Inu × Boku Secret Service means I am your doggedly loyal SS agent. Inu means dog but is written in Kanji as 犬. The written Kanji 「妖狐×僕SS」 means I am your fox spirit SS agent. 妖狐 or youko actually means fox spirit[i].
The pronunciation is the public statement that hides the private Kanji statement.[/i]
Anime Type – TV Series
Total Episodes – 12
Rating – 5.35
Start Date – 2012-01-13
End Date – 2012-03-30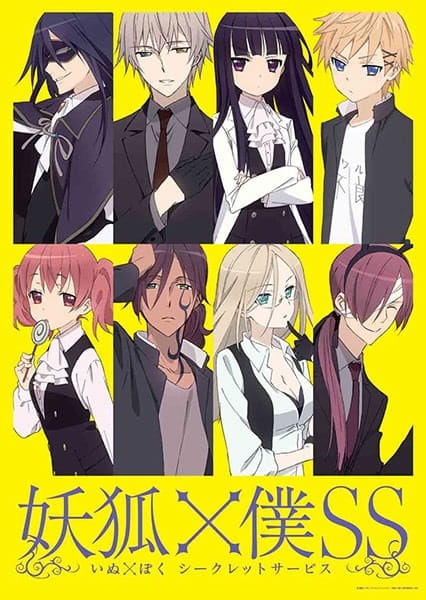 Direct-Download Links for Inu x Boku Secret Service 1080p BD 300MB miniMKV Encodes
Episode 1 : Direct Download: Inu.x.Boku.SS.S01E01.1080pp-Hi10p.BluRay.FLAC2.0.x264-AnimeOut[93BA78AE][1080pp][karios][RapidBot].mkv
Episode 2 : Direct Download: Inu.x.Boku.SS.S01E02.1080pp-Hi10p.BluRay.FLAC2.0.x264-AnimeOut[AC539FCF][1080pp][karios][RapidBot].mkv
Episode 3 : Direct Download: Inu.x.Boku.SS.S01E03.1080pp-Hi10p.BluRay.FLAC2.0.x264-AnimeOut[9B5FE740][1080pp][karios][RapidBot].mkv
Episode 4 : Direct Download: Inu.x.Boku.SS.S01E04.1080pp-Hi10p.BluRay.FLAC2.0.x264-AnimeOut[7840B6E5][1080pp][karios][RapidBot].mkv
Episode 5 : Direct Download: Inu.x.Boku.SS.S01E05.1080pp-Hi10p.BluRay.FLAC2.0.x264-AnimeOut[37B33392][1080pp][karios][RapidBot].mkv
Episode 6 : Direct Download: Inu.x.Boku.SS.S01E06.1080pp-Hi10p.BluRay.FLAC2.0.x264-AnimeOut[0004E752][1080pp][karios][RapidBot].mkv
Episode 7 : Direct Download: Inu.x.Boku.SS.S01E07.1080pp-Hi10p.BluRay.FLAC2.0.x264-AnimeOut[E92C6EE3][1080pp][karios][RapidBot].mkv
Episode 8 : Direct Download: Inu.x.Boku.SS.S01E08.1080pp-Hi10p.BluRay.FLAC2.0.x264-AnimeOut[721B2015][1080pp][karios][RapidBot].mkv
Episode 9 : Direct Download: Inu.x.Boku.SS.S01E09.1080pp-Hi10p.BluRay.FLAC2.0.x264-AnimeOut[DB7779D7][1080pp][karios][RapidBot].mkv
Episode 10 : Direct Download: Inu.x.Boku.SS.S01E10.1080pp-Hi10p.BluRay.FLAC2.0.x264-AnimeOut[8402F2E0][1080pp][karios][RapidBot].mkv
Episode 11 : Direct Download: Inu.x.Boku.SS.S01E11.1080pp-Hi10p.BluRay.FLAC2.0.x264-AnimeOut[CDBB3A29][1080pp][karios][RapidBot].mkv
Episode 12 : Direct Download: Inu.x.Boku.SS.S01E12.1080pp-Hi10p.BluRay.FLAC2.0.x264-AnimeOut[2241E3C3][1080pp][karios][RapidBot].mkv
OVA : Direct Download: Inu.x.Boku.SS.S00E01.1080pp-Hi10p.BluRay.FLAC2.0.x264-AnimeOut[396CB39D][1080pp][karios][RapidBot].mkv
OP 01: Direct Download: [AnimeOut] Inu x Boku SS – OP 1080pp[1080pp][TTGA][RapidBot].mkv
ED 01: Direct Download: [AnimeOut] Inu x Boku SS – ED01 1080pp[1080pp][TTGA][RapidBot].mkv
ED 02: Direct Download: [AnimeOut] Inu x Boku SS – ED02 1080pp[1080pp][TTGA][RapidBot].mkv
ED 03: Direct Download: [AnimeOut] Inu x Boku SS – ED03 1080pp[1080pp][TTGA][RapidBot].mkv
ED 04: Direct Download: [AnimeOut] Inu x Boku SS – ED04 1080pp[1080pp][TTGA][RapidBot].mkv
ED 05: Direct Download: [AnimeOut] Inu x Boku SS – ED05 1080pp[1080pp][TTGA][RapidBot].mkv
ED 06: Direct Download: [AnimeOut] Inu x Boku SS – ED06 1080pp[1080pp][TTGA][RapidBot].mkv
Direct-Download Links for Inu x Boku Secret Service 720p BD 150MB miniMKV Encodes
Episode 1 : Direct Download: Inu.x.Boku.SS.S01E01.720p-Hi10p.BluRay.FLAC2.0.x264-AnimeOut[93BA78AE][karios][RapidBot].mkv
Episode 2 : Direct Download: Inu.x.Boku.SS.S01E02.720p-Hi10p.BluRay.FLAC2.0.x264-AnimeOut[AC539FCF][karios][RapidBot].mkv
Episode 3 : Direct Download: Inu.x.Boku.SS.S01E03.720p-Hi10p.BluRay.FLAC2.0.x264-AnimeOut[9B5FE740][karios][RapidBot].mkv
Episode 4 : Direct Download: Inu.x.Boku.SS.S01E04.720p-Hi10p.BluRay.FLAC2.0.x264-AnimeOut[7840B6E5][karios][RapidBot].mkv
Episode 5 : Direct Download: Inu.x.Boku.SS.S01E05.720p-Hi10p.BluRay.FLAC2.0.x264-AnimeOut[37B33392][karios][RapidBot].mkv
Episode 6 : Direct Download: Inu.x.Boku.SS.S01E06.720p-Hi10p.BluRay.FLAC2.0.x264-AnimeOut[0004E752][karios][RapidBot].mkv
Episode 7 : Direct Download: Inu.x.Boku.SS.S01E07.720p-Hi10p.BluRay.FLAC2.0.x264-AnimeOut[E92C6EE3][karios][RapidBot].mkv
Episode 8 : Direct Download: Inu.x.Boku.SS.S01E08.720p-Hi10p.BluRay.FLAC2.0.x264-AnimeOut[721B2015][karios][RapidBot].mkv
Episode 9 : Direct Download: Inu.x.Boku.SS.S01E09.720p-Hi10p.BluRay.FLAC2.0.x264-AnimeOut[DB7779D7][karios][RapidBot].mkv
Episode 10 : Direct Download: Inu.x.Boku.SS.S01E10.720p-Hi10p.BluRay.FLAC2.0.x264-AnimeOut[8402F2E0][karios][RapidBot].mkv
Episode 11 : Direct Download: Inu.x.Boku.SS.S01E11.720p-Hi10p.BluRay.FLAC2.0.x264-AnimeOut[CDBB3A29][karios][RapidBot].mkv
Episode 12 : Direct Download: Inu.x.Boku.SS.S01E12.720p-Hi10p.BluRay.FLAC2.0.x264-AnimeOut[2241E3C3][karios][RapidBot].mkv
OVA : Direct Download: Inu.x.Boku.SS.S00E01.720p-Hi10p.BluRay.FLAC2.0.x264-AnimeOut[396CB39D][karios][RapidBot].mkv
OP 01: Direct Download: [AnimeOut] Inu x Boku SS – OP 720p[TTGA][RapidBot].mkv
ED 01: Direct Download: [AnimeOut] Inu x Boku SS – ED01 720p[TTGA][RapidBot].mkv
ED 02: Direct Download: [AnimeOut] Inu x Boku SS – ED02 720p[TTGA][RapidBot].mkv
ED 03: Direct Download: [AnimeOut] Inu x Boku SS – ED03 720p[TTGA][RapidBot].mkv
ED 04: Direct Download: [AnimeOut] Inu x Boku SS – ED04 720p[TTGA][RapidBot].mkv
ED 05: Direct Download: [AnimeOut] Inu x Boku SS – ED05 720p[TTGA][RapidBot].mkv
ED 06: Direct Download: [AnimeOut] Inu x Boku SS – ED06 720p[TTGA][RapidBot].mkv
Nothing exciting, but it does nothing wrong. The plot is explained in the last 2 episodes and has a good feeling in the ending. It`s kinda your daily life with a little touch of demons and spirits mixed into it. The romance doesn`t come till halfway and the jokes are just meh. Altough i don`t think this anime is bad it is just very slow paced and does nothing memorable, which makes it another one among those others. Only towards the end did i find it a little enjoying but for the rest it was too slow for my liking.
Mediocre…So mediocre that can even be considered so – so in a scale where mediocre is the perfect score!The plot is so laid back and indifferent that never really hooks the watcher up and the romance, although cute, is kinda washed up which is unacceptable since it is the moving force for this story.On the other hand animation is sleek and drawing art at it`s best!Characters are also very interesting (except the male lead that maintains a passive and completely unoriginal stance towards everything) and the development between the protagonists deep enough to keep you there,yet barely.What i really enjoyed though was the romance closure although even the way it was presented was also unoriginal.Barely worth your time even as a hardcore romance fan
An interesting series with many neat ideas. I feel like there were some missed opportunities, particularly with the interesting ending. The relationship, while very sweet is definitely one that had me cringing and willfully ignoring some aspects that made me uncomfortable (particularly some lines near the end). However, despite the flaws, it`s not bad by any stretch and is definitely worth watching if you`re a fan of the genre as it has its share of both funny and touching moments.
loli moe fans where are you this anime is for you , you know!
Just for fan. It`s really disappointing because the series only fails for the main character. The tsundere girl`s dialogues don`t match her personality at all, or rather they don`t match each other. I don`t know if the author tried to be funny or not but sometimes I find insulting in first sentence and apologize or thank in second sentence; and I think it`s not funny but annoying. Other characters are alright as they are.
Still great art, good gags and humor sense. The show could have been much better.
I love the storyline, very heartwarming. I would have loved to see the characters grow more *they have plenty.* Too short IMO, would love to see a second season.
Recommended for those who like pretty characters and heartfelt stories.
A very fun moe comedy with supernatural elements kinda like black butler. This anime is pretty good so far!
Awesome anime fun & funny to watch and this girl is very hot although flat-chested 😛 also the OP is by far the best of the season! give it a try u wont loose.
My bet for sleeper hit of the season. Seriously.
I had not high expectations for this but wow. Great characters, really funny moments and a story that makes me feel fuzzy inside.
A really heartwarming anime. Too bad it`s only got 12 episodes, hope they will keep making more seasons. :]
This is in my top 5 favorite anime, along side Kenshin, Spice and Wolf, Bebop, and Trigun. Great art style, in depth character development, and probably the most adorable interactions you`ll see ever. Even the one character I can`t stand is amazing.
If you`re on the fence about watching this, do. You won`t regret it. This is an amazing anime.
I honestly never expected this anime to turn out the way it did. Every episode and every character kept me entranced and I was soon addicted. But it honestly wasn`t until one specific episode so close to the end that made me add it to my favorites. I really think this is a must see, and to watch this anime all the way through.
Otome Youkai Zakuro
Kami-sama Hajimemashita
Kuroshitsuji
Kaichou wa Maid-sama!
NHK ni Youkoso!