Junketsu no Maria
(720p – 100MB)
Synonyms: Junketsu no Maria: Sorcière de gré, pucelle de force
Japanese: 純潔のマリア
Anime Type : TV Series
Total Episodes : 12(Finished Airing)
Rating : 7.28
Genres : Comedy, Ecchi, Fantasy, Historical, Magic, Seinen
Air Dates : Jan 11, 2015 to Mar 29, 2015
The story follows Maria, the most powerful witch who lives during the Hundred Years` War in France. She despises war, so she obstructs battles with her strong magical powers. Her meddling with her succubus Artemis and incubus Priapos has caught the attention of the heavens, and so the Archangel Michael issues an edict. When Maria loses her virginity, she will also lose her magical powers. A beautiful angel named Ezekiel is supposed to watch Maria and make sure the witch does not use magic in front of people, but Maria continues to use magic anyways.
Source: ANN
Note: The first episode was pre-aired at Bandai Channel on 04.01.2015, regular TV broadcast started on 11.01.2015.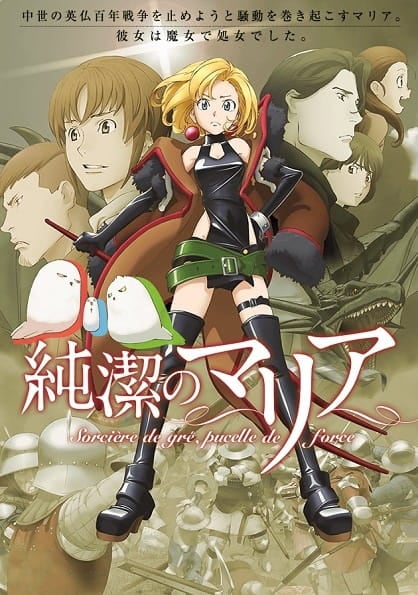 Direct-Download Links | MEGA Links for Junketsu no Maria (720p-100MB) Encodes
MEGA Links
Mega Links : Maria
Proper Release (DameDesuYo)
Episode 01 : Direct Download
Episode 02 : Direct Download
Episode 03 : Direct Download
Episode 04 : Direct Download
Episode 05 : Direct Download
Episode 06 : Direct Download
Episode 07 : Direct Download
Episode 08 : Direct Download
Episode 09 : Direct Download
Episode 10 : Direct Download
Episode 11 : Direct Download
Episode 12 : Direct Download
Review
Do not shy away from this title because it has the word Virgin in it's title.
This anime is not about sexual themes, however; sexual themes are relevant. When it comes to telling a cohesive story, many anime fail. They don't have underlying themes, and character motivations are vague for the most part. This is NOT the case for Maria the Virgin Witch. The cast is quite large, but they are introduced in a sensible way and slowly. Each and every character has a reason to exist, and they're motivations make sense. They all contribute to the big picture and the show actually tackles ethical issues regarding war that can still resonate with people today.
I love the characters and how they interact with each other. The conversations feel real and while there may be drama, it's never because the characters are socially incompetent(this is rare in anime). The show also portrays middle-age society in the most realistic way I've ever seen surpassing even shows like spice and wolf.
The relationship between religion, the common people, and war is complex and makes sense, but let's not forget about Maria. She's amazing. She has her own will, and is very goal orientated. It's endearing and exciting watching her proudly struggle through achieving her goal. She's an amazingly well-written female character, and her romantic life is handled quite well.
If you like deep introspective shows that will leave you thinking about the problems it presents after watching it, you'll like this show. If you like interesting character interactions and a really nice romance, you'll like this show.
This show is the sleeper hit of the season.
From story point of view, it is quite intriguing because well the tense between British and French is like never ending problem until now, and this Anime Series emphasizing on the war between them. So yeah, quite intriguing if i may said so. The story progression is disappointing, because i can't see the story developed well. Mostly Maria put end of war and that's it, there's no something more after. The romance is… well i kinda say is more to lust than love. There are no concrete relation between Maria and the other guy, mostly just boring old cliche romance comedy ending. The comedy is something that i can say as a advantage because it provides a gag. Not a cheesy one and not funny, but the good and pervy one (i kinda like that one though)…
7/10
Art… well its production IG … they consistent for their art.. but i think they spent a little too much for this project because the story progression is the downside of the whole story.. but IG's Art is superb and consistence so why not try this one?
8/10
Sound… the opening song brought by ZAQ and surprisingly not very convenient to my ear and not much to remember with. BGM is very lack and disappointing, surprisingly they fit well to the scenes.. the ending, not much i can say about. The only advantage from the Sound is the seiyuu… Some of them are the best in anime stuff, Kana hanazawa, Yoko Hikasa , Kanemoto Hisako… several others.
6/10
Character… all the character in this anime are interesting, Maria the the Virgin tsundere witch, Ezekiel the guardian Tsundere, "one too much" teasing succubus and "genital-less" incubus.. they all created a good drama between them. this is the advantage for this anime
8/10
Enjoyment.. this anime really enjoyable, if you don't have another anime to watch with. but production IG's anime never disappointed me because the art work is great and it really is. Kinda disappointed why they decided to create anime project for this one. but i'd say this is not a failure, but they could try for another appropriate project..
Overall 7/10
Prequel/Sequel
None
Similar Anime | Recommendations
Witch Craft Works
Ookami to Koushinryou
Wizard Barristers: Benmashi Cecil
…………
*Just to let you guys know…… these are recommendations depending upon the genre of the anime not by the plot itself…