Kanojo ga Flag wo Oraretara
(1080p – 300MB)
Gaworare (synonym)
Anime Type : TV Series
Total Episodes : 13
Rating : 6.80
Aired : April 7, 2014 to Jun 30, 2014
Producer : Hoods Entertainment, The Klock Worx
Genres : Comedy, Romance, School, Harem
Duration : 24 min. per episode
Hatate Sota is a high school boy, who has an ability to visualize "flags" for future events such as "death flag," "friendship flag," and "romance flag." Despite the flag-viewing ability, he avoids making friends with others due to a trauma he experienced in a ship submergence accident. Four beautiful girls get interested in his strange way of living, and they begin to live with him at the school dorm by force.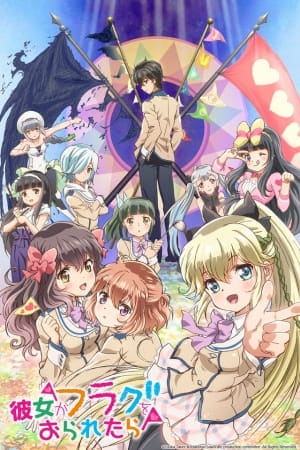 Direct-Download Links for Kanojo ga Flag wo Oraretara 1080p 300MB Complete Batch Episode 1 – 13 miniMKV Encodes
Episode 01: Direct Download: [AnimeOut] Kanojo ga Flag wo Oraretara – 01 [BD][1080pp-FLAC][333A29BF][1080pp][FFF][RapidBot].mkv
Episode 02: Direct Download: [AnimeOut] Kanojo ga Flag wo Oraretara – 02 [BD][1080pp-FLAC][5ECEAC94][1080pp][FFF][RapidBot].mkv
Episode 03: Direct Download: [AnimeOut] Kanojo ga Flag wo Oraretara – 03 [BD][1080pp-FLAC][3A222170][1080pp][FFF][RapidBot].mkv
Episode 04: Direct Download: [AnimeOut] Kanojo ga Flag wo Oraretara – 04 [BD][1080pp-FLAC][BA6F4B16][1080pp][FFF][RapidBot].mkv
Episode 05: Direct Download: [AnimeOut] Kanojo ga Flag wo Oraretara – 05 [BD][1080pp-FLAC][19D89D00][1080pp][FFF][RapidBot].mkv
Episode 06: Direct Download: [AnimeOut] Kanojo ga Flag wo Oraretara – 06 [BD][1080pp-FLAC][0E6F7F6B][1080pp][FFF][RapidBot].mkv
Episode 07: Direct Download: [AnimeOut] Kanojo ga Flag wo Oraretara – 07 [BD][1080pp-FLAC][283198FC][1080pp][FFF][RapidBot].mkv
Episode 08: Direct Download: [AnimeOut] Kanojo ga Flag wo Oraretara – 08 [BD][1080pp-FLAC][C88DAE2C][1080pp][FFF][RapidBot].mkv
Episode 09: Direct Download: [AnimeOut] Kanojo ga Flag wo Oraretara – 09 [BD][1080pp-FLAC][B7EB4A98][1080pp][FFF][RapidBot].mkv
Episode 10: Direct Download: [AnimeOut] Kanojo ga Flag wo Oraretara – 10 [BD][1080pp-FLAC][34B60E4B][1080pp][FFF][RapidBot].mkv
Episode 11: Direct Download: [AnimeOut] Kanojo ga Flag wo Oraretara – 11 [BD][1080pp-FLAC][4A92E682][1080pp][FFF][RapidBot].mkv
Episode 12: Direct Download: [AnimeOut] Kanojo ga Flag wo Oraretara – 12 [BD][1080pp-FLAC][22CF2669][1080pp][FFF][RapidBot].mkv
Episode 13: Direct Download: [AnimeOut] Kanojo ga Flag wo Oraretara – 13 [BD][1080pp-FLAC][DF4D33D5][1080pp][FFF][RapidBot].mkv
OP01: Direct Download: [AnimeOut] Kanojo ga Flag wo Oraretara – OP01 [BD][1080pp-FLAC][2959DF33][1080pp][FFF][RapidBot].mkv
ED01: Direct Download: [AnimeOut] Kanojo ga Flag wo Oraretara – ED01 [BD][1080pp-FLAC][9B7FDBC8][1080pp][FFF][RapidBot].mkv
ED02: Direct Download: [AnimeOut] Kanojo ga Flag wo Oraretara – ED02 [BD][1080pp-FLAC][E8450F67][1080pp][FFF][RapidBot].mkv
Direct-Download Links for Kanojo ga Flag wo Oraretara 720p 150MB Complete Batch Episode 1 – 13 miniMKV Encodes
Episode 01: Direct Download: [AnimeOut] Kanojo ga Flag wo Oraretara – 01 [BD][720p-FLAC][333A29BF][FFF][RapidBot].mkv
Episode 02: Direct Download: [AnimeOut] Kanojo ga Flag wo Oraretara – 02 [BD][720p-FLAC][5ECEAC94][FFF][RapidBot].mkv
Episode 03: Direct Download: [AnimeOut] Kanojo ga Flag wo Oraretara – 03 [BD][720p-FLAC][3A222170][FFF][RapidBot].mkv
Episode 04: Direct Download: [AnimeOut] Kanojo ga Flag wo Oraretara – 04 [BD][720p-FLAC][BA6F4B16][FFF][RapidBot].mkv
Episode 05: Direct Download: [AnimeOut] Kanojo ga Flag wo Oraretara – 05 [BD][720p-FLAC][19D89D00][FFF][RapidBot].mkv
Episode 06: Direct Download: [AnimeOut] Kanojo ga Flag wo Oraretara – 06 [BD][720p-FLAC][0E6F7F6B][FFF][RapidBot].mkv
Episode 07: Direct Download: [AnimeOut] Kanojo ga Flag wo Oraretara – 07 [BD][720p-FLAC][283198FC][FFF][RapidBot].mkv
Episode 08: Direct Download: [AnimeOut] Kanojo ga Flag wo Oraretara – 08 [BD][720p-FLAC][C88DAE2C][FFF][RapidBot].mkv
Episode 09: Direct Download: [AnimeOut] Kanojo ga Flag wo Oraretara – 09 [BD][720p-FLAC][B7EB4A98][FFF][RapidBot].mkv
Episode 10: Direct Download: [AnimeOut] Kanojo ga Flag wo Oraretara – 10 [BD][720p-FLAC][34B60E4B][FFF][RapidBot].mkv
Episode 11: Direct Download: [AnimeOut] Kanojo ga Flag wo Oraretara – 11 [BD][720p-FLAC][4A92E682][FFF][RapidBot].mkv
Episode 12: Direct Download: [AnimeOut] Kanojo ga Flag wo Oraretara – 12 [BD][720p-FLAC][22CF2669][FFF][RapidBot].mkv
Episode 13: Direct Download: [AnimeOut] Kanojo ga Flag wo Oraretara – 13 [BD][720p-FLAC][DF4D33D5][FFF][RapidBot].mkv
OP01: Direct Download: [AnimeOut] Kanojo ga Flag wo Oraretara – OP 01 [BD][720p-FLAC][2959DF33][FFF][RapidBot].mkv
ED01: Direct Download: [AnimeOut] Kanojo ga Flag wo Oraretara – ED 01 [BD][720p-FLAC][9B7FDBC8][FFF][RapidBot].mkv
ED 02: Direct Download: [AnimeOut] Kanojo ga Flag wo Oraretara – ED02 [BD][720p-FLAC][E8450F67][FFF][RapidBot].mkv
Direct-Download Links for OVA (Christmas? Sonna Mono ga Boku ni Tsuuyou Suru to Omou no ka?) 576p 100MB miniMKV Encodes
Direct Download: [Underwater] Kanojo ga Flag wo Oraretara – 14 DVD AnimeOut [EFC630CC][576p][RapidBot].mkv