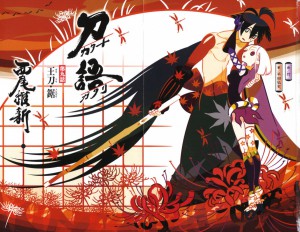 Katanagatari (main)
(1080p – 300MB)
Katanagatari (main)
Sword Stories (synonym)
* Based on a light novel series by [Nishio Ishin].
The legendary swordsmith Shikizaki Kiki made 1000 swords in his career. The more swords a state had, the greater success they had in the wars. When the Shogun emerged victorious, he collected 988 of the swords… but those were just practice.
The final twelve swords were the pinnacle of his career. Each of them has powers so extraordinary, one man could defeat small armies.
Shogunate strategist [Togame] has been ordered to recover them. She first hired a ninja… but the worth of the swords is so great the entire ninja clan defected the moment they recovered one. Then she hired a swordsman… but he kept the sword for himself.
Her last hope is [Shichika], the seventh and last practitioner of the Kyotoryuu — No Sword School. He and his sister live on an island cut off from civilization — they have no need for money. His sword school does not use swords — he would not want the swords for himself.
So why should he help her?
"Because you will fall in love with me."
Source: Click
Anime Type – TV Series
Total Episodes – 12
Rating – 8.39
Start Date – 2010-01-26
End Date – 2010-12-11
1080p Bluray Encodes
[AnimeOut]Katanagatari.EP01BD.1080pp.FLAC[16C715DE][1080pp][Elysium][RapidBot].mkv: Direct Download
[AnimeOut]Katanagatari.EP02BD.1080pp.FLAC[978F45CF][1080pp][Elysium][RapidBot].mkv: Direct Download
[AnimeOut]Katanagatari.EP03BD.1080pp.FLAC[938242CF][1080pp][Elysium][RapidBot].mkv: Direct Download
[AnimeOut]Katanagatari.EP04BD.1080pp.FLAC[086FF27A][1080pp][Elysium][RapidBot].mkv: Direct Download
[AnimeOut]Katanagatari.EP05BD.1080pp.FLAC[491BE0E9][1080pp][Elysium][RapidBot].mkv: Direct Download
[AnimeOut]Katanagatari.EP06BD.1080pp.FLAC[23EBE7AF][1080pp][Elysium][RapidBot].mkv: Direct Download
[AnimeOut]Katanagatari.EP07BD.1080pp.FLAC[C85F044A][1080pp][Elysium][RapidBot].mkv: Direct Download
[AnimeOut]Katanagatari.EP08BD.1080pp.FLAC[965ADE3B][1080pp][Elysium][RapidBot].mkv: Direct Download
[AnimeOut]Katanagatari.EP09BD.1080pp.FLAC[F87A075D][1080pp][Elysium][RapidBot].mkv: Direct Download
[AnimeOut]Katanagatari.EP10BD.1080pp.FLAC[45E1A3BA][1080pp][Elysium][RapidBot].mkv: Direct Download
[AnimeOut]Katanagatari.EP11BD.1080pp.FLAC[78163DFB][1080pp][Elysium][RapidBot].mkv: Direct Download
[AnimeOut]Katanagatari.EP12BD.1080pp.FLAC[7465B9B7][1080pp][Elysium][RapidBot].mkv: Direct Download
[AnimeOut]Katanagatari.OP1BD.1080pp.FLAC[7FCA10D4][1080pp][Elysium][RapidBot].mkv: Direct Download
[AnimeOut]Katanagatari.OP2BD.1080pp.FLAC[F196BDCF][1080pp][Elysium][RapidBot].mkv: Direct Download
720p Bluray Encodes
Episode 01: Direct Download: [AnimeOut] Katanagatari – 01 [BD 720p FLAC][49C34D59][Shimatta][RapidBot].mkv
Episode 02: Direct Download: [AnimeOut] Katanagatari – 02 [BD 720p FLAC][825A3C35][Shimatta][RapidBot].mkv
Episode 03: Direct Download: [AnimeOut] Katanagatari – 03 [BD 720p FLAC][A0B8CCA5][Shimatta][RapidBot].mkv
Episode 04: Direct Download: [AnimeOut] Katanagatari – 04 [BD 720p FLAC][3FB5265F][Shimatta][RapidBot].mkv
Episode 05: Direct Download: [AnimeOut] Katanagatari – 05 [BD 720p FLAC][043B1C4F][Shimatta][RapidBot].mkv
Episode 06: Direct Download: [AnimeOut] Katanagatari – 06 [BD 720p FLAC][17F41C15][Shimatta][RapidBot].mkv
Episode 07: Direct Download: [AnimeOut] Katanagatari – 07 [BD 720p FLAC][AC95DF59][Shimatta][RapidBot].mkv
Episode 08: Direct Download: [AnimeOut] Katanagatari – 08 [BD 720p FLAC][151B337B][Shimatta][RapidBot].mkv
Episode 09: Direct Download: [AnimeOut] Katanagatari – 09 [BD 720p FLAC][0DBF4E90][Shimatta][RapidBot].mkv
Episode 10: Direct Download: [AnimeOut] Katanagatari – 10 [BD 720p FLAC][129FDD77][Shimatta][RapidBot].mkv
Episode 11: Direct Download: [AnimeOut] Katanagatari – 11 [BD 720p FLAC][2BCC9056][Shimatta][RapidBot].mkv
Episode 12: Direct Download: [AnimeOut] Katanagatari – 12 [BD 720p FLAC][51C11C77][Shimatta][RapidBot].mkv
[AnimeOut] Katanagatari – OP1 [BD 720p][Elysium][AKS].mkv|Direct Download
[AnimeOut] Katanagatari – OP2 [BD 720p][Elysium][AKS].mkv|Direct Download
The characters are interesting, with the main character being pretty much the only one that could be called out of the ordinary. The plot seemed to have an arc yet it feels incomplete, too corny at times and casual at others. It was okay but it didn`t rock my world 😛
Pretentious shit about a fighter who looks away from his opponent to talk with his pompous bride. Naturally, it also has the curse of the talking villain. Funny? Also fail.
One of the Top animes of this year (2010) and it airs once a month. Awesome Fights, Wonderful Char Banter.
Nisioisin`s trademark clever dialogue and quirky, likeable characters + incredibly fluid, colorful animation = great combo. Definitely worth the wait between episodes.
Simply wonderful Anime
Simply put, brilliant. Very unique, superbly animated along with a great plot.
Excellent graphics good story but awful bad ending….
Good story, good characters and a good ending (rare thing to be seen).
Suprisingly brutal and merciless scenes for a story so mild ,it indeed keeps you for the whole hour of each episode
Amazing story and characters, horrible and depressing ending…
Great story, one of the best series i`ve had to pleasure of watching
AWESOME! hey, this should fall in comedy too. I enjoyed the laughs, great plot, nice art, the characters looks strong yet cute! Every after episode makes me want some more. You might cry/whine in the ending but OVER ALL this is recommended by me! =)
Incredible story, animation, characters, style, everything.
it is a must see .. watch and see for yourself i have my doubts that you will think it was a waste of time
a 100% must see i think 🙂 great story, great characters … well i didn`t like the end tho…..
This anime starts off slow, I started off watching this anime with my friend when it first came out, he dropped it said it was too slow. Honestly I felt it was slow but I kept watching the pace picked up, I gained more interest, I kept wanting more of it, finally i`ve watched the ending and i`m happy I watched this anime its great. If you start to watch it DO NOT DROP IT watch it to the end you wont regret it!
This series really reminds me of a game on the wii called "Muramasa: the deamons blade" very similar storyline and art. anyways this series has it all, the visuals, the story everything. MUST SEE!
great art great story a little bit complicated and at parts not very reasanoble but it was great overall
This is one of the best anime`s ever produced until now (2011) – You would be a fool and not see this superb creation.
Beautiful schow, which design mysteriously grabs you and pulls you along powerfully. far out of the ordinary storytelling and unique characters make this show a must see for anyone, and especially for those who like the not stereotype samurai-themed anime. Best show of 2010 overall IMHO. too bad it comes out only once a month, but that might actually make the show even better.
Strange at first, but ones you start watching you can`t stop. Absolutely brilliant ending, which is certainly worth mentioning as many other anime fail where Katanagatari succeeds. Must see definitely.
What a beautiful story, very unique and vary entertaining. I just love each and every episode. It`s one of the best animes I have watched so far.
Unique art style, yet the storytelling/dialogue-heaviness is very Nishio Ishin-like. Takes quite a different approach from the *monogatari series plot-wise – it has quite a bit of action, too. Very unique (even in terms of the 50 min long eps) and intriguing and with its awesome character development I think it`s a must see.
With a crazy cast of characters, a strong backbone of great music and a slick art style, Katanagatari has enough thrills to balance out NisiOisin`s wordy script, all for a simple, and groundbreaking story.
First I had a look at the poster here in anidb and I was put-off by the overly colorful and "cute" style. Then I read the story synopsis and the comments and decided to give it a try. The first episode left me uncertain. The second episode hooked me. From that point on this series was an absolute blast for me. Frantic action and fantastic dialog interludes (or is it the other way around ?) share the viewing time of this surprisingly good anime. The story is simple, yet sublime, the characterization superb, humor drama and action mingle with ease and create a thoroughly entertaining romp that leads to a powerful ending.
unique art AND awesome story MUST SEE!!!!
[i]However, by that time you`ll be torn to pieces.[/i]
Don`t let the artwork nor the cover picture dissuade you like me two years ago! [b]Katanagatari[/b] is based on well-though plot and character design. Yes, it is dialogue heavy and you`ll probably have hard time catching all the names of people, places and attacks, yet it will still leave you amazed by its slightly absurd, unusual (even unique) story telling of this one quest to collect 12 swords. It is deeper than it might seem to.
Be prepared for 50 minute episodes, though. Not very usual, but bearable.
Excellent work of art. I was getting really tired of seeing anime that`s just a rehash of one or several anime i`ve already seen. This is like a fresh spring breeze compared to everything i`ve watched lately.
Very original and artistic 10/10
Basic martial arts beginning episode 1-3, but 4 is amazingly creepy and exciting. The creator truely has a wickedly deep mind to make that episode.
SO GOOD… lol nah its not really ment to be a battle for most the ep kinda anime, but it does it well… Characters were awesome and was satisfying couldnt ask for anything more episodes were pretty perfect, everything was nicely done def dont skip
To make it short: This Anime is awesome for those who like unusual animation and character styles. The plot is easy, but the story and the character develop in a good pace up to a, in my opinion, surprising last episode. I loved it.
great art, great story, but a bit wordy.
simply excellent anime.
Amazing story and action. Has quite a nice build up till the end. Loved the ending!
If you can only watch one series right now, make it this one!
Beautiful art, good animation, nice soundtrack, but the best thing is the story. By the first four or five episodes you may think that, even being violent, it is quite innocent. That impression just falls apart as the plot develops. Togame and Shichika are two of my favorite characters by now. Really recommended!!:D
Well, I watched it once, and liked it, but not so much. But something draw me back to it, I rewatched it, and I must say : it was good. More than good, it was great, in fact, almost unique. I strongly recommend it.
Great plot and interesting characters development, awesome animation and good soundtrack – I give it 8.5/10 just because I was really not convinced by the plot twist at the ending, but overall this one is a must see.
Absolutely amazing! A great story with quite a bit of character growth. The long dialogs may throw you off for the genre but they are worth it. The uncomon artwork is quite pleasing to the eye.
You cannot possibly miss it!
EPIC!!! For me it`s like Crouching Tiger Hidden Dragon film One of the best must see.
Bakemonogatari
Mutsu Enmei Ryuu Gaiden: Shura no Toki
Samurai Champloo
Tatoe Kimi ga Sekaijuu no Teki ni Natte mo