Kimi ga Nozomu Eien
(480p – 60MB)
Kimi ga Nozomu Eien
The Eternity You Wish For (synonym)
La Eternidad que Deseas (synonym)
L`Eternitat que Desitjes (synonym)
kiminozo (short)
kgne (short)
KiNoEi (short)
Rumbling Hearts (official)
Rumbling Hearts (official)
* Based upon its PC eroge by http://anidb.net/cr820 [Age].
At first, http://anidb.net/ch3442 [Narumi Takayuki] is befriended by http://anidb.net/ch3444 [Hayase Mitsuki] only because Mitsuki`s best friend, http://anidb.net/ch3443 [Suzumiya Haruka] has a crush on him; however since then, Takayuki, his pal http://anidb.net/ch3446 [Taira Shinji], and Mitsuki have grown to be the best of friends. Then one day, Haruka confesses to Takayuki her love for him. Not wanting to hurt her feelings, Takayuki agrees to go out with her. After a few incidents, their relationship gets intimate, even while Takayuki and Mitsuki begin to realize their feelings for each other. But suddenly, when tragedy strikes, things are never the same for these four friends again.
Source: ANN
Anime Type – TV Series
Total Episodes – 14
Rating – 7.32
Start Date – 2003-10-05
End Date – 2004-01-04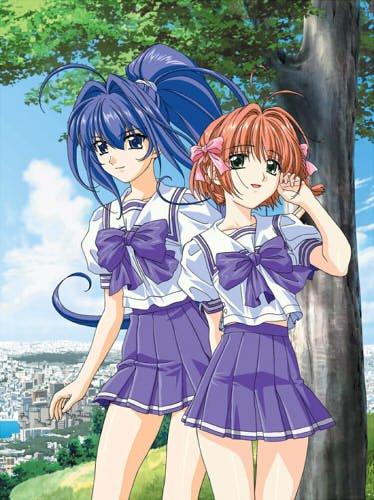 Ep Num#
Date
Title
1
2003-10-05
Friends to Lovers
2
2003-10-12
Waiting
L`attente
3
2003-10-19
Moving On
Tourner la page
4
2003-10-26
Betrayed by Love
Trahi par l`amour
5
2003-11-02
Lead Astray
6
2003-11-09
Wishing
7
2003-11-16
Always Second Thoughts
8
2003-11-23
Old Scars Are New
9
2003-11-30
Unraveling
10
2003-12-07
Impulses
11
2003-12-14
Where the Blame Lies
12
2003-12-21
Friends to Enemies
13
2003-12-28
The Past Will Catch Up
14
2004-01-04
Mayal`s Gift
Direct-Download Links | Torrent Links for Kimi ga Nozomu Eien 480p 60MB miniMKV Encodes
[tab title="Filehosts"]
##[AnimeOut]Kimi_Ga_Nozomu_Eien_01[480p][KAA][Zii].mkv##
|ZippyShare|SolidFiles|
##[AnimeOut]Kimi_Ga_Nozomu_Eien_02[480p][KAA][Zii].mkv##
|ZippyShare|SolidFiles|
##[AnimeOut]Kimi_Ga_Nozomu_Eien_03[480p][KAA][Zii].mkv##
|ZippyShare|SolidFiles|
##[AnimeOut]Kimi_Ga_Nozomu_Eien_04[480p][KAA][Zii].mkv##
|ZippyShare|SolidFiles|
##[AnimeOut]Kimi_Ga_Nozomu_Eien_05[480p][KAA][Zii].mkv##
|ZippyShare|SolidFiles|
##[AnimeOut]Kimi_Ga_Nozomu_Eien_06[480p][KAA][Zii].mkv##
|ZippyShare|SolidFiles|
##[AnimeOut]Kimi_Ga_Nozomu_Eien_07[480p][KAA][Zii].mkv##
|ZippyShare|SolidFiles|
##[AnimeOut]Kimi_Ga_Nozomu_Eien_08[480p][KAA][Zii].mkv##
|ZippyShare|SolidFiles|
##[AnimeOut]Kimi_Ga_Nozomu_Eien_09[480p][KAA][Zii].mkv##
|ZippyShare|SolidFiles|
##[AnimeOut]Kimi_Ga_Nozomu_Eien_10[480p][KAA][Zii].mkv##
|ZippyShare|SolidFiles|
##[AnimeOut]Kimi_Ga_Nozomu_Eien_11[480p][KAA][Zii].mkv##
|ZippyShare|SolidFiles|
##[AnimeOut]Kimi_Ga_Nozomu_Eien_12[480p][KAA][Zii].mkv##
|ZippyShare|SolidFiles|
##[AnimeOut]Kimi_Ga_Nozomu_Eien_13[480p][KAA][Zii].mkv##
|ZippyShare|SolidFiles|
##[AnimeOut]Kimi_Ga_Nozomu_Eien_14[480p][KAA][Zii].mkv##
|ZippyShare|SolidFiles|
Mega.co.nz Links Complete Batch
Episode 1 : Direct Download | Torrent
Episode 2 : Direct Download | Torrent
Episode 3 : Direct Download | Torrent
Episode 4 : Direct Download | Torrent
Episode 5 : Direct Download | Torrent
Episode 6 : Direct Download | Torrent
Episode 7 : Direct Download | Torrent
Episode 8 : Direct Download | Torrent
Episode 9 : Direct Download | Torrent
Episode 10 : Direct Download | Torrent
Episode 11 : Direct Download | Torrent
Episode 12 : Direct Download | Torrent
Episode 13 : Direct Download | Torrent
Episode 14 : Direct Download
Pure drama. One of the first "normal" (no magic, no abnormality) Anime I saw and was impressed that it was good without anything magical.
True life
hell yeah must see
A very powerful anime both in terms of story and animation. Must see!
I highly recommend this to many people! This anime was amazing! It was also very sad and tragic though.
I`m trying to find something better. Still I can`t.
I highly recommend this anime.
Probably my favorite romance anime. Give it a try and watch a few episodes! (Most of the people who don`t like this watch just the first episode. Do not make the same mistake.)
Even now, when I think about this anime.. I get filled up… It`s such a deep story.
Easily one of my favorite romantic series. I literally felt bad toward the middle and the end when things went from happy-go-lucky to pure damn angst. But that only made me realize that I actually had emotions, tucked away somewhere. Strange, I know. Very well told, with great characters and interesting intrigues.
my favorite romance anime ~ that anime really touched me because of its deep story. Dont let yourself deter because of the beginning its really worth watching!
I`ve seen lots of tragic anime but this one is the best, I swear it, it`s so so so much moving and even stone can cry
Kimi ga Nozomu Eien: Next Season (Alternative Setting)
Akane Maniax (Side Story)
Ayu Mayu Gekijou (Side Story)
Fuyu no Sonata
School Days
Nana
Ano Hi Mita Hana no Namae o Bokutachi wa Mada Shiranai.