Kiniro Mosaic
(720p – 100MB)
Kiniro Mosaic S1, Kinmosa2, Golden Mosaic
Type: TV Series
Episodes: 12
Status: Finished Airing
Aired: Jul 6, 2013 to Sep 21, 2013
Producers: Genco, Sentai Filmworks, Studio Gokumi, Showgate
Genres: Comedy, School, Slice of Life
Duration: 24 min. per episode
Rating: PG-13 – Teens 13 or older
The story begins with Oomiya Shinobu, a 15-year-old, seemingly pure Japanese girl who actually did a homestay in Great Britain. Even after coming back to Japan, she still misses her time overseas. One day, an airmail letter arrives from Alice, the girl in Shinobu's host family in Great Britain. The letter reads: Shinobu, I'm coming to Japan! The Japanese/British girls' mixed comedy follows the lives of Shinobu, Alice, and other girls from both Japan and Great Britain.
(Source: ANN)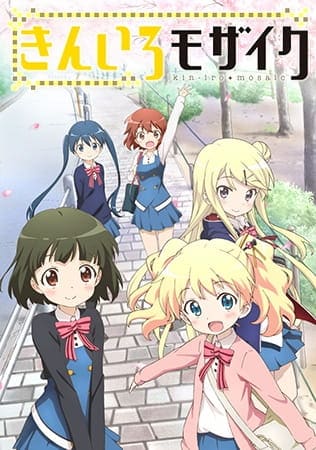 DDL Links | Torrent Links for Kiniro Mosaic 720p 100MB miniMKV Encodes

[tab title="Direct Download (Free)"]
Episode 01 : Direct Download
Episode 02 : Direct Download
Episode 03 : Direct Download
Episode 04 : Direct Download
Episode 05 : Direct Download
Episode 06 : Direct Download
Episode 07 : Direct Download
Episode 08 : Direct Download
Episode 09 : Direct Download
Episode 10 : Direct Download
Episode 11 : Direct Download
Episode 12 : Direct Download
[tab title="MEGA"]
Episode 01 : MEGA
Episode 02 : MEGA
Episode 03 : MEGA
Episode 04 : MEGA
Episode 05 : MEGA
Episode 06 : MEGA
Episode 07 : MEGA
Episode 08 : MEGA
Episode 09 : MEGA
Episode 10 : MEGA
Episode 11 : MEGA
Episode 12 : MEGA
Mega Links
It is known for a while that the cute x (girls + things) formula can either be the salvation or the damnation of an anime. While some Slice of Life shows tend to emphasize the characters and leaving out every other elements, ending up failing their purpose of entertaining, other shows manage to use the right dosage of cute elements and comedy to bring out the best of the Slice of Life genre.
As heartwarming as they come, Kiniro Mosaic (Golden Mosaic in english) was a surprise in the 2013 summer anime line up. Sometimes being simple is the best way to bring entertainment and relaxation to the viewers and Kiniro Mosaic did just that and ended up being a heartwarming, funny and yet entertaining and relaxing show that anyone can enjoy. Forget fanservice and complex storylines, you will not find any of that here.
As I watched episode 1 I wasn't really sure what to think when I see 90% of the characters speaking english (Also known as Engrish which is the result produced by most seiyuu when trying to speak fluent english, still not as bad as some I've seen though) I started thinking the entire show would be about the protagonist Shinobu, living in England with her newly made friend Alice, which honestly would be an extremly painful thing to witness as one would have to endure to poor english through out the entire show. Don't be frightened by this though since it will not be the formula the show goes by.
After the first episode it became clear that the main focus of the anime is gag comedy. The type of humor that relies mostly on the character's comeback to certain puns or just out of the blue questions or sentences. It follows through the ordinary lives of 3 japanese high school girls and 2 english transfer students and their quarrels. With no other elements besides comedy and somewhat cute main characters this show could have failed miserably. However by focusing on the simple comedy and leaving out unecessary elements and utilizing great artwork, Kiniro Mosaic manages to be entertaining for most part.
As far as an actual storyline goes this show does not posess one but I do not think it'd fit with what the show's intention is. Even each episode is divided into sections and each section focuses on either one character's point of view or just a certain gag, although each episode itself is indeed linear which is something well done, the connection between each episode is not that present. But the viewer can still enjoy each episode seperately and I personally don't think it needs a linear storyline as this is a show one can watch and feel relaxed while doing so.
The characters are very interactive and unique, some might even give out a certain Shoujo Ai aura similar to shows like A-channel or Yuru Yuri, although this is never really emphasized so if you think such things are inappropriate I don't believe Kiniro Mosaic will bother you. The comedy mostly revolves around Shinobu being obsessed with foreigners and blonde girls, thus leading her to want to hog Alice all to herself, Aya being the tsundere type of character around her best friend Youko, and Karen who with her broken japanese and eccentric personality manages to cause either hilarious or extremely awkward situations. And so the show goes on with these 5 friends and their everyday lives filled with humurous situations.
Something else that is captivating for me was the art, in particular the character designs, for someone who is a fan of cute girls doing cute things and slice of life, this show has the perfect share of adorable and loveable characters, with bright colors everywhere, each episode manages to bring a cheerful aura and bring out the cuteness of each character which is a plus for any slice of life lover, the artwork is similar to Yuru Yuri with short almost middle schooler like characters but there's still some really great images, especially in the opening and ending sequences with the ending in particular, depicting the 5 girls in several different situations with a variety of scenarios all beautifully designed and bright. The opening and ending themes on their own aren't anything out of this world but I still enjoy seeing the opening and ending sequences with such cheerful art.
Overall Kiniro Mosaic is for me a gem for Slice of Life lovers, it was an unexpected anime for the 2013 Summer but it fullfilled its role in my opinion, bringing out the best of the cute x (girls + things) formula and making me relax while enjoying the humurous and yet heartwarming tale of these 5 high schoolers and their quarrels. If you my dear reader enjoy Slice of Life, Kiniro Mosaic is a show I definitely recommend as for me it was an enjoyable experience through out and was one of my favorites for this summer's line up. It was great to know that the Slice of Life genre is not slowly dying out and shows like these are still being produced.
by: Nose_Bleed @MAL