Kono Bijutsubu ni wa Mondai ga Aru!
(1080p – 300MB)
Konobi (synonyms)
この美術部には問題がある! (japanese)
Anime Type : TV Series
Total Episodes : 12
Rating : 7.49
Aired : Jul 8, 2016 to Sep 23, 2016
Premiered : Summer 2016
Producer : TBS, King Records
Genres : Manga, Comedy, Romance, School
Duration : 24 min. per episode
Kono Bijutsubu ni wa Mondai ga Aru! focuses on an art club in a certain middle school, and its members: Subaru Uchimaki, who is a genius at drawing faces, but only wants to draw the perfect 2D wife; Colette, a rich troublemaker who never stops making mischief; and the club president, who sleeps through sessions and collects sleeping aids. Mizuki Usami is the only person in the club who wants to do art club-like activities, and constantly struggles to do so.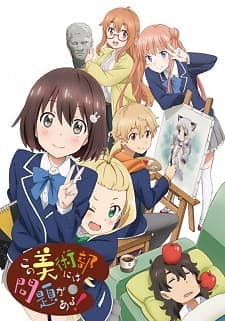 Direct-Download Links for Kono Bijutsubu ni wa Mondai ga Aru! 1080p 300MB miniMKV Encodes
Episode 01: Direct Download: [AnimeOut] Kono Bijutsubu ni wa Mondai ga Aru – 01 BD 1920x1080p x265 FLAC[1080pp][SNSbu][RapidBot].mkv
Episode 02: Direct Download: [AnimeOut] Kono Bijutsubu ni wa Mondai ga Aru – 02 BD 1920x1080p x265 FLAC[1080pp][SNSbu][RapidBot].mkv
Episode 03: Direct Download: [AnimeOut] Kono Bijutsubu ni wa Mondai ga Aru – 03 BD 1920x1080p x265 FLAC[1080pp][SNSbu][RapidBot].mkv
Episode 04: Direct Download: [AnimeOut] Kono Bijutsubu ni wa Mondai ga Aru – 04 BD 1920x1080p x265 FLAC[1080pp][SNSbu][RapidBot].mkv
Episode 05: Direct Download: [AnimeOut] Kono Bijutsubu ni wa Mondai ga Aru – 05 BD 1920x1080p x265 FLAC[1080pp][SNSbu][RapidBot].mkv
Episode 06: Direct Download: [AnimeOut] Kono Bijutsubu ni wa Mondai ga Aru – 06 BD 1920x1080p x265 FLAC[1080pp][SNSbu][RapidBot].mkv
Episode 07: Direct Download: [AnimeOut] Kono Bijutsubu ni wa Mondai ga Aru – 07 BD 1920x1080p x265 FLAC[1080pp][SNSbu][RapidBot].mkv
Episode 08: Direct Download: [AnimeOut] Kono Bijutsubu ni wa Mondai ga Aru – 08 BD 1920x1080p x265 FLAC[1080pp][SNSbu][RapidBot].mkv
Episode 09: Direct Download: [AnimeOut] Kono Bijutsubu ni wa Mondai ga Aru – 09 BD 1920x1080p x265 FLAC[1080pp][SNSbu][RapidBot].mkv
Episode 10: Direct Download: [AnimeOut] Kono Bijutsubu ni wa Mondai ga Aru – 10 BD 1920x1080p x265 FLAC[1080pp][SNSbu][RapidBot].mkv
Episode 11: Direct Download: [AnimeOut] Kono Bijutsubu ni wa Mondai ga Aru – 11 BD 1920x1080p x265 FLAC[1080pp][SNSbu][RapidBot].mkv
Episode 12: Direct Download: [AnimeOut] Kono Bijutsubu ni wa Mondai ga Aru – 12 BD 1920x1080p x265 FLAC[1080pp][SNSbu][RapidBot].mkv
Direct-Download Links for Kono Bijutsubu ni wa Mondai ga Aru! 720p 150MB miniMKV Encodes
Episode 01 : Direct Download: [AnimeOut] Kono Bijutsubu ni wa Mondai ga Aru – 01 BD 1920x720p x265 FLAC[SNSbu][RapidBot].mkv
Episode 02 : Direct Download: [AnimeOut] Kono Bijutsubu ni wa Mondai ga Aru – 02 BD 1920x720p x265 FLAC[SNSbu][RapidBot].mkv
Episode 03 : Direct Download: [AnimeOut] Kono Bijutsubu ni wa Mondai ga Aru – 03 BD 1920x720p x265 FLAC[SNSbu][RapidBot].mkv
Episode 04 : Direct Download: [AnimeOut] Kono Bijutsubu ni wa Mondai ga Aru – 04 BD 1920x720p x265 FLAC[SNSbu][RapidBot].mkv
Episode 05 : Direct Download: [AnimeOut] Kono Bijutsubu ni wa Mondai ga Aru – 05 BD 1920x720p x265 FLAC[SNSbu][RapidBot].mkv
Episode 06 : Direct Download: [AnimeOut] Kono Bijutsubu ni wa Mondai ga Aru – 06 BD 1920x720p x265 FLAC[SNSbu][RapidBot].mkv
Episode 07 : Direct Download: [AnimeOut] Kono Bijutsubu ni wa Mondai ga Aru – 07 BD 1920x720p x265 FLAC[SNSbu][RapidBot].mkv
Episode 08 : Direct Download: [AnimeOut] Kono Bijutsubu ni wa Mondai ga Aru – 08 BD 1920x720p x265 FLAC[SNSbu][RapidBot].mkv
Episode 09 : Direct Download: [AnimeOut] Kono Bijutsubu ni wa Mondai ga Aru – 09 BD 1920x720p x265 FLAC[SNSbu][RapidBot].mkv
Episode 10 : Direct Download: [AnimeOut] Kono Bijutsubu ni wa Mondai ga Aru – 10 BD 1920x720p x265 FLAC[SNSbu][RapidBot].mkv
Episode 11 : Direct Download: [AnimeOut] Kono Bijutsubu ni wa Mondai ga Aru – 11 BD 1920x720p x265 FLAC[SNSbu][RapidBot].mkv
Episode 12 : Direct Download: [AnimeOut] Kono Bijutsubu ni wa Mondai ga Aru – 12 BD 1920x720p x265 FLAC[SNSbu][RapidBot].mkv
Episode NCED : Direct Download: [AnimeOut] Kono Bijutsubu ni wa Mondai ga Aru – NCED 1 BD 1920x720p x265 FLAC[SNSbu][RapidBot].mkv
Episode NCED : Direct Download: [AnimeOut] Kono Bijutsubu ni wa Mondai ga Aru – NCED 2 BD 1920x720p x265 FLAC[SNSbu][RapidBot].mkv
Episode NCOP : Direct Download: [AnimeOut] Kono Bijutsubu ni wa Mondai ga Aru – NCOP BD 1920x720p x265 FLAC[SNSbu][RapidBot].mkv