[infopane color="5″]
Lucky Star
(720p – BD)
[/infopane]
[infopane color="6″]
The OVA features six separate stories revolving around the cast, some of which border on the bizarre; one of which is an MMORPG environment being played by Konata, Kagami, Tsukasa, and Nanako Kuroi, and another in which Kagami has a "suggestive" dream about Konata.
[/infopane]
[infopane color="4″]
Type: OVA
Episodes: 1
Status: Finished Airing
Aired: Sep 25, 2008
[/infopane]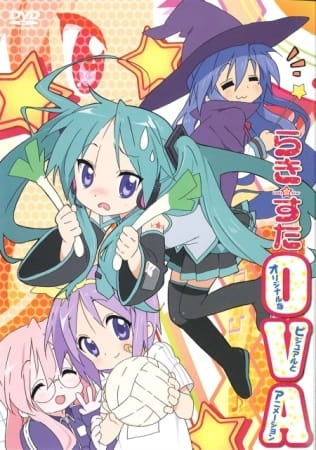 [accordion]
[toggle title="Screenshot"]
[/accordion]
[infopane color="2″]
Direct-Download Links | Torrent Links for Date a Live (main) 720p 120MB miniMKV Encodes

Episode 25: Direct Download
[/infopane]
The Lucky Star OVA was very well done. It brings fans back to the series of lucky star and includes all the characters that you have gotten to know and love… excluding a few characters… Lucky Star generally never has a real story to it but the small episodes in it seemed to flow very nicely. Since there really is no true story, I had to rate the story as a 7/10. To people who are unfamiliar with Lucky Star, watching the OVA might make you confused because you don't know what is going on. However, if you watched the series then the OVA should make perfect sense to you. All the stories were fairly good but near the end, with the pet store, it was funny but it could have been better. Personally it was not my cup of tea but it still had its moments.
The art is very well done as usual. The characters seem to look the same and the art style had not changed since the series. It is pleasent to look at and it doesn't have extremely and unnecessary shiny characters. The 2nd story in the OVA is very well done as that is what many MMOs look like.
Sound: The sound was the same, nothing really special changed from the series to the OVA. One can expect the same quality as they did in the series.
Characters: It is very nice to see most of the characters again. It is even better to still see them with their original personalities. Kagami is still her usual self and Konata is still a crazy otaku.
Enjoyment: You can expect that this OVA is done just as well as the series. If you didn't like the series, you will not enjoy the OVA. If you did like the series, you might think the OVA is a bit of a disapointment. However, it is still worth the 45 minutes to watch.
Lucky Star