Mayoiga
(720p – 100MB)
The Lost Village , 迷家 (japanese)
Anime Type : TV Series
Total Episodes : 12
Aired : Apr 1, 2016 to ?
Producer : Diomedea, Pony Canyon
Genres : Drama, Mystery
Duration : 23 min. per episode
Rating : R – 17+ (violence & profanity)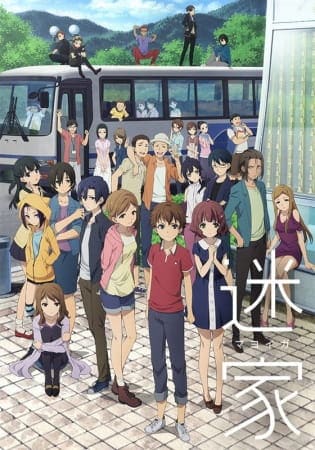 A shady bus tour of young men and women are headed to an elusive village called Nanakimura. A destination where people can partake in an utopian existence, free of the world's obstacles… or so goes the rumor.
Heading deep into the mountains, the bus is carrying 30 different individuals, each harboring their own expectations and troubled hearts…
What they had arrived to was an uninhabited village with lingering, faint scents of life and it was falling apart.
Just what is the secret of Nanakimura?
Direct-Download | File Host Links for Mayoiga 720p 100MB miniMKV Encodes
Direct-Download Links
Episode 01 : Direct Download
Episode 02 : Direct Download
Episode 03 : Direct Download
Episode 04 : Direct Download
Episode 05 : Direct Download
Episode 06 : Direct Download
Episode 07 (Rapid) : Direct Download
Episode 08 (Rapid) : Direct Download
Episode 09 (Rapid) : Direct Download
Episode 10 (Rapid) : Direct Download
Episode 11 (Rapid) : Direct Download
Episode 12 (Rapid) : Direct Download
MEGA Links Links for Mayoiga 720p 100MB miniMKV Encodes
Episode 01 : MEGA
Episode 02 : MEGA
Episode 03 : MEGA
Episode 04 : MEGA
Episode 05 : MEGA
Episode 06 : MEGA
Episode 07 (Rapid) : MEGA
Episode 08 (Rapid) : MEGA
Episode 09 (Rapid) : MEGA
Episode 10 (Rapid) : MEGA
Episode 11 (Rapid) : MEGA
Episode 12 (Rapid) : MEGA