Nerawareta Gakuen (main)
(720p – 800MB)
Nerawareta Gakuen (main)
Haunted Academy (synonym)
neragaku (short)
Spring marks the start of another new school year at a junior high school in Kamakura. A new transfer student, [Kyougoku Ryouichi] joins the 8th grade. He has a very special proficiency in telepathy and has been ordered by his father to use this ability to scan other people`s minds and take over the school.
He instantly gains popularity at school from his good looks and charisma and he sets about taking control of the school. As people begin to fall under Ryouichi`s spell, he covertly manipulates his followers and pushes aside anyone who gets in his way.
With the school almost completely under the control of Ryouichi, only one boy seems unaffected – [Seki Kenji]. Does Kenji have what it takes to save everyone from the clutches of mind control?
Source: Click
Note: Premiered at Scotland Loves Anime film festival at the Filmhouse in Edinburgh (October 19-21, 2012). In Japan, the movie was screened starting from November 10, 2012.
Anime Type – Movie
Total Episodes – 1
Rating – 5.85
Start Date – 2012-10-20
End Date – 2012-10-20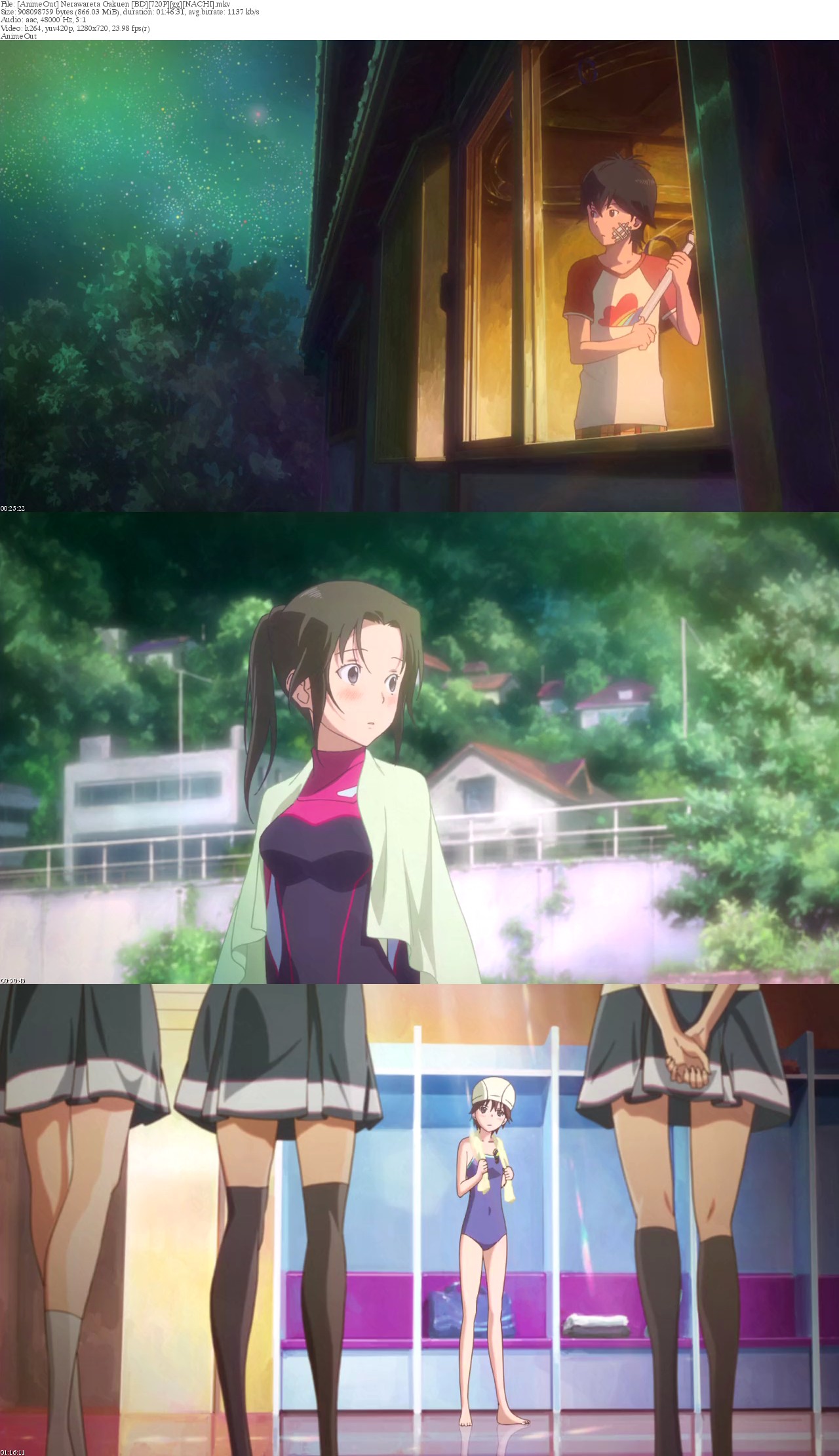 Direct-Download Links | Torrent Links for Nerawareta Gakuen (main) 720p 800MB miniMKV Encodes
##[AnimeOut] Nerawareta Gakuen [BD][720P][gg][NACHI].mkv##
putlocker
Mega
[AnimeOut] Nerawareta Gakuen [BD][720P][gg][NACHI].mkv|Mega
Movie : Direct Download | Torrent
The story is superb, and the animation is superb everything is superb except the people who didn`t turn this into a series. This movie felt like an entire series, and will leave you fulfilled much more than 95% of what your gonna watch this year. Strongly recommended for all, even more for romance fans who have been suffering with cheap releases lately. Enjoy 🙂
Pure visual delight! Definitely the most impressive use of lighting, visual effects and beautiful detailed backgrounds to date; every second of this film screems "HIGH BUDGET" in your face. It`s like five Makoto Shinkais were involved in this production (although this movie definitely lacks his tactfulness).
The character interactions (dialogues, movements) made quite a vivid impression; the music was fine, too.
I didn`t mind the love polygon since the movie didn`t go overboard with the drama scenes, but the weakness of the film was definitely its story, or rather the presentation of the story. As the watcher I felt like I was lacking some crucial information to understand everything. Doesn`t help that the story was not the focus of the film for at least two thirds.
Oh well, I definitely enjoyed it still. The rest is not too bad, but if you watch it, watch it for 105 minutes of eyegasm. Be prepared.
The animation is over the top: it seems like "Byousoku 5 Centimeter", "Hoshi no Koe", "Kumo no Mukou, Yakusoku no Basho", and all the others amazing works of Shinkai Makoto, have been merged together in a exultation of colors! The plot, it sure, is above the average, but in some ways it is messy in some important points. Nonetheless it worth watching it!
Animation is AWESOME,, awesome …………..