Netoge no Yome wa Onnanoko ja Nai to Omotta?
(720p – 150MB)
ネトゲの嫁は女の子じゃないと思った? (japanese)
Anime Type – TV Series
Total Episodes – Unknown
Rating – 8.88
Aired : April 7, 2016 – Jun 23, 2016
Producer : Project No.9
Genres : Comedy, Ecchi, Romance, School
Duration : 24 min. per episode
Our naïve protagonist proposes to a female character in an online game, only to find out that the player is actually a guy. Traumatized by that, he decides to never trust a girl online, but now, two years later, a female player is proposing to him. What will happen?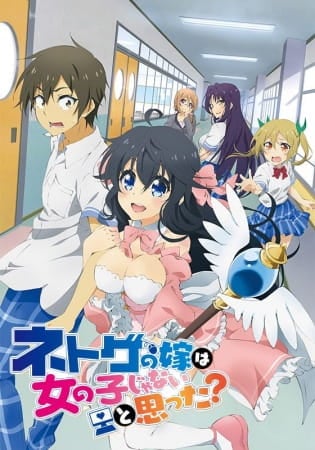 Direct-Download Links for Netoge no Yome wa Onnanoko ja Nai to Omotta? 1080p 300MB miniMKV Encodes
Episode 1: Direct Download: [AnimeOut] Netoge no Yome – 01 – And You Thought There Is Never a Girl Online[1080pp][KH][RapidBot].mkv
Episode 2: Direct Download: [AnimeOut] Netoge no Yome – 02 – I Thought We Couldnt Play Net Games at School[1080pp][KH][RapidBot].mkv
Episode 3: Direct Download: [AnimeOut] Netoge no Yome – 03 – I Thought Net Games and Reality Were Different[1080pp][KH][RapidBot].mkv
Episode 4: Direct Download: [AnimeOut] Netoge no Yome – 04 – I Thought Her Secret Wasnt Going to Get Out[1080pp][KH][RapidBot].mkv
Episode 5: Direct Download: [AnimeOut] Netoge no Yome – 05 – I Thought Reincarnating Would Give Me My Big Chance[1080pp][KH][RapidBot].mkv
Episode 6: Direct Download: [AnimeOut] Netoge no Yome – 06 – I Thought If I Declared My Love I Was Sure to Succeed[1080pp][KH][RapidBot].mkv
Episode 7: Direct Download: [AnimeOut] Netoge no Yome – 07 – I Thought If I Went to the Beach I Would Become a Normie[1080pp][KH][RapidBot].mkv
Episode 8: Direct Download: [AnimeOut] Netoge no Yome – 08 – I Thought I Was Giving Up Being a Net Game Husband[1080pp][KH][RapidBot].mkv
Episode 9: Direct Download: [AnimeOut] Netoge no Yome – 09 – I Thought If We Stayed Over We Would Get Along Better[1080pp][KH][RapidBot].mkv
Episode 10: Direct Download: [AnimeOut] Netoge no Yome – 10 – I Thought We Would Do Our Best at the Culture Festival[1080pp][KH][RapidBot].mkv
Episode 11: Direct Download: [AnimeOut] Netoge no Yome – 11 – I Thought We Could Win by Delegating to Others[1080pp][KH][RapidBot].mkv
Episode 12: Direct Download: [AnimeOut] Netoge no Yome – 12 – My Net Game Wife Is a Girl Online[1080pp][KH][RapidBot].mkv
OP: Direct Download: [AnimeOut] Netoge no Yome – NCOP 1080pp[1080pp][KH][RapidBot].mkv
ED: Direct Download: [AnimeOut] Netoge no Yome – NCED 1080pp[1080pp][KH][RapidBot].mkv
Special 1: Direct Download: [AnimeOut] Netoge no Yome – Luce Twinkle Wink – 1st Love Story 1080pp[1080pp][KH][RapidBot].mkv
Special 2: Direct Download: [AnimeOut] Netoge no Yome – Yoshino Nanjou – Zero Ichi Kiseki 1080pp[1080pp][KH][RapidBot].mkv
Direct-Download Links for Netoge no Yome wa Onnanoko ja Nai to Omotta? 720p 150MB miniMKV Encodes
Episode 01: Direct Download: [AnimeOut] Netoge no Yome – 01 – And You Thought There Is Never a Girl Online[KH][RapidBot].mkv
Episode 02: Direct Download: [AnimeOut] Netoge no Yome – 02 – I Thought We Couldnt Play Net Games at School[KH][RapidBot].mkv
Episode 03: Direct Download: [AnimeOut] Netoge no Yome – 03 – I Thought Net Games and Reality Were Different[KH][RapidBot].mkv
Episode 04: Direct Download: [AnimeOut] Netoge no Yome – 04 – I Thought Her Secret Wasnt Going to Get Out[KH][RapidBot].mkv
Episode 05: Direct Download: [AnimeOut] Netoge no Yome – 05 – I Thought Reincarnating Would Give Me My Big Chance[KH][RapidBot].mkv
Episode 06: Direct Download: [AnimeOut] Netoge no Yome – 06 – I Thought If I Declared My Love I Was Sure to Succeed[KH][RapidBot].mkv
Episode 07: Direct Download: [AnimeOut] Netoge no Yome – 07 – I Thought If I Went to the Beach I Would Become a Normie[KH][RapidBot].mkv
Episode 08: Direct Download: [AnimeOut] Netoge no Yome – 08 – I Thought I Was Giving Up Being a Net Game Husband[KH][RapidBot].mkv
Episode 09: Direct Download: [AnimeOut] Netoge no Yome – 09 – I Thought If We Stayed Over We Would Get Along Better[KH][RapidBot].mkv
Episode 10: Direct Download: [AnimeOut] Netoge no Yome – 10 – I Thought We Would Do Our Best at the Culture Festival[KH][RapidBot].mkv
Episode 11: Direct Download: [AnimeOut] Netoge no Yome – 11 – I Thought We Could Win by Delegating to Others[KH][RapidBot].mkv
Episode 12: Direct Download: [AnimeOut] Netoge no Yome – 12 – My Net Game Wife Is a Girl Online[KH][RapidBot].mkv
OP: Direct Download: [AnimeOut] Netoge no Yome – NCOP 720p[KH][RapidBot].mkv
ED: Direct Download: [AnimeOut] Netoge no Yome – NCED 720p[KH][RapidBot].mkv
Special 01: Direct Download: [AnimeOut] Netoge no Yome – Luce Twinkle Wink – 1st Love Story 720p[KH][RapidBot].mkv
Special 02: Direct Download: [AnimeOut] Netoge no Yome – Yoshino Nanjou – Zero Ichi Kiseki 720p[KH][RapidBot].mkv