Nisekoi:
(720p – 100MB)
Nisekoi S2
ニセコイ: (Japanese)
Anime Type – TV Series
Total Episodes – 12
Rating – 7.95
Start Date – Apr 10, 2015
End Date – Jun 26, 2015
Raku and the girls are back! The hunt for the key to his heart and locket continues in the second season of this fan favorite anime series. Nisekoi: features all the familiar characters from the first season joined by Kosaki's younger sister Haru. With a new girl entering the equation, will it really be "more the merrier" for Raku? What will happen to this false love?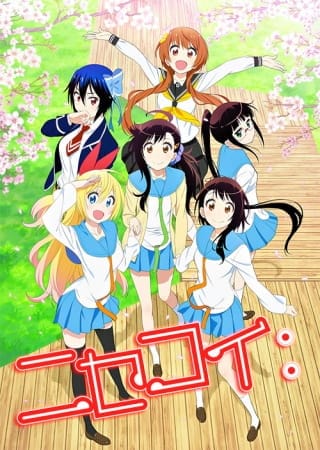 1080p Bluray Encodes

Episode 1 : Direct Download: [AnimeOut]_Nisekoi_Second_Season_01_1920x1080_Blu-ray_FLAC_[B5A7527A][1080p][Coalgirls][RapidBot].mkv
Episode 2 : Direct Download: [AnimeOut]_Nisekoi_Second_Season_02_1920x1080_Blu-ray_FLAC_[B5DB0545][1080p][Coalgirls][RapidBot].mkv
Episode 3 : Direct Download: [AnimeOut]_Nisekoi_Second_Season_03_1920x1080_Blu-ray_FLAC_[76444F9A][1080p][Coalgirls][RapidBot].mkv
Episode 4 : Direct Download: [AnimeOut]_Nisekoi_Second_Season_04_1920x1080_Blu-ray_FLAC_[10680D0B][1080p][Coalgirls][RapidBot].mkv
Episode 5 : Direct Download: [AnimeOut]_Nisekoi_Second_Season_05_1920x1080_Blu-ray_FLAC_[19A90ED7][1080p][Coalgirls][RapidBot].mkv
Episode 6 : Direct Download: [AnimeOut]_Nisekoi_Second_Season_06_1920x1080_Blu-ray_FLAC_[E4EF67F1][1080p][Coalgirls][RapidBot].mkv
Episode 7 : Direct Download: [AnimeOut]_Nisekoi_Second_Season_07_1920x1080_Blu-ray_FLAC_[A9031FBD][1080p][Coalgirls][RapidBot].mkv
Episode 8 : Direct Download: [AnimeOut]_Nisekoi_Second_Season_08_1920x1080_Blu-ray_FLAC_[4C2D0F55][1080p][Coalgirls][RapidBot].mkv
Episode 9 : Direct Download: [AnimeOut]_Nisekoi_Second_Season_09_1920x1080_Blu-ray_FLAC_[3890E32D][1080p][Coalgirls][RapidBot].mkv
Episode 10 : Direct Download: [AnimeOut]_Nisekoi_Second_Season_10_1920x1080_Blu-ray_FLAC_[7875E407][1080p][Coalgirls][RapidBot].mkv
Episode 11 : Direct Download: [AnimeOut]_Nisekoi_Second_Season_11_1920x1080_Blu-ray_FLAC_[374C9283][1080p][Coalgirls][RapidBot].mkv
Episode 12 : Direct Download: [AnimeOut]_Nisekoi_Second_Season_12_1920x1080_Blu-ray_FLAC_[5A60E68B][1080p][Coalgirls][RapidBot].mkv
OP1 : Direct Download: [AnimeOut]_Nisekoi_Second_Season_OP1_1920x1080_Blu-ray_FLAC_[D9FA2DA2][1080p][Coalgirls][RapidBot].mkv
OP2 : Direct Download: [AnimeOut]_Nisekoi_Second_Season_OP2_1920x1080_Blu-ray_FLAC_[D9FA2DA2][1080p][Coalgirls][RapidBot].mkv
ED1 : Direct Download: [AnimeOut]_Nisekoi_Second_Season_ED1_1920x1080_Blu-ray_FLAC_[589F38B4][1080p][Coalgirls][RapidBot].mkv
ED2 : Direct Download: [AnimeOut]_Nisekoi_Second_Season_ED2_1920x1080_Blu-ray_FLAC_[55C33932][1080p][Coalgirls][RapidBot].mkv
ED3 : Direct Download: [AnimeOut]_Nisekoi_Second_Season_ED3_1920x1080_Blu-ray_FLAC_[E924CF84][1080p][Coalgirls][RapidBot].mkv
ED4 : Direct Download: [AnimeOut]_Nisekoi_Second_Season_ED4_1920x1080_Blu-ray_FLAC_[2790688C][1080p][Coalgirls][RapidBot].mkv
ED5 : Direct Download: [AnimeOut]_Nisekoi_Second_Season_ED5_1920x1080_Blu-ray_FLAC_[3041B1CE][1080p][Coalgirls][RapidBot].mkv
ED6 : Direct Download: [AnimeOut]_Nisekoi_Second_Season_ED6_1920x1080_Blu-ray_FLAC_[184D3453][1080p][Coalgirls][RapidBot].mkv
ED7 : Direct Download: [AnimeOut]_Nisekoi_Second_Season_ED7_1920x1080_Blu-ray_FLAC_[1AA900BB][1080p][Coalgirls][RapidBot].mkv
OVA4 : Direct Download: [DHR][Nisekoi][OVA4][BDRip][1080P][HEVC_AnimeOut_FLAC][1080p][P10][RapidBot].mkv
OVA4 576p : Direct Download: [AnimeOut] Nisekoi OAD – 04 [576p][A7CCA629][Mori][RapidBot].mkv

Direct-Download Links | Torrent Links for Nisekoi: 720p 100MB miniMKV Encodes
Rapid
I will be using FFF for Rapid. Links will be removed after the Proper gets Posted
Episode 01 : Direct Download
Episode 02 : Direct Download
Episode 03 : Direct Download
Episode 04 : Direct Download
Episode 05 : Direct Download
Episode 06 : Direct Download
Episode 07 : Direct Download
Episode 08 : Direct Download
Episode 09 : Direct Download
Episode 10 : Direct Download
Episode 11 : Direct Download
Episode 12 : Direct Download
Proper Release Links
Mega Links 
Wait for Proper Release