Okusama ga Seitokaichou!
(720p – 40MB)
Oku-sama ga Seito Kaichou!, Okusama ga Seitokaichou!, My Wife is the Student Council President! (synonyms)
おくさまが生徒会長!(japanese)
Anime Type : TV Series
Total Episodes : 12
Rating : 6.84
Aired : Jul 2, 2015 to Sep 17, 2015
Producer : DAX Production, Seven, Dream Creation
Genres : Comedy, Ecchi, Romance, School
Duration : 8 min. per episode
The story begins with Izumi Hayato running to be student body president. But when a beautiful girl swings in promising the liberalization of love while flinging condoms into the audience, he ends up losing to her and becoming the vice president. At the student council meeting, the newly-elected president invites herself over to Izumi's house, where she promptly announces she is to become Izumi's wife thanks to an agreement—facilitated by alcohol—made between their parents when they were only 3.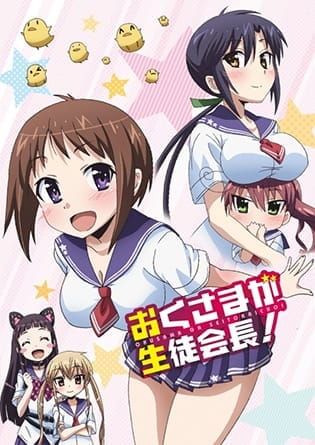 1080p Bluray Encodes
Episode 1 : Direct Download: [AnimeOut] Okusama ga Seitokaichou – 01 [BD 1920×1080 HEVC FLAC][C3127183][1080p][Tess][RapidBot].mkv
Episode 2 : Direct Download: [AnimeOut] Okusama ga Seitokaichou – 02 [BD 1920×1080 HEVC FLAC][44D332F5][1080p][Tess][RapidBot].mkv
Episode 3 : Direct Download: [AnimeOut] Okusama ga Seitokaichou – 03 [BD 1920×1080 HEVC FLAC][5D1F12EC][1080p][Tess][RapidBot].mkv
Episode 4 : Direct Download: [AnimeOut] Okusama ga Seitokaichou – 04 [BD 1920×1080 HEVC FLAC][0ACDF1BB][1080p][Tess][RapidBot].mkv
Episode 5 : Direct Download: [AnimeOut] Okusama ga Seitokaichou – 05 [BD 1920×1080 HEVC FLAC][B00E3206][1080p][Tess][RapidBot].mkv
Episode 6 : Direct Download: [AnimeOut] Okusama ga Seitokaichou – 06 [BD 1920×1080 HEVC FLAC][EF31A29B][1080p][Tess][RapidBot].mkv
Episode 7 : Direct Download: [AnimeOut] Okusama ga Seitokaichou – 07 [BD 1920×1080 HEVC FLAC][821FA380][1080p][Tess][RapidBot].mkv
Episode 8 : Direct Download: [AnimeOut] Okusama ga Seitokaichou – 08 [BD 1920×1080 HEVC FLAC][34876789][1080p][Tess][RapidBot].mkv
Episode 9 : Direct Download: [AnimeOut] Okusama ga Seitokaichou – 09 [BD 1920×1080 HEVC FLAC][315F1041][1080p][Tess][RapidBot].mkv
Episode 10 : Direct Download: [AnimeOut] Okusama ga Seitokaichou – 10 [BD 1920×1080 HEVC FLAC][096E26DC][1080p][Tess][RapidBot].mkv
Episode 11 : Direct Download: [AnimeOut] Okusama ga Seitokaichou – 11 [BD 1920×1080 HEVC FLAC][9F942588][1080p][Tess][RapidBot].mkv
Episode 12 : Direct Download: [AnimeOut] Okusama ga Seitokaichou – 12 [BD 1920×1080 HEVC FLAC][A93B4776][1080p][Tess][RapidBot].mkv
OVA : Direct Download: [AnimeOut] Okusama ga Seitokaichou – OVA [DVD 1280×720 HEVC FLAC][080E1E5B][Tess][RapidBot].mkv

Direct-Download | File Host Links for Okusama ga Seitokaichou! 720p 40MB miniMKV Encodes
Direct-Download Links
Episode 1 : Direct Download | Torrent
Episode 2 : Direct Download | Torrent
Episode 3 : Direct Download | Torrent
Episode 4 : Direct Download | Torrent
Episode 5 : Direct Download | Torrent
Episode 6 : Direct Download | Torrent
Episode 7 : Direct Download | Torrent
Episode 8 : Direct Download | Torrent
Episode 9 : Direct Download | Torrent
Episode 10 : Direct Download | Torrent
Episode 11 : Direct Download | Torrent
Episode 12 : Direct Download | Torrent
Mega Links
Episode 1 : Mega Link
Episode 2 : Mega Link
Episode 3 : Mega Link
Episode 4 : Mega Link
Episode 5 : Mega Link
Episode 6 : Mega Link
Episode 7 : Mega Link
Episode 8 : Mega Link
Episode 9 : Mega Link
Episode 10 : Mega Link
Episode 11 : Mega Link
Episode 12 : Mega Link
Complete Batch Episode 1 – 12 Mega Links