Pan de Peace!
(720p – 15MB)
Peace Through Bread! , パンでPeace! (japanese)
Anime Type : TV Series
Total Episodes :
Aired : Apr 3, 2016 to ?
Producer : TMS Entertainment, Sentai Filmworks
Genres : Comedy, School, Slice of Life
Duration : 3 min. per episode
Rating : PG-13 – Teens 13 or older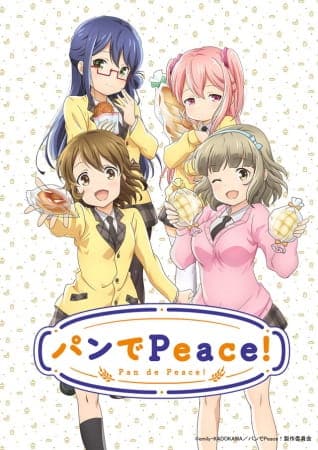 The "cute and soft bread four-panel manga" centers around Minami, an air-headed girl who is starting high school and who loves eating bread for breakfast. Baked goods bring happiness everyday to her and her classmates the reliable Yuu, the pastry-baking Fuyumi, and the independent Noa.
Direct-Download | File Host Links for Pan de Peace! 720p 15MB miniMKV Encodes
Direct-Download Links
Episode 01 : Direct Download
Episode 02 : Direct Download
Episode 03 : Direct Download
Episode 04 : Direct Download
Episode 05 : Direct Download
Episode 06 : Direct Download
Episode 07 : Direct Download
Episode 08 : Direct Download
Episode 09 : Direct Download
Episode 10 : Direct Download
Episode 11 : Direct Download
Episode 12 : Direct Download
Episode 13 : Direct Download
MEGA Links Links for Pan de Peace! 720p 15MB miniMKV Encodes
Episode 01 : MEGA
Episode 02 : MEGA
Episode 03 : MEGA
Episode 04 : MEGA
Episode 05 : MEGA
Episode 06 : MEGA
Episode 07 : MEGA
Episode 08 : MEGA
Episode 09 : MEGA
Episode 10 : MEGA
Episode 11 : MEGA
Episode 12 : MEGA
Episode 13 : MEGA