Papa no Iukoto wo Kikinasai! 
(720p – BD – 150MB)
Anime Type : TV Series
Total Episodes : 12
Rating : 7.61
Aired : January 11, 2012 to March 28, 2012
Producer : Sentai Filmworks
Genres : Comedy, Romance, Slice of Life
Duration : 24 min. per episode
Segawa Yuta is a freshman of a university. He lost his parents when he was small and was raised by his sister Yuri. Yuta has been living alone since Yuri got married to a middle aged man when Yuta was a junior high student.
One day, Yuri visited Yuta's apartment and asked him to take care of her three daughters while Yuri and her husband were on a trip. He unwillingly accepted the job but the plane Yuri took went missing. In order to prevent the daughters from being adopted separately by relatives, Yuta decided to take in all three girls.
A life of a strange family in a tiny apartment begins.
Read more at myanimelist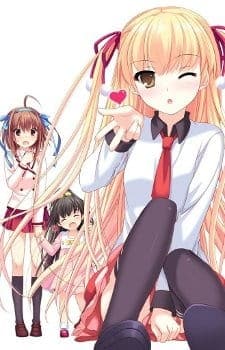 Direct-Download Links for Papa no Iukoto wo Kikinasai! 720p 150MB miniMKV Encodes
Episode 01: Direct Download: [AnimeOut] Papa no Iukoto wo Kikinasai – 01v2 1920x720p Hi10P BD FLAC [92B307E5][Doki][RapidBot].mkv
Episode 02: Direct Download: [AnimeOut] Papa no Iukoto wo Kikinasai – 02 1920x720p Hi10P BD FLAC [BA099C3D][Doki][RapidBot].mkv
Episode 03: Direct Download: [AnimeOut] Papa no Iukoto wo Kikinasai – 03 1920x720p Hi10P BD FLAC [B68C1FF1][Doki][RapidBot].mkv
Episode 04: Direct Download: [AnimeOut] Papa no Iukoto wo Kikinasai – 04 1920x720p Hi10P BD FLAC [5FD7D036][Doki][RapidBot].mkv
Episode 05: Direct Download: [AnimeOut] Papa no Iukoto wo Kikinasai – 05 1920x720p Hi10P BD FLAC [3296561D][Doki][RapidBot].mkv
Episode 06: Direct Download: [AnimeOut] Papa no Iukoto wo Kikinasai – 06 1920x720p Hi10P BD FLAC [D5147781][Doki][RapidBot].mkv
Episode 07: Direct Download: [AnimeOut] Papa no Iukoto wo Kikinasai – 07 1920x720p Hi10P BD FLAC [13D677EF][Doki][RapidBot].mkv
Episode 08: Direct Download: [AnimeOut] Papa no Iukoto wo Kikinasai – 08 1920x720p Hi10P BD FLAC [10557128][Doki][RapidBot].mkv
Episode 09: Direct Download: [AnimeOut] Papa no Iukoto wo Kikinasai – 09 1920x720p Hi10P BD FLAC [50811A2B][Doki][RapidBot].mkv
Episode 10: Direct Download: [AnimeOut] Papa no Iukoto wo Kikinasai – 10 1920x720p Hi10P BD FLAC [821E3C64][Doki][RapidBot].mkv
Episode 11: Direct Download: [AnimeOut] Papa no Iukoto wo Kikinasai – 11 1920x720p Hi10P BD FLAC [CD9C32FF][Doki][RapidBot].mkv
Episode 12: Direct Download: [AnimeOut] Papa no Iukoto wo Kikinasai – 12 1920x720p Hi10P BD FLAC [D951301E][Doki][RapidBot].mkv
Special (Pokkapoka): Direct Download: [AnimeOut] Papa no Iukoto wo Kikinasai – 13 1920x720p Hi10P BD FLAC [2295E5FA][Doki][RapidBot].mkv
OP: Direct Download: [AnimeOut] Papa no Iukoto wo Kikinasai – NCOP 1920x720p Hi10P BD FLAC [E8B07601][Doki][RapidBot].mkv
ED: Direct Download: [AnimeOut] Papa no Iukoto wo Kikinasai – NCED 1920x720p Hi10P BD FLAC [BDA936AF][Doki][RapidBot].mkv
Direct-Download Links for OVAs 576p 100MB miniMKV Encodes
Episode 01: Direct Download: [AnimeOut] Papa no Iukoto wo Kikinasai – 01 – OVA [DVD][576p][AAC][DeadFish][RapidBot].mkv
Episode 02: Direct Download: [AnimeOut] Papa no Iukoto wo Kikinasai – 02 – OVA [DVD][576p][AAC][DeadFish][RapidBot].mkv