Ping Pong The Animation
(720p – 100MB)
Ping Pong The Animation
Ping Pong (synonym)
pingpong (short)
Ping Pong the Animation (official)
Ping Pong (official)
Two long-time friends http://anidb.net/ch65254 [Smile] and http://anidb.net/ch65253 [Peco] are both members of the ping pong club at their high school and are both very talented at the sport. However, Smile`s quiet personality keeps him from being able to win against Peco. The club`s teacher takes notice of Smile`s talent and works to change his attitude toward the sport.
Source: ANN
Anime Type – TV Series
Total Episodes – 11
Rating – 8.76
Start Date – 2014-04-11
End Date – 2014-06-20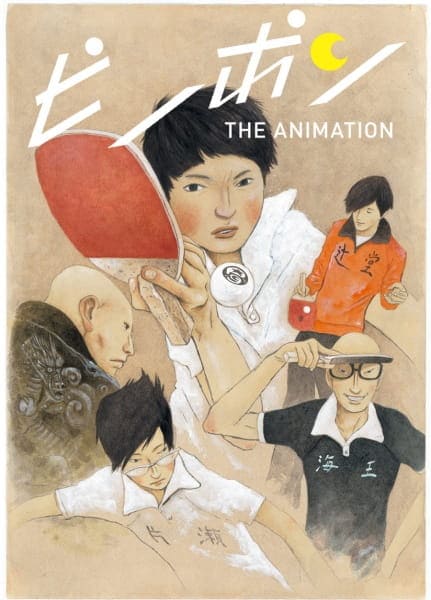 Direct-Download Links | Torrent Links for Ping Pong The Animation 720p 100MB miniMKV Encodes
Episode 01v2 : Direct Download | Torrent
Episode 02 : Direct Download | Torrent
Episode 03v2 : Direct Download | Torrent
Episode 04v2 : Direct Download | Torrent
Episode 05 : Direct Download | Torrent
Episode 06v2 : Direct Download | Torrent
Episode 07 : Direct Download | Torrent
Episode 08 : Direct Download | Torrent
Episode 09 : Direct Download | Torrent
Episode 10 : Direct Download | Torrent
Episode 11 : Direct Download | Torrent
Reviews
This is it. This is the series right here that redeems your faith in a long lost genre. The genre of sport. Because unlike most works in the genre of sport, this show doesn't focus on the sport. That's right folks, it's a sports show, that isn't about the sport. It's a show called 'Ping Pong' which isn't actually about ping pong. It never once really explores the game itself. You look at the average baseball anime and they'll explain technique for ten minutes straight, you'll hear technique and strategy mentioned in Ping Pong briefly when it flashes across your screen when they introduce a character or just before they start a game, if even that. So how can a sports show get away with not ever really expanding on the sport? How is a show based around ping pong executed so well without even delving into the inner works of ping pong? Let's take a look shall we.
Art – I'm starting with the visuals as I very much believe this to be the 'hit-or-miss' aspect of the show. This is what is going to make most people pick the show up and stick with it, or drop it in an instant. So I'll begin with saying this; Ping Pong is an adaptation. An adaption of a manga with one of the most free flowing visual styles I've seen. This is not merely an artistic choice of the staff behind it. They're really valiantly following the artwork as it was originally presented, a choice, in my eyes, that works wonders.
So why is it so hit-or-miss? Because this anime, in a current market ripe with series that have a very high bar of quality assurance visually, does not play into the current markets hands. Whilst over recent years your average anime consumer is now being conditioned to expect beautiful crafted backgrounds, to have expertly drawn and highlighted characters, to have fanciful special effects coating and hugging the edges of the screen, Ping pong has none of these in the modern sense. I'm not saying it dares to be different; this is an adaptation from a manga released in the 1990's. What you should expect from Ping Pong visually, is what you would expect from the actual game in real life. Boundless energy. Free spirits. Precision in motion. A constant hurricane of angles showcasing the players making different shots. To do this you need to lose sight of what the current market deems as quality. As a visual choice for Ping Pong, the art style is a masterful choice, and it is executed perfectly. Characters don't have harsh outlines, in some brief scenes you'll struggle to even recognise players sometimes, you'll have panning motion across crowds whose appearance aren't full realised. Why? I'd like to think partly because it doesn't matter, and partly in some cases, that's how the backgrounds and crowds would appear to the player when they're in the heat of a game. Not fully realised, unimportant. The artwork is a very much 'get lost in the moment' style.
Give it a shot, the art style might not impress you at first, you might find it lazy, some of you might instantly find delight in it. But at least give it time, give it a few episodes, see if it grows on you. Because after all, the art as a positive of the show is greatly overshadowed by the characters and the story it wraps itself up in.
Story – This is where it gets tricky not to overly delve into the details of the plot and ruin it. Because the story is a canvas that is never fully shown to us until the end. It's almost a puzzle. With each and every episode, layers and layers of character development are heaped higher and higher upon our protagonists. Yes. Protagonists. All of whom are fully realised. This isn't your typical sports show which ultimately follows one air head that happens to have a special talent. This is a show which ultimately follows, I'd like to think, five individuals in detail. Five players of ping pong, all around high school age. It's a story of anything but sport. It's a story of growth of these five people, of friendship, of hardship, of facing reality. Ping pong is used as a linchpin for all the players dreams and aspirations, for their hopes in life. For some it's for fun, for others it's to prove something, it's to return home, it's for duty, it's for a long lasting friendship. All of these reasons are explored, they are smashed, they are granted. This is a real show, it does not hug you warmly and give reason for you to expect your favourite characters to win games and become happy, to achieve their dreams. It's a show which awakens the characters that everything they hope for sometimes can and cannot work out. But is that the end for the characters? No. Because just like in real life, you pick yourself back up, you find a new path, sometimes it's a path that never occurred to you, sometimes it's a path that you were ultimately walking towards but never realised, sometimes you walk the same path only with a different mind-set. The story of this show is its bread, the characters its butter, a combination of the two which is deftly spread throughout each and every episode.
Sound – I'd like to say that the OP/ED were exactly as I expected when you take in the art style, the themes the shows explore, and ultimately, the sport in which encapsulates it. The opening is absolutely brimming with energy, with life, it's enough to make you smile and it absolutely represents what you should be having when you plug into a sport show. Fun.
The OST was spot on, I can't give high enough praise for how well woven the sound is into the series. From utmost euphoria, to being completely devoid of hope. The sound holds your hand and guides you through the series, squeezing it and letting you know when you should be feeling pain, and letting go when you should be having the time of your life reveling in the sheer exuberance of the frequent trance like music that is played throughout the series.
Characters – Never have I been so impressed by a set of characters in a show tagged with the sport genre. That's not even a stab at the sports genre, one of my all-time favourites is within the genre. But alongside that sports tag was the seinen tag. I honestly can't really think of many sports anime aimed at older people. There's a reason it has that tag. The characters. Fully realised people, flesh and blood, these guys could walk out of the screen and exist in real life. They suffer from real emotions, their follies feel real. You'll most likely find at least one character you can relate to, as they all suffer from different mishaps and less than positive circumstances.
Each and every character within this show, has a journey. A journey which us as viewers might not have even fully recognised until the very last episode. The friendship of Peco and Smile. The longing for home of Kong. The isolation of Kazama. The determination of Sakuma. The indecision of the Wanderer. All of these journeys intertwine; the stories of these characters unfold as they play the sport the series is titled after. I cannot, and would not like to fully explore the characters with you. Because this is something as a viewer, you need to experience for yourself. I promise you that even the supporting characters who back up these guys in the sport they chose to play, are fantastic. I don't possess the words to tell you how well written this series in terms of having unique, original, life like characters who don't walk straight off a list of stereotypes. There's no guessing how each and every one of these characters will end up at the final episode upon initially starting it. Guess all that's left is to find out if that's true for yourself.
Enjoyment – Masterpiece. An instant favourite. It's a series that comes along and makes you really rethink how you brand anime as good and bad quality. Completely knocked my socks off, I could watch this anime time and time again and I know there will be never be a time where I don't enjoy it. If there was ever a sports show that will be underappreciated. It's Ping Pong. The characters hit too close to home sometimes, the whimsical visual style runs away with some people and doesn't come back because they're too used to the brand of quality I described earlier. The formula of the show is unfamiliar ground for most sports lovers. It's an anime to turn to within the genre which gives you hope and reminds you not to roll your eyes at the sports anime in the upcoming seasons.