Sabagebu!
(720p – 150MB)
Sabagebu! -Survival Game Club!- (synonym)
Anime Type : TV Series
Total Episodes : 12
Rating : 7.55
Aired : July 6, 2014 to Sep 21, 2014
Producer : Lantis, Sentai FilmworksL, Pierrot Plus
Genres : Action, Comedy, Shoujo, Military
Duration : 23 min. per episode
Middle school girl Momoka is dragged into joining one of the strangest associations at her school, the Survival Game Club. Its members participate in various forms of paramilitary training under the watchful eye of charming and alarming president, Miou. How on Earth will the inexperienced Momoka survive her training, let alone Miou's company?!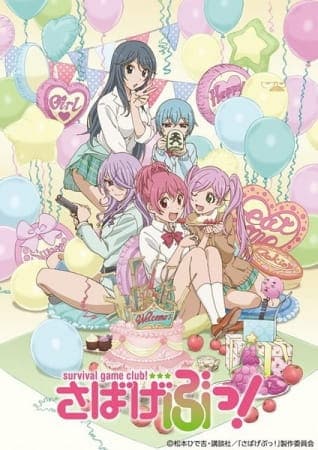 File Hosts | Direct-Download Links for Sabagebu! 720p 150MB miniMKV Encodes
Direct-Download Links
Episode 1 : Direct Download | Torrent
Episode 2 : Direct Download | Torrent
Episode 3 : Direct Download | Torrent
Episode 4 : Direct Download | Torrent
Episode 5 : Direct Download | Torrent
Episode 6 : Direct Download | Torrent
Episode 7 : Direct Download | Torrent
Episode 8 : Direct Download | Torrent
Episode 9 : Direct Download | Torrent
Episode 10 : Direct Download | Torrent
Episode 11 : Direct Download | Torrent
Episode 12 : Direct Download | Torrent
OVAs
Episode 1 : Direct Download: [AnimeOut] Sabagebu – SP1 [BDRip h264 1280×720 10bit FLAC][2AF47B52][Tsundere][RapidBot].mkv
Episode 2 : Direct Download: [AnimeOut] Sabagebu – SP2 [BDRip h264 1280×720 10bit FLAC][098F25EA][Tsundere][RapidBot].mkv
Episode 3 : Direct Download: [AnimeOut] Sabagebu – SP3 [BDRip h264 1280×720 10bit FLAC][AB16E0AC][Tsundere][RapidBot].mkv
Episode 4 : Direct Download: [AnimeOut] Sabagebu – SP4 [BDRip h264 1280×720 10bit FLAC][62E70578][Tsundere][RapidBot].mkv
Episode 5 : Direct Download: [AnimeOut] Sabagebu – SP5 [BDRip h264 1280×720 10bit FLAC][4B0CECF0][Tsundere][RapidBot].mkv
Episode 6 : Direct Download: [AnimeOut] Sabagebu – SP6 [BDRip h264 1280×720 10bit FLAC][42961923][Tsundere][RapidBot].mkv
Mega Links