Sakamoto desu ga?
(720p – 120MB)
Haven't You Heard? I'm Sakamoto , 坂本ですが? (Japanese)
Type: TV Series
Episodes: 13
Status: Currently Airing
Aired: Apr 8, 2016 to ?
Genres: Comedy, School, Seinen
Duration: 24 min. per ep.
Rating: PG-13 – Teens 13 or older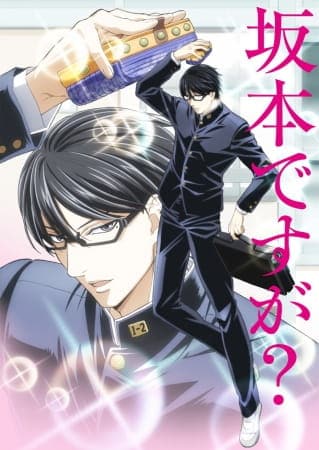 First year high school student Sakamoto isn't just cool, he's the coolest! Almost immediately after starting school, he began attracting everyone's attention. The girls love him, and most of the boys resent him. There's even a boy in the class who works as a model, but who is constantly upstaged by Sakamoto! No matter what tricks the other boys try to play on him, Sakamoto always manages to foil them with ease and grace. Though Sakamoto may seem cool and aloof, he helps others when asked, such as in the case of the boy in his class who was being constantly bullied. No matter what difficulties Sakamoto encounters, he moves through his high school life with confidence and class.
Direct-Download | File Host Links for Sakamoto desu ga? 720p 120MB miniMKV Encodes
Direct-Download Links
Episode 1 : Direct Download: [AnimeOut] Sakamoto desu ga – 01 BD 1080pP X.265 AAC[85D0473E][1080pp][Kaya][RapidBot].mkv
Episode 2 : Direct Download: [AnimeOut] Sakamoto desu ga – 02 BD 1080pP X.265 AAC[91AFB2C9][1080pp][Kaya][RapidBot].mkv
Episode 3 : Direct Download: [AnimeOut] Sakamoto desu ga – 03 BD 1080pP X.265 AAC[D76DDEE5][1080pp][Kaya][RapidBot].mkv
Episode 4 : Direct Download: [AnimeOut] Sakamoto desu ga – 04 BD 1080pP X.265 AAC[C301C608][1080pp][Kaya][RapidBot].mkv
Episode 5 : Direct Download: [AnimeOut] Sakamoto desu ga – 05 BD 1080pP X.265 AAC[F56CAC70][1080pp][Kaya][RapidBot].mkv
Episode 6 : Direct Download: [AnimeOut] Sakamoto desu ga – 06 BD 1080pP X.265 AAC[3938EC68][1080pp][Kaya][RapidBot].mkv
Episode 7 : Direct Download: [AnimeOut] Sakamoto desu ga – 07 BD 1080pP X.265 AAC[AD26B7F2][1080pp][Kaya][RapidBot].mkv
Episode 8 : Direct Download: [AnimeOut] Sakamoto desu ga – 08 BD 1080pP X.265 AAC[E9923EEA][1080pp][Kaya][RapidBot].mkv
Episode 9 : Direct Download: [AnimeOut] Sakamoto desu ga – 09 BD 1080pP X.265 AAC[6491BF93][1080pp][Kaya][RapidBot].mkv
Episode 10 : Direct Download: [AnimeOut] Sakamoto desu ga – 10 BD 1080pP X.265 AAC[C9A2B802][1080pp][Kaya][RapidBot].mkv
Episode 11 : Direct Download: [AnimeOut] Sakamoto desu ga – 11 BD 1080pP X.265 AAC[46A07F83][1080pp][Kaya][RapidBot].mkv
Episode 12 : Direct Download: [AnimeOut] Sakamoto desu ga – 12 BD 1080pP X.265 AAC[A2425E39][1080pp][Kaya][RapidBot].mkv
Episode 13 : Direct Download: [AnimeOut] Sakamoto desu ga – 13 BD 1080pP X.265 AAC[A7CEDC43][1080pp][Kaya][RapidBot].mkv
Direct-Download | File Host Links for Sakamoto desu ga? 720p 120MB miniMKV Encodes
Direct-Download Links
Episode 01 – Direct Download
Episode 02 – Direct Download
Episode 03 (Rapid) – Direct Download
Episode 04 – Direct Download
Episode 05 (Rapid) – Direct Download
Episode 06 – Direct Download
Episode 07 – Direct Download
Episode 08 – Direct Download
Episode 09 – Direct Download
Episode 10 – Direct Download
Episode 11 – Direct Download
Episode 12 – Direct Download
Episode 13 : Direct Download: [AnimeOut] Sakamoto desu ga – 13 BD 720pP X.265 AAC[A7CEDC43][Kaya][RapidBot].mkv