Sakasama no Patema
(720p – 450MB)
Sakasama no Patema
Patema Inverted (synonym)
Patema upp och ner (official)
A world, forever beyond your expectations. In a dark, cramped, underground world of endless tunnels and shafts, people wear protective suits and live out their modest yet happy lives. The princess of the underground community, http://anidb.net/ch43776 [Patema], goes out exploring as always, inspired by her curiosity of the unknown depths of the world. Her favourite spot is the danger zone, an area forbidden by the rule of the community. Despite being frequently chastised by her caretaker Jii, she cannot hold back her curiosity for the reason behind the rule, because no one would tell her what the danger was. When she approaches the hidden secret, the story begins.
Note: Film hosted its world premiere at France`s Annecy, the world`s largest animation festival.
Screening at Japan started on 9th of November.
Anime Type : Movie
Total Episodes : 1
Rating : 8.27
Aired : Nov 9, 2013
Producer : Studio Rikka, Directions, Asmik Ace Entertainment, Purple Cow Studio Japan
Genres : Sci-Fi, Seinen
Duration : 1 hr. 39 min.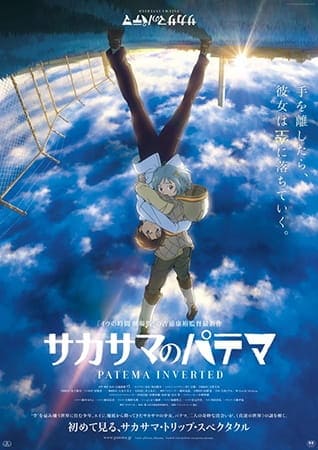 1080p Bluray Encodes

1080p Movie : [AnimeOut] Patema Inverted – Sakasama no Patema BD 1080p [C8A27F7D][1080p][Underwater][RapidBot].mkv

| Ep Num# | Date | Title |
| --- | --- | --- |
| 1 | 2013-06-13 | Complete Movie |
File Hosts | Direct-Download Links for Sakasama no Patema 720p 450MB miniMKV Encodes

[tab title="Filehosts"]
[AnimeOut] Sakasama no Patema [720p][BD][JnMBS][kuru].mkv
tusfiles
Mega.co.nz Links
Mega Movie
Movie : Direct Download
They took the absurd theory of hollow planet Earth that reemerged lately in nazi ideology(hence the nazi like dictatorship system in the story) and weave it into a simple but enthralling adventure that gives you the impression you are in space, since you have to often calculate setting`s way up and way down.
Just watched it at Annecy (not the premiere session though). It was … above average of anime that I have watched before. Flaws are detectable though. Sometimes, the story feels forced at certain points. 100 min was a bit too short to convey the story`s full message, I guess.
Anyway, the plot is great, the art is magnificient, and the "upside-down"(Sakasama) dilemna is quite an interesting philosophical subject to debate.