Tamako Love Story
(1080p BD – 1GB)
Tamako Love Story
Tamako Market Movie (synonym)
Everybody loves somebody.
Anime Type – Movie
Total Episodes – 1
Rating – 8.89
Start Date – 2014-04-26
End Date – 2014-04-26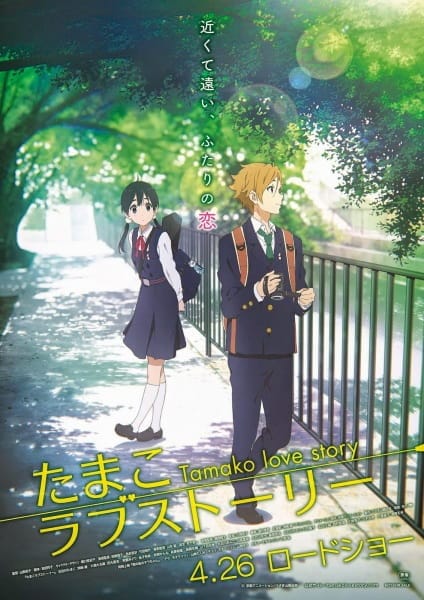 Direct-Download Links for Tamako Love Story 1080p BD 1GB miniMKV Encodes
[AnimeOut] Tamako Love Story [BD 1080pp x264 10bit FLAC 2.0 Dual][463AAA38][1080pp][Holomux][RapidBot].mkv: Direct Download
Direct-Download Links for Tamako Love Story 720p BD 500MB miniMKV Encodes
[AnimeOut] Tamako Love Story [BD 720p x264 10bit FLAC 2.0 Dual][463AAA38][Holomux][RapidBot].mkv: Direct Download
I saw it. It was a small, nice, pleasant, sweet, and touching film.
And it's Anko-chan Pero Pero throughout – cute girls doing cute things.
As anticipated, Kyoto Animation delivers when it comes to simple human drama of teens' friendship and maturing – and Director Naoko Yamada now successfully adds a guy (!), as well as families, and some good people in the neighborhood (although this mix probably didn't come out too well in the TV series). Yamada proves herself again as a director capable of delicate handling of emotions; by depicting a girl sitting alone in a classroom on a table in silence, the Director lets you share her mixed emotions of sorrow, slight regret, and fulfillment.
But the girl won't be left alone by herself for too long, as she has a good friend who wants to "go up with her to a higher ground and overcome" an obstacle. How to overcome obstacles in life is probably the "hidden" theme of the movie (Yamada probably felt that it needed to be tackled after making K-On!). Isaac Newton and his answers to how he overcame his obstacle and found the gravitation theory ("By always thinking unto them") was quoted as a reference (and hence the title of the ending song- Principle; also the story behind the visuals in the ED song of the TV series with the Sun and Moon and Tamako with a different sort of face is now revealed).
My favorite line in the movie: "Bitter memories are proof that you did something".
Some ways of presentation ("camera work") that Yamada uses, and the way things are told covertly might not appeal to everyone, but I personally enjoy that as originality and creativity- it keeps the movie fresh from banality. Overall, it's an "ordinary" love story, a pure and innocent one, with which anyone with a heart and memory can sympathize (and writhe in shyness and embarrassment). You would almost certainly have a Mochizo or Tamako (or perhaps a Midori – lez or no lez, that's not the matter) inside you.
It's not a big film but it's heartwarming. If you've liked the small film by Ghibli like Mimi O Sumasebai, you might see Tamako Love Story as Kyoto Animation's reply to a sort of similar theme.
Tamako Market (Prequel)
Minami no Shima no Dera-chan (Other)