Tsuki ga Kirei
Type: TV
Episodes: 12
Status: Finished Airing
Premiered: Spring 2017
Genres: Romance, School
Duration: 24 min. per ep.
Kotarou Azumi and Akane Mizuno became third year students at junior high school and are classmates for the first time. These two, along with fellow classmates, Chinatsu Nishio and Takumi Hira, relate to their peers through mutual understandings and feelings. As their final year at junior high school progresses, the group overcome their challenges to mature and become aware of changes in themselves.
Source: Nijipoi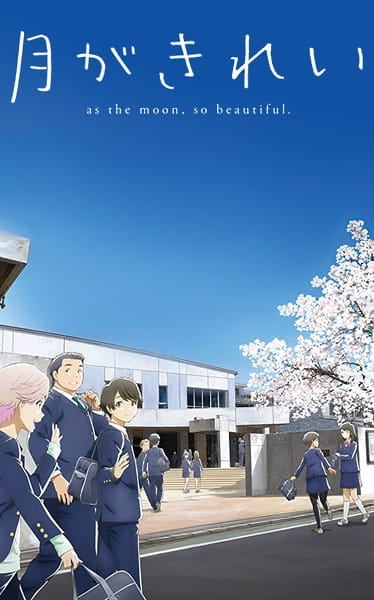 Direct Download Links (1080p BD)
Episode 01: Direct Download: [AnimeOut] As the Moon So Beautiful – S01E01.BluRay.1080pp.Opus2.0.H.264[1080pp][LYS1TH3A][RapidBot].mkv
Episode 02: Direct Download: [AnimeOut] As the Moon So Beautiful – S01E02.BluRay.1080pp.Opus2.0.H.264[1080pp][LYS1TH3A][RapidBot].mkv
Episode 03: Direct Download: [AnimeOut] As the Moon So Beautiful – S01E03.BluRay.1080pp.Opus2.0.H.264[1080pp][LYS1TH3A][RapidBot].mkv
Episode 04: Direct Download: [AnimeOut] As the Moon So Beautiful – S01E04.BluRay.1080pp.Opus2.0.H.264[1080pp][LYS1TH3A][RapidBot].mkv
Episode 05: Direct Download: [AnimeOut] As the Moon So Beautiful – S01E05.BluRay.1080pp.Opus2.0.H.264[1080pp][LYS1TH3A][RapidBot].mkv
Episode 06: Direct Download: [AnimeOut] As the Moon So Beautiful – S01E06.BluRay.1080pp.Opus2.0.H.264[1080pp][LYS1TH3A][RapidBot].mkv
Episode 07: Direct Download: [AnimeOut] As the Moon So Beautiful – S01E07.BluRay.1080pp.Opus2.0.H.264[1080pp][LYS1TH3A][RapidBot].mkv
Episode 08: Direct Download: [AnimeOut] As the Moon So Beautiful – S01E08.BluRay.1080pp.Opus2.0.H.264[1080pp][LYS1TH3A][RapidBot].mkv
Episode 09: Direct Download: [AnimeOut] As the Moon So Beautiful – S01E09.BluRay.1080pp.Opus2.0.H.264[1080pp][LYS1TH3A][RapidBot].mkv
Episode 10: Direct Download: [AnimeOut] As the Moon So Beautiful – S01E10.BluRay.1080pp.Opus2.0.H.264[1080pp][LYS1TH3A][RapidBot].mkv
Episode 11: Direct Download: [AnimeOut] As the Moon So Beautiful – S01E11.BluRay.1080pp.Opus2.0.H.264[1080pp][LYS1TH3A][RapidBot].mkv
Episode 12: Direct Download: [AnimeOut] As the Moon So Beautiful – S01E12.BluRay.1080pp.Opus2.0.H.264[1080pp][LYS1TH3A][RapidBot].mkv
Special: Direct Download: [-__-] Tsuki ga Kirei – SP [BD 1080pp] [BCA27B2A][1080pp][][RapidBot].mkv
NCOP: Direct Download: [AnimeOut] As the Moon So Beautiful – S01.NCOP.BluRay.1080pp.Opus2.0.H.264[1080pp][LYS1TH3A][RapidBot].mkv
NCED: Direct Download: [AnimeOut] As the Moon So Beautiful – S01.NCED.BluRay.1080pp.Opus2.0.H.264[1080pp][LYS1TH3A][RapidBot].mkv
Direct Download Links (720p BD)
Episode 01: Direct Download: [AnimeOut] As the Moon So Beautiful – S01E01.BluRay.720p.Opus2.0.H.264[LYS1TH3A][RapidBot].mkv
Episode 02: Direct Download: [AnimeOut] As the Moon So Beautiful – S01E02.BluRay.720p.Opus2.0.H.264[LYS1TH3A][RapidBot].mkv
Episode 03: Direct Download: [AnimeOut] As the Moon So Beautiful – S01E03.BluRay.720p.Opus2.0.H.264[LYS1TH3A][RapidBot].mkv
Episode 04: Direct Download: [AnimeOut] As the Moon So Beautiful – S01E04.BluRay.720p.Opus2.0.H.264[LYS1TH3A][RapidBot].mkv
Episode 05: Direct Download: [AnimeOut] As the Moon So Beautiful – S01E05.BluRay.720p.Opus2.0.H.264[LYS1TH3A][RapidBot].mkv
Episode 06: Direct Download: [AnimeOut] As the Moon So Beautiful – S01E06.BluRay.720p.Opus2.0.H.264[LYS1TH3A][RapidBot].mkv
Episode 07: Direct Download: [AnimeOut] As the Moon So Beautiful – S01E07.BluRay.720p.Opus2.0.H.264[LYS1TH3A][RapidBot].mkv
Episode 08: Direct Download: [AnimeOut] As the Moon So Beautiful – S01E08.BluRay.720p.Opus2.0.H.264[LYS1TH3A][RapidBot].mkv
Episode 09: Direct Download: [AnimeOut] As the Moon So Beautiful – S01E09.BluRay.720p.Opus2.0.H.264[LYS1TH3A][RapidBot].mkv
Episode 10: Direct Download: [AnimeOut] As the Moon So Beautiful – S01E10.BluRay.720p.Opus2.0.H.264[LYS1TH3A][RapidBot].mkv
Episode 11: Direct Download: [AnimeOut] As the Moon So Beautiful – S01E11.BluRay.720p.Opus2.0.H.264[LYS1TH3A][RapidBot].mkv
Episode 12: Direct Download: [AnimeOut] As the Moon So Beautiful – S01E12.BluRay.720p.Opus2.0.H.264[LYS1TH3A][RapidBot].mkv
NCOP: Direct Download: [AnimeOut] As the Moon So Beautiful – S01.NCOP.BluRay.720p.Opus2.0.H.264[LYS1TH3A][RapidBot].mkv
NCED: Direct Download: [AnimeOut] As the Moon So Beautiful – S01.NCED.BluRay.720p.Opus2.0.H.264[LYS1TH3A][RapidBot].mkv
Link Broken? Click here to report