Usagi Drop
(720p – 100MB)

Anime Type : TV Series
Total Episodes : 11
Rating : 8.6
Aired : Jul 8, 2011 to Sep 16, 2011
Producer : Production I.G
Genres : Slice of Life, Josei
Duration : 22 min. per episode
While attending his grandfather's funeral, thirty-year-old bachelor Daikichi is surprised to discover that his grandfather had an illegitimate child with an unknown mother! The rest of his family, fearing the obligation and embarrassment, want nothing to do with the silent little girl, Rin. Sensing her imminent abandonment and outraged by his complacent family members, Daikichi decides to adopt her himself! …yet he may have underestimated the difficulty of balancing his work, family, and love life with his role as her guardian.
(Source: MAL)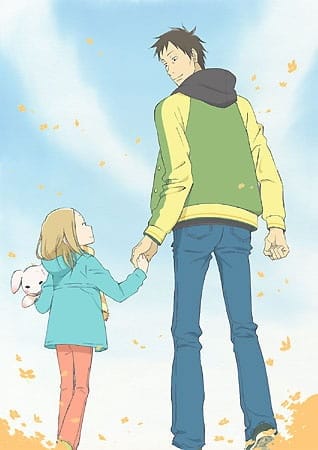 DDL Links for Usagi Drop 720p 100MB miniMKV Encodes
Direct Download
Episodes
Episode 1 : Direct Download | Torrent
Episode 2 : Direct Download | Torrent
Episode 3 : Direct Download | Torrent
Episode 4 : Direct Download | Torrent
Episode 5 : Direct Download | Torrent
Episode 6 : Direct Download | Torrent
Episode 7 : Direct Download | Torrent
Episode 8 : Direct Download | Torrent
Episode 9 : Direct Download | Torrent
Episode 10 : Direct Download | Torrent
Episode 11 : Direct Download | Torrent
Specials
Episode 2.5 : Direct Download
Episode 3.5 : Direct Download
Episode 6.5 : Direct Download
Episode 8.5 : Direct Download
OP + ED Extras
ED 1 : Direct Download
ED 2 : Direct Download
ED 3 : Direct Download
ED 4 : Direct Download
ED 5 : Direct Download
ED 6 : Direct Download
ED 7 : Direct Download
ED 8 : Direct Download
ED 9 : Direct Download
ED 10 : Direct Download
ED 11 : Direct Download
OP 1 : Direct Download
OP 2 : Direct Download
OP 3 : Direct Download
OP 4 : Direct Download
MEGA
Episodes
Episode 01 : MEGA
Episode 02 : MEGA
Episode 03 : MEGA
Episode 04 : MEGA
Episode 05 : MEGA
Episode 06 : MEGA
Episode 07 : MEGA
Episode 08 : MEGA
Episode 09 : MEGA
Episode 10 : MEGA
Episode 11 : MEGA
Specials
Episode 2.5 : MEGA
Episode 3.5 : MEGA
Episode 6.5 : MEGA
Episode 8.5 : MEGA
Batch
Complete Batch
Reviews
SPOILERS: Minimal (I can't ruin the experience. Also, forgive my poor grammar)
To be Frank, I was skeptical about committing to watching Usagi Drop having read all the manga. Adaptations are great and all, but boy oh boy the source material (original writing) for this almost led me to drop this entirely.
Now, I can safely say I'm glad to have watched this amazing experience.
So how do I describe and score Usagi Drop? Well, this happens to be one of those shows where numbers just won't do, and an in-depth analysis is actually quite frankly overkill since it might lead to some people to never watch this show. Ever. I can talk all I want about what it's about; the premise, the execution, pacing, but none of this will do justice. But heck, I'll give it a shot just for you.
Story: 8
We follow our Main "protagonist" Karachi Daikichi, a single 30 year old man whose grandfather has recently passed away. At his grandfather's funeral, he meets his grandfather's daughter, Kaga Rin; age 6.
Hmm…. Ok… So this little girl is his….
Onwards! Both the two meet and under the rather dreary atmosphere of mourning adults, Daikichi takes Rin under his wing and thus begins Daikichi's new life as a parent.
Pretty basic premise… Meh, not really. Transition into parenting/parenthood is a topic RARELY touched on in anime. Why? Doesn't sell… Anyways, the story focuses heavily on Daikichi's and Rin's new life, how they adapt, perceive, and going about the day. Now, remember, Daikichi has been a single 30 year old working and drinking constantly, having only to care and feed for one person. Let's add another expense to deduct from your income… Don't forget, kids have soccer games and stuff. Better to make some time in my already dreadfully unflexible schedule..
Get the picture? Good, but ultimately, the story only moves forward with each new experience both Rin and Daikichi undergo. With that, we see that time goes on and they change.
As far as pacing goes, it's relatively slow paced… Then again, with an awkward number of 11 episodes, this seems appropriate. Each episode never seems rushed.. Scratch that, each scene never seems rushed. The story isn't overly complex, so holes aren't an issue. All in all, the only word to describe the story is simple. And that isn't such a bad thing.
Fans could give this a 10, those without a heart could name it plotless. Depending on what you're expecting, it could go either way.
Art: 9
This was a surprise considering Production I.G touched this one up. If we look at Production IG's other works, we see something completely different from what you see here. Please be aware, this is a pleasant surprise. Thumbs up on this one.
The show comes off as.. Rather childish, but it isn't that big of a deal considering that kids are involved in the story after all. In fact, the art is rather fitting, and in those few moments throughout the show, I stared in awe at the magnificently drawn and animated scenes. This might be a surprise because the art is so simplistic. Character design, lighting, the background. Nothing held extraordinary detail except, again, in those few moments of high interest and excitement, although "excitement" isn't so appropriate to describe this.
I must compliment the pastel, water color-y (forgive me as I am uneducated in accurate art terminology) scenes through out the series. It's very different than what many people are probably used to seeing on the current market.
That being said, because of how boldly the art is presented, the different art style showing off as strongly as it does might end up being a miss for many.
So how do I sum up the art? Like the story. Simple, but sweet, with a touch of magnificent sprinkled in. It isn't Shinkai breathtaking, but it's pretty dang close in many scenes.
Sound: 8
Character voices are appropriate for the whole cast. I might have a problem with only one character, but she's completely overlook able in comparison to everyone else. The sound track was well done, though Unmemorable. Heck, everything was done satisfactorily here as the pleasant background music compliments the "feel good" atmosphere. The music even addresses the more dramatic scenes with ease. The OP and ED are nothing too special, but very fitting to the theme of Bunny Drop.
Characters: 9
Now, this may seem like a slice of life show, and it is, but the abnormal time frame this series has is rather stressing to many viewers for many reasons. For example, many short series fail to develop their characters since, like in life, time goes on, and rushed plots and such can hurt the cast as a whole.
Thankfully, Usagi Drop nails that instinctive impression to the ground. With only two main characters and very well planned out execution and pacing, there is a feeling of satisfaction by watching Rin and Daikichi grow. Heck, we even see there is more to the support roles than what we are presented prior to the next time they make an appearance. The show addresses how Daikichi feels and grows quite clearly, which then leads the viewer to imply a few thing about Rin. While Rin arguably is very static, we must realize that she is a 6 year old. A child whose mind is still in development. Realistic? Appropriate? Do you have a problem with this ideally perfect little girl? Stuff your whining and refresh your perspectives.
By the end of the show, I came to realize what a delight It was to watch Daikichi & Rin grow as characters as a whole.
Enjoyment: 10
A rare delight and one of the best shows of 2011. It's hard to explain why this anime was so successful. The story is a heartwarming one, packed with many little lessons on ethics and such. Perhaps our reaction to the characters and their interactions came off as hilarious. Going into the show, you might find plenty of the characters relatable even. Perhaps this caused me to reflect on my childhood and outlook for my future. Usagi Drop offers something for everyone to relate and enjoy.
Overall: 9
Hopefully this gave you enough insight as to whether or no you should pick up Usagi drop. Be aware, the intended audience is a more older one, not really specifically targeting teens or younger audiences of the sort. Still, the show is appropriate for a broad audience. If you're looking for action, harem, a complex plot, you'll find none of that here. What exists before you is a really simple but sweet treasure that can be watched without being disappointed. I encourage you to give this show a shot at becoming what could be one of your favorites of all time. My only issue with this show is that it was given a measly and awkward 11 episodes.
Final thoughts? It was far from perfect, but Usagi Drop did so many things right that it doesn't even matter.
I hope this was helpful.
–B-HO_BHO