The Wind Rises
(720p – 150MB)
Kaze Tachinu (Jap)
Anime Type : Movie
Total Episodes : 1
Rating : 8.40
Aired : Jul 20, 2013
Producer : Studio Ghibli
Genres : Drama ,Historical ,Romance
Duration : 2hr 6min
Jirou dreams of flying and designing beautiful airplanes, inspired by the famous Italian aeronautical designer Caproni. Nearsighted from a young age and thus unable to become a pilot, Jirou joins the aircraft division of a major Japanese engineering company in 1927. His genius is soon recognized, and he grows to become one of the world's most accomplished airplane designers.
Key historical events deeply affected the course of Jirou's life, including the great Kanto earthquake of 1923, the Great Depression, the tuberculosis epidemic, and Japan's plunge into war. He meets and falls in love with Naoko, grows and cherishes his friendship with his colleague Honjou, and innovates tremendously, leading the aviation world into the future..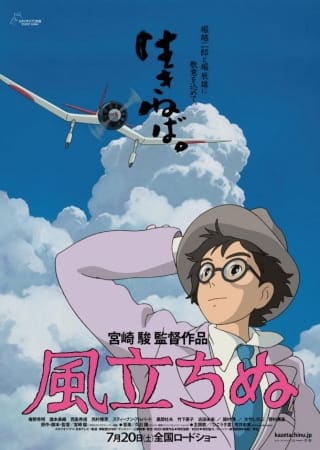 Direct-Download Links for Kaze Tachinu 1080p 1GB miniMKV Encodes
[Erai-raws] Kaze Tachinu [1080pp][AnimeOut][1080pp][Multiple Subtitle][RapidBot].mkv: Direct Download
Direct-Download Links for Kaze Tachinu 720p 800MB miniMKV Encodes
Movie 1 : Direct Download
Reviews
Hayao Miyazaki's last film is an accumulation of his life's work pieced together into his final masterpiece, The Wind Rises.
The film is based on a true story; that of Jirou Horikoshi who was a Japanese aeronautical engineer in charge of the design of the Mitsubishi Zero, the fighter plane used in World War II, specifically during the attack on Pearl Harbor. The movie begins by following Jirou at a young age and his interest in airplanes and the dream to become a pilot. This is not the case because Jirou is nearsighted. Nevertheless we see Jirou's great interest in the Italian aeronautical pioneer Count Caproni as he becomes inspired to be an aeronautical engineer.
Now, the story doesn't just focus on Jirou and aviation but develops into a love story between Jirou and Naoko. Hayao Miyazaki was able to produce a beautiful love story that did not interfere with the work focus surrounding Jirou. Both Jirou's love for airplanes and Naoko were able to coexist and have the same equal amount of passion throughout the film.
The art and sound in this movie are phenomenal. Like any other Miyazaki and Ghibli film the art is memorable and breathtaking. The watercolor style backgrounds are painted with so much care and detail that the animation alone is able to bring the movie to life. Ghibli always has their own specific style when it comes to art and they have proved themselves immensely through this film.
For those who have seen Miyazaki's films, you will definitely have déjà vu moments as you see the similarities in the artwork and music. You will see the animation and music that made Porco Rosso, Howl's Moving Castle, Spirited Away… and his other movies so distinctive from one another all coming together and producing that unique tone for The Wind Rises. We can clearly see all of Miyazaki's life's work in the industry pouring out into this film and piecing itself together like a perfect jigsaw puzzle.
Personally, I believe the characters are what drive this film to it's fullest potential. I only watched the english dubbed but the casting was great. Each voice fit the different role amazingly, bringing to life that character. By far, Emily Blunt and Joseph Gordon-Levitt deserve nothing but praise as they did an outstanding job voicing Naoko and Jirou. All of the relationships developed in this movie are a beautiful portrayal of everyday life friendships and interactions. In this film there are no "bad" guys, the story is very straight forward and the suspense built is not from an external race trying to cause havoc but rather a more personal suspense built within Jirou. Overall, the characters are very charismatic and enjoyable to follow.
The pacing of the movie was very steady; it never felt as if it were too rushed or was dragging. Much of the film is spent in and out of Jirou's dreams. Some believe it is hard to decipher when he is actually dreaming versus when he is not. The introduction of Caproni makes it very obvious, or should, to whether or not he is dreaming.
Although there have been many complaints about how this movie doesn't live up to Miyazaki and his other films; which are each uniquely set in their own world of a dream-like fantasy. The Wind Rises, joins them as a masterpiece, but in it's own category. For those who think of this movie as, "dull, boring, waste of my time" are clearly missing out. I cannot understand how anyone could not be wow'd by this anime. Everything about this anime is simply beautiful and needs to be shared.
Know that by the end of the movie all of your questions will be answered. Your overall understanding of the events that have taken place will hit you straight in the heart… let those tears of joy and sadness run down your cheeks! The finale of Miyazaki's movies has ended! Go with the wind as you take away the 2 hours of complete sublime. My words alone cannot even describe the amount of emotion and beauty seen in this film, you will have to see it for yourself!