Yoru no Yatterman
(720p – 100MB)
Yatterman of the Night(official)
Japanese: 夜ノヤッターマン (official)
Anime Type : TV Series
Total Episodes : 12 (Finished Airing)
Rating : 7.10
Genres : Adventure
Air Dates : Jan 11, 2015 to Mar 29, 2015
New Yatterman series to commemorate the 40th anniversary of Tatsunoko's Time Bokan series.
A girl is looking at a remote island on the ocean named The Yatter Kingdom, a country that is said to be ruled by the hero Yatterman. The girl wants to ask the Yattermen for some help to cure her sick mother and decides to venture to the kingdom. She gets kicked out from the kingdom though and her mother dies without receiving any help.
Under Dokurobei, the boss of the Dorombo thieves that existed, lies a beauty named Doronjo. The two men, Boyacky and Tonzura, worked under Doronjo but got kicked out from the Yatter Kingdom along with the Doronbo thieves as they lost a fight against the Yatterman. This is the new generation of Dorombo—Doronjo, Boyacky, Tonzura, and new Yatterman—a story of the birth of Gan-chan and Ai-chan.
(Source: MAL News)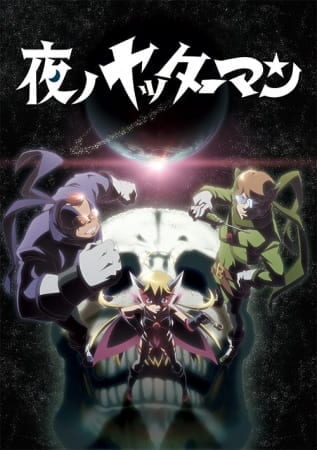 Direct-Download | MEGA Links for Yoru no Yatterman (720p|100MB) Encodes
MEGA Links
Mega links: Yatterman
Proper Release (FFF)
Since Commie isn't actively releasing the new episodes, I thought I'd go for other subbing-group …
Episode 01 : Direct Download
Episode 02 : Direct Download
Episode 03 : Direct Download
Episode 04 : Direct Download
Episode 05 : Direct Download
Episode 06 : Direct Download
Episode 07 : Direct Download
Episode 08 : Direct Download
Episode 09 : Direct Download
Episode 10 : Direct Download
Episode 11 : Direct Download
Episode 12 : Direct Download
Review
This has been a refreshing series on this new season. I can't believe people don't talk about it more. I'm doing the review with only 4 episodes seen so far but I already like it a lot. Wish more anime was like this
Story: 9
The story settles a very interesting point of view: in the previous Yatterman Doronbow were the bad guys (always losing) and now it looks like a dictatorship is imposed by the ones who once were the good guys. This has a lot of possibilities to become great and knowing this is from Tatsunoko I even expect more. It's not always you've the opportunity to see the descendants of the bad guys taking the main role, and that, with the episodes that have been aired, one can see they tend to lose more than win, that's also a great and welcoming new type of plot that's not always seen.
Art: 8
The art is quite fine, maybe a little "cute" sometimes but it settles well with the devastated type of world they presented together with the emotional moments. You can see a place filled of trees without leaves, a moon which is the skull that once arrived at the earth, etc. The design of the characters is fine too and I like how they look.
Sound: 8
The OST overall is amusing too. The opening has a great pacing and connects well with the Yatterman world, they also, in some episodes, sing the song of the previous Yatterman series which is a great one I must say, a very catching song and I love the fact that they reference this, it's clearly an spin-off of the previous series but done in a fantastic way. The ending has a happy-nostalgic feeling and is also very likable.
Character: 10
Probably, together with the story (that I must see more to put the final score), this is what I've like the most: the characters. They're outstanding, specially the adults who're the companions of Leopard, the new Doronjo, and she also is great with them. It's very unusual to see two adults who've already past their twenties, and having a main crew with tho adult men with 25 and 29 is simply great to see. That and also because they're really funny and hilarious, you came to love them not matter what, ah!, and also Oda-sama, another funny one, the sympathetic pig that must be respected and not eaten no matter what. Leopard (a.k.a. Doronjo) also, even though she's a young girl, you can see determination in her and she isn't one that makes you feel annoyed at all.
Aluette and Gatchan are probably the less ones which I liked, but who knows what they'll bring on the future.
Enjoyment: 9
I'm really enjoying this series. It's something really unusual to see and with an original concept. It makes me want to see more every time an episode ends and I wish Doronbow could win Yatterman once. But there's still a lot to happen so I'll just sit here and watch the aventures of this crew.
Overall: 9
Just watch it if you haven't already!. You're letting pass a great anime if you're looking for something new and different. I recommend it for sure
Prequel/Sequel
Nope…..
But, it is a similar rip-off "Yatterman" (Different series)
Similar Anime | Recommendations
Tengen Toppa Gurren Lagann
Sekai Seifuku: Bouryaku no Zvezda