Yurikuma Arashi (official)
(720p – 100MB)
Yurikuma Arashi Yuri Bear Storm, Love Bullet: Yurikuma Arashi (synonyms)
Japanese: ユリ熊嵐
Anime Type : TV Series
Total Episodes : 12
Rating : 6.34
Genres : Shoujo Ai (a.k.a. Yuri)
Air Dates : Jan 6, 2015 to Mar 31, 2015
Some time ago, the asteroid Kumaria exploded in the depths of space. The resulting fragments became a meteor shower that rained down on Earth, and for some reason, bears all over the world rose up and attacked humanity! In "Man vs. Bear," the bears ate the humans and the humans shot the bears, resulting in a seemingly unending battle and a cycle of hatred. In the end, a giant "Wall of Extinction" was erected between the humans and bears and a state of mutual nonaggression came to pass… The human world. One morning, Arashigaoka Academy students Kureha Tsubaki and Sumika Izumino were by themselves and saw the "Yuri Flower" that bloomed in a flower bed. The two are friends as well as lovers. The flower bed is an important place to the two. At that moment, the Bear Alarms ring out! The bears are invading the human world, and humans are being attacked! Are they really those bears? One mystery invokes yet another mystery, one after another. The curtain rises magnificently on Yuri Kuma Arashi!
(Source: ANN)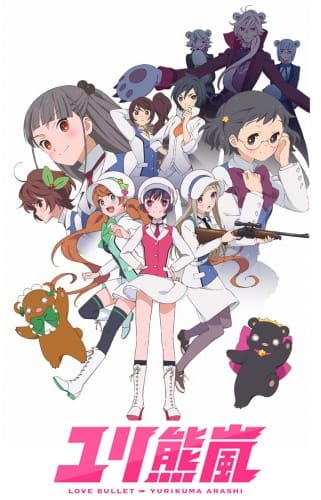 Direct-Download | MEGA Links for Yuri Kuma Arashi (720p|100MB) Encodes
MEGA Links
Mega Batch: Kuma
Proper Release (Jibril)
Episode 01 : Direct Download
Episode 02 : Direct Download
Episode 03 : Direct Download
Episode 04 : Direct Download
Episode 05 : Direct Download
Episode 06 : Direct Download
Episode 07 : Direct Download
Episode 08 : Direct Download
Episode 09 : Direct Download
Episode 10 : Direct Download
Episode 11 : Direct Download
Episode 12 : Direct Download
Reviews
If you have seen Mawaru Penguindrum and liked it, then this show is for you. It has some of the same voice actresses, written by the same person, and you will get a very nostalgic feeling of Penguindum in this anime. So far, I don't think it is as good as Penguindrum, however it is very addicting and interesting. If you have not seen Penguindum, you should go watch that before this show in my opinion. Starting this show without having a feel of the style used in Penguindum, can give this show a bad initial impression (unless you like lesbians and bears). It definitely is a unique style of anime
with it's use of repetition, strong themes and symbolism that isn't seen in most anime (personally only have seen a show like this in Penguindum). I definitely would say this is not a show that caters towards the general taste of the public, however, if you like weird, interesting, cute shows, then this may be your cup of tea. The show is a bit slow and confusing to start, but as you progress, it slowly becomes clearer, more entertaining, and you realize as a viewer that it isn't just about yuri sexual content and cute bears, but has a bit deeper meaning.
My personal reaction: Ep 1: eh… Ep 2: hmm… Ep 3+: This is addicting… need next episode… I got hooked by the 4th episode. Shaba-daa… Shaba-daba-daabaa. This anime is a prime example of why people should not quit watching a non-linear show after the first few episodes. Art is outstanding – beautifully designed characters, colorful background, lots of attention to details and expression.
The OP is good on its own; the soundtrack blends into the storytelling perfectly and doesn't distract you. Despite all that, Yuri Kuma Arashi is definitely not an easy anime to watch. As many people may have noticed, the first three episodes – no, make it five episodes – had one of the highest WTF-per-minute factor. The story didn't make any sense. Asteroid exploding, cute-looking bears uprising and eating human, Kureha and her inexplicable not giving up on love… nothing seems to fit anywhere.
Luckily, the murder of Sumika, the catchy OP, and the irresistible "Shabadadoo" of Junichi Suwabe kept me watching. And I felt so lucky I did. Since the way the story is told is similar to having a puzzle with pieces being revealed one at a time which, while confusing at first, once there are enough pieces, it makes your mind try to interpolate and fill in the unseen pieces. It is rewarding when you guessed the right missing piece; but Ikuhara's genius directing piques your interest even more when you guessed it wrong. To that end, a fun game you can try for the first 5 episodes is to guess which characters are bears and which are humans. Did I mention that Life Sexy's voice is aptly very sexy?
His voice is so good that I have been eagerly waiting for the Judgement section of every episode. And episode 4 is worthy of several re-watches, because one just cannot get enough Shabadadoo. Don't let the initial confusion shy you away from this otherwise great work of art. There are many things to enjoy in Yuri Kuma Arashi.
Prequel/Sequel
NONE
Similar Anime | Recommendations
Mawaru Penguindrum
Mahou Shoujo Madoka★Magica
Shoujo Kakumei Utena